Kennedy Murray
reunion of descendants in Tasmania 2022
This page is all about the reunion which I was not able to attend but, thanks to Cameron Richards, I have all the information which I can put on this page. The event was an opportunity to share key stories, existing information, and new developments from many active family historians and genealogists.
More than 50 people attended the gathering which showcased a plethora of interesting information and stories. Cameron wrote of the extended family of Kennedy Murray with 58 grandchildren - plus Kennedy Murray the second's siblings via Ann White's second family of another 37 nephews and nieces who were all based in Evandale in the 1830's.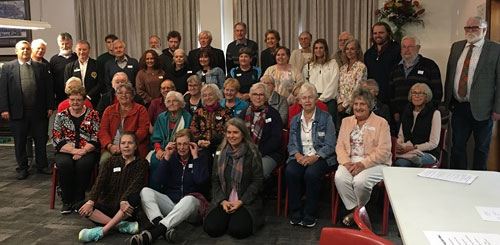 Above is a photograph, taken by Cameron's sister, Fiona, of the lucky people who attended the reunion. General information
The Kennedy Murray descendants gathering was held on April 2 2022 at the Longford RSL Memorial Hall at Longford near Evandale.
Interesting pdfs from Cameron
A huge reunion booklet with lots of information
Research underway and interesting references
From 'King to convict' and back again? Australian origins, the Murray mystery, and the re-emerging MacGregor legacy
Genie items from the reunion
Descendants of Kennedy Murray senior
Rob Murray's book - chapters about the Kennedy Murray story
Rob Murray's chapter on Ann Parker
Rob Murray's chapter on KM and the Glasgow years
Rob Murray's chapter on KM and the voyage out to Australia
Rob Murray's chapter on KM at Pittwater
Rob Murray's chapter on KM on Norfolk Island
Interesting story from Terry Brown about his researches
Terry Brown's story of research
Fascinating
The information that has come out of the reunion is fascinating. I'm sure this is not the end, I think new information will continue to be found. Many thanks to all the people who put so much work into the reunion and into the information a lot of which is new to me.
Reunion group photograph number two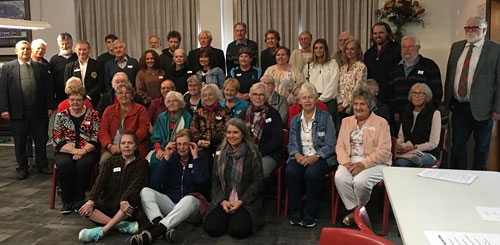 Links to other Convicts associated with my Family
Links to historical convict information
Links to surnames associated with my family
Feedback - I'm always happy to receive feedback about my site.
Please contact me here.
This page was updated by Diana Kupke (Diana Mann) 5 January 2023