The Second Fleet
There were six vessels in the Second Fleet. My great great great grandmother, Ann White, was a transported convict on the Neptune which left England on 19 January 1790 and which arrived in Australia 159 days later on 26 June 1790. The other ships were the Guardian, Justinian, Lady Juliana, Scarborough and the Surprize.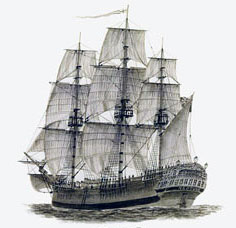 Convict vessel the Neptune
Private contractors were in charge of this fleet and obviously they looked at all ways to cut corners as an horrific 278 people died during the voyage of the Second Fleet. This figure is sometimes given as 267. Whichever figure is correct, it is remains horrific as it represents more than 20 percent of the total number of convicts who made the voyage. The survivors were in bad health and were a severe drain on the colony at Sydney Cove. The navy escort vessel, the Guardian, which was stocked with provisions, struck ice and, after returning to Africa, was wrecked. The Justinian, which was a store ship, arrived before the remaining vessels.
Cambden, Calvert, and King is the name of the firm which undertook to transport, clothe and feed the convicts for a flat fee which they received whether or not the convict arrived alive, or died during the voyage. Where the convict died, the company still received the fee and in addition was able to sell the food not consumed. This Second Fleet had 928 male and 78 female convicts on board when it departed from Engand on 19 January 1790. There was a brief landing at the Cape of Good Hope and then the Second Fleet continued onwards and arrived at Port Jackson during the last week of June 1790.
The Master of the Neptune, Donald Traill, was described as a demented sadist, and, despite an enquiry being held, he was never arrested.
Links to other pages about convicts
Links to convicts associated with my family
Links to surnames associated with my family
Feedback - I'm always happy to receive feedback about my site.
Please contact me here.
This page was updated by Diana Kupke (Diana Mann) on 30 May 2020