Montgomery Family History
from Ireland to Australia
My earliest Montgomery relation to settle in Australia was my great great grandfather, John Montgomery, who was born around 1815/1816 in Killaugh, Downpatrick, Ireland but whose family came from Aberdeen in Scotland. Nothing is known about John's early years nor about his family.
John married Elizabeth Ann Sandilands on August 22 1849 at Christ Church in Geelong in Victoria. Elizabeth, who was born on 15 July 1829 at Harrow on the Hill, Middlesex, England, was the daughter of James Sandilands (1795-1867) and Margaret Wilkinson (1795-1863).
Eleven Children
John and Elizabeth had eleven children - Graham Wilkinson (1850-1851), Henry Graham (born 1852), John Graham (born 1854), James Sandelands (born and died 1857), George Bowen (born and died 1858), Elizabeth Ann (my great grandmother 1859-1948), George Stewart (1862-1944), Thomas Teer (1867-1954), William Clarkson (1868-1929), Jane (1870-1946), and Robert Nelson (1872-1956)
John owned a blacksmith and stables in Geelong and, after moving to Tallygaroopna in Victoria with Elizabeth, he became a farmer. Both John and Elizabeth died in Tallygaroopna, John on June 10 1892 at the age of 77, and Elizabeth on 25 November 1903 at the age of 74.
John and Elizabeth's daughter, Elizabeth Ann, married Robert Canet on 20 May 1878 at Mooroopna in Victoria. They were my great grandparents.
Nell, pictured below, is the granddaughter of George Stewart who married Mary Marcus in 1890.
Rosie and Nell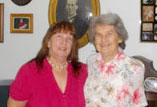 Nell Sidebottom, who lives in Victoria, has put together a 96 page document of her recollections of her family members including Montgomery, Hehir, Harrison and Marcus families. This is a fascinating document, and although it was written primarily for her children, the information is valuable for all of us who have a connection with Nell or with the families mentioned. With kind permission from Nell, I have included the document.
Feedback - I'm always happy to receive feedback about my site.
Please contact me here.
This page was updated by Diana Kupke (Diana Mann) on 10 January 2021