Grist Family History
from Hampshire to Victoria
James Grist, who was born in 1844 in Hampshire, England, came to Victoria where he married Sarah Ann Dudley (1852 to 1921), the daughter of Richard Dudley and Hannah Beal.
It is believed James came to Australia, at the age of eight, in 1852, with his parents, Henry Grist, born in 1812 in Andover, England, and Martha Smith. The Grists came to Australia as assisted immigrants on the British Empire. They left London on 26 October 1852 and arrived in Geelong on 8 March 1853. The other Grist children were Charles (born 1836), Martha (born 1838), Annie (born 1840), Henry (born 1851), and Matilda, dates unknown.
Henry was the son of John Grist (born 1778) and Frances Hickmen (1782-1817).
All about James and Sarah
Further information about Sarah's Dudley family can be found on this website. Dudley page
James and Sarah, who were married at Linton, in Victoria, on 30 March 1870, had ten children. Martha (1871-1957), Arthur Richard (1873-1931), Herbert James (1875-1924), Frank Henry (1877-1933), Austin (born 1879), Clive (1881-1956), Ethel May (born 1883), Frederick (born and died 1887), Walter Charles (1888-1918), and Halden Leslie (1891-1993).
James continued to live in Victoria where he died, aged 79, in 1923 in East Melbourne. He is buried in a public grave at the Springvale Botanical Cemetery.
Sarah, who lived in Victoria for 47 years, moved to WA for the remaining 11 years of her life. She lived with her daughter Ethel May, and both are buried in Karrakatta, Perth, along with Ernie Neale. Family members undertook a cleanup of the grave.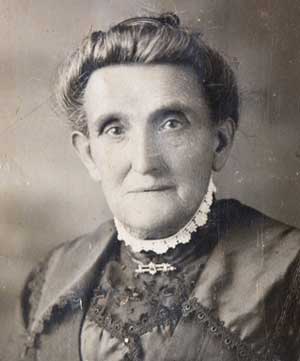 Above, Sarah Ann Grist, nee Dudley.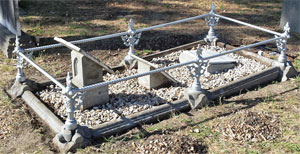 Above, the cleanup grave of Sarah Grist, nee Dudley and Ethel Neale nee Grist.
Many thanks to Brad M in Perth who has provided all the photographs and much of the information.
If you have any information on the Grist family I would appreciate hearing from you.
Feedback - I'm always happy to receive feedback about my site.
Please contact me here.
This page was updated by Diana Kupke (Diana Mann) on 5 January 2023