The Dudley Family Story
Written by Valerie Carnegie
Years of Research
On December 15, 1969, my aunt, Valerie Carnegie (nee Dudley), sent letters to her two sisters, Daisy Roughsedge and Merlyn Mann, (my mother), and to her brother, Lester Dudley, which included the research she had undertaken over a period of five years. Sadly, at the time Valerie did all this work, I was not interested in family research and it would take me another thirty years before I understood her fascination, and why she had worked so hard and so persistently at a time when the internet did not exist, when all her research had to be undertaken by mail, with many of the letters sent (slowly) to overseas destinations along with little slips of paper, bought from the post office, for return postage.
Valerie Carnegie (nee Dudley)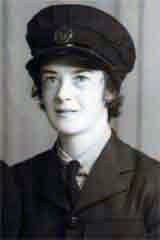 Here is the information she gathered together. I have corrected typographical errors and have deleted the names of those who are, or who may still be living. Much more has been discovered about the Dudley and the Green families since this was written however I have not added that information, preferring to allow Val's information to stand as it was written in 1969.
The Family of Dudley
(With a little of Green)
Compiled by Val Carnegie, from information gathered during the years 1964-1969, from Bedford, from London, from cemeteries and the Govt Statist Melbourne, from the Archives Dept. Melbourne. Also from Aunty Nellie, Auntie Emily, my brother and sisters and a number of William's and Hannah's grandchildren. Fun and Frustration!
George Dudley born circa.1799 died on June 15th 1849. He was a labourer who died of disease of the brain. Not certified. Present at his death was Mary Beal. George married Elizabeth Sinfield, date unknown who was born circa 1798 and died on Feb 1st 1855. As she was buried on the same day it is likely that the cause of death was cholera. Both are buried in the Cemetery at Ridgmont, Bedford. The cemetery books are in the care of the vicar, at the Vicarage, Husborne Crawley, Bedford.
It is not known at this date how many children George and Elizabeth had but there was Samuel, Joseph, Richard and William. Richard was born circa 1822, had a wife Hannah. William was born on Feb 12th 1839 but his birth does not appear to have been registered but prior to 1875 it was not compulsory. So far search for date of Baptism has not been successful.
And the little bit of Green
James Green was born circa 1809 and died Feb 16th 1879. He was a farm labourer who died of apoplexy and bed-sores (certified). He married Harriet Grace who was born circa 1812. Harriet died of cholera and was buried the same day, Sept 4th 1854. Mary Peel was present at death. James apparently married again, as wtiness at his death was Karthe Green his widow, x her mark. James and Harriet were both buried at Ridgmont, they had several children, one Henry born in 1853. There was at least thought to have been at least one other son who seems to have died prior to 1889, and several daughters thought to have been Mary, Elizabeth, Betsy, Susie and Hannah. Hannah Green was born on July 21st 1842 and was Baptised in the Parish Church in Ridgmont on August 14th 1842. She was about 12 when her mother died, so lived with her Aunt. This Aunt once told Hannah that her sister looked better in old Clothes than Hannah did in silk.
On Sunday Dec 8th 1861 William Dudley, labourer and Hannah Green, plaiter were married 'according to the rites and ceremonies of the established Church, after Banns'. The Vicar was Rec. W.C.C. Bentinck, witnesses were James Roberts, x his mark and Mary Green.
To Australia on the Shackamaxon
William and Hannah, and Richard and his wife Hannah and two children Sarah 10 and Samuel 6 sailed from Liverpool on Dec 23rd 1861. The ship was the 'Shackamaxon' a vessel of 1367 tons on her third voyage to Melbourne and captained by J.B.Fenton. They arrived in Melbourne on the 17th march 1862, a journey of 81 days described as 'uneventful'. According to the shipping list 'these people went with a Samuel Dudley of Linton'. Apparently Samuel and Joseph were older and had come out earlier. Also on the ship with William and Hannah were their friends named Smith who later lived at Fine Lodge.
William and Hannah are thought to have gone first to Corop, farming and it was there on Feb 2nd 1863 that their first child George was born. When the next child, Henry was born they were at Linton, gold mining (July 16th 1864). Here also were born Alfred, James, Eliza, Susan, Matilda and Priscilla. About 1876 the family went to Gunbower, William and son Alf to work for a Mr Diviny who owned a farm and an hotel there. Alf seems to have worked part of the time at the hotel, but mostly at the farm with his father. William probably spent the remaining years of his life working around the districts, as Charlie and Edward were born at Torrumbarry and Fred at Wharparilla. When William died of heart disease on Oct 30th 1882 he was at Terrick East. He was buried in the Wesleyan Section of the Echuca Cemetery. His 12th child Ellen was not born until eight months after her father's death. As disease of the heart was evident for 18 months prior to death, perhaps William was not working during those months. Despite his heart his children, except George who had poor health, were all strong and healthy, and were hardworking men and women. All spoke well and were of good character. At the time of William's death George was 19, Henry 18, Alf 16, presumably all working, and six were of school age or younger.
We wonder why Hannah brought her family away from the districts they knew so well for one they didn't, but leave it they did, some time between Nov. 1882 and June 1883. Perhaps George and Alf were not in constant employment. Perhaps they left there to be near Henry who took over the management of the family after his father's death. Why was it Henry, not George? Was it because of George's health or was Henry more suited to the job?
The Rennick family at Tallygaroopna
Since Henry was about 16 he had been working for a Mr.J.S. Rennick at Tallygaroopna, fencing and the like. He was earning 16/- per week?? (that seems a lot for a boy in those days). As practically all the land in Parishes surrounding Shepparton had been selected by about 1874 such jobs as post-splitting and fencing were probably plentiful. Was this partly the reason for Hannah bringing her family to this area? They came by dray across by road and went to live in a slab hut on the property of Mr Charlie Grey at Drumanure. Ellen, our Auntie Nellie, does not know why they went to live there, but as James Rennick and Charlie Gray were good friends, and as Mr Rennick was good to Henry perhaps the two men had discussed the situation and the hut had been offered. (Mr Rennick, Mr Gray, Mr John Montgomery, Mr McLeish and one unknown other were five friends from Geelong who had come to Tally and selected land). It was in this hut, on June 15th 1883 that Ellen Louisa Maud was born. Hannah had been lonely and worried and told Henry's wife in later years, 'no-one knows what I went through in those months, pregnant and my husband dead, wondering what people were thinking of me'.
George and Alf seemed to have worked around the district, George mostly post-splitting, then became grave digger at Wunghnu, where he lived after he married in 1886. Although the younger ones went to school at Drumanure, Elisa [Ellen?] seems to have gone to school at Wunghnu, for her Merit Certificate is dated 'Wunghnu, May 1884'. Some time during 1887 Alf was loading wheat at Tally. When Hannah and some of her family went to live at Longwood, towards the end of the 1887 Susan and Cilla kept house for Alf, Susan then being 16 and Cilla 12. Hannah went to Longwood by trap, the boys (which?) taking their belonging over by dray and having to sleep overnight on the side of the road. During the night something, or some things, were stolen. Charlie then 10 did not go to Longwood, but seems to have finished school and gone to live and work for Henry, who by that time must have been renting Mrs Wedmore's farm near Tallygaroopna.
Then Alf went to Longwood. Susan went to Tally to work for Rennicks, then later to work for the Hon. George Graham at Wunghnu, where she remained until she married Edward Graham in Mar or April 1892. Cilla also worked for the Rennicks, so it appears that she had left school at the this time. She also worked for Thompsons at Congupna Township, and being a good singer she sang in the Methodist Choir there. We do not know how or when she went to Euroa, but she married an Irish Immigrant there in 1908. Before her marriage to George Kinney she had kept house for Alf after the death of his wife.
The Grist Family
Henry had married in Sept 1891 and was living on the farm at Tally. After Alf had gone to Longwood he was carting wood to the saw-mill, then bought a farm. It was on this farm that Hannah and her children Fred, Ted and Ellen lived. They went to Monea North School which was in a paddock on Alf's farm. Eliza worked for a Mr & Mrs Grist, also for a Mr Garret, later a witness to her marriage, she also worked for a paragon whose proposal of marriage she rejected. Sometime when she was working, a girl in her teens, Eliza used to take Ellen, a small child with her and people talked, thinking that the child was Eliza's. At 21 she married John Murdock, a bullock driver, (July 1891) and they lived in Euroa until Cup Day Nov 1914.
Alf had married in Dec 1896, so needed his house. Hannah and Ellen returned to Tally to live in a house owned by Henry. Fred had been with Henry and Charlie since finishing school, and Ted had been working for a neighbour at Longwood after finishing school, then he too went to Henry. All three boys lived with and worked for Henry for their food and clothes. While living at Longwood, possibly about 1892, Hannah went to Melbourne for treatment for her eyes, spending several months in the Eye and Ear hospital. Jinnie Dudley, Sam's daughter, later took Ellen down to the hospital where she was admitted. She had had sandy blight badly, like her mother. Her eyes seem to have always troubled her.
Hannah Dies
When Hannah and Ellen returned to Tally, Ellen went to school there for six months, but did not like it, as she was teased too much because of her height and thinness. Her eyes troubled her during this time, so she was happy to leave as soon as she turned fourteen. They lived in Victoria St. Tally until Hannah died on July 17th 1912. Violet Dudley, daughter of Henry remembers that day, for she was at school at Wunghnu, then Mr [?]ook the teacher called her out and told her that her grandmother had died.. During her last years, Hannah a big woman had become very stout. She was in bed for three weeks prior to her death, cause of which was pleurisy and heart-failure. Until then her health had been good. She was a woman of great courage, a battler. Her life had been a hard one, and often they had no money at all, and not much food. She had a great mop of hair which came down below her knees when loose. She always called Charlie, 'Chorlie'.
Ellen lived in the house alone after her mother's death, until July 1st 1930 when she went to live at Millar Homes in Numurkah. She is still there having reached the splendid age of 86. Her health has been good until getting high blood pressure a few years ago. She also lost the sight in one of her eyes, the other one being dim of sight now - cataracts. She has been aunt to 52 nieces and nephews.
Ted went to the Boer War, apparently having made arrangements for his mum to receive some of his pay while he was away. This she saved for him and gave to him on his return. Sometime in the early 1900's, Fred went to Queensland with W.O.Rennick and was working at Jandowee for Harmon Rennick. After his marriage Ted also went to live in Queensland.
Excellent Postal Service
Charlie seems to have stayed around the Tally-Wunghnu districts most of the time, although at one time, probably during a drought when work was scarce, he and five others (Fred or Ted, Bob Montgomery, Jim Sandilands, McKenzie??) walked to Gippsland to try and get work, and while they were down there, someone from Tally sent a letter to Charlie addressed simply to Mr Charlie Dudley, c/o The Six-six-footers, Walking in Gippsland. The letter reached him.
In the possession of Raymond Dudley of Tatura (son of Alf) there is a very old, very thin cup, (the saucer long ago broken), which Hannah and William brought out from Bedford with them. This is thought to have been made by a potter ancestor. William had been in the militia in England and Hannah was a plaiter of straw for hats.
We do not know why Hannah went to live at Longwood, but apparently Sam and Joe were living over there by that time. Joe, a bachelor, popular with his nieces and nephews had an orchard at Pranjip about 12 miles from where Hannah was living, and sometimes they used to walk out to see Joe. Sam, not such a friendly person, had several children - Joe, Dave, Sarah, Jack, Jinnie, Em - perhaps others. Jinnie later became a Mrs Hall, and Dave married either Lil or May Harper, and lived in Coburg. He had two daughters named Hazel and Lea.
Hannah's brother seems to have kept in touch with her, giving news of the family in England. In a letter written to her in Aug 1889 he mentioned that their sister Betsy was dying, that Mary was 'only middling' and that he had been to see sister Elizabeth. She had made her peace with her Saviour, but her husband had not changed, although she was no longer afraid of him as she used to be.
William and Hannah had 12 children, 52 grandchildren, and 126 great-grandchildren.
Valerie the Tracker
Valerie tracked down all the grandchildren and great grandchildren of William Dudley and Hannah Green and the names were listed on her original document as she had received permission to name them.
George Dudley married Evaline Walker and they had five children, May, George, Alfred, Clifford and Walter.
Henry married Isabella Strang and they had nine children, Will, Tom, Jim, Keith, Violet, Allan, Ian, Marian and Jean.
Alfred married Agnes McLeish and they had one child, Raymond. He married a second time, Matilda McKernan.
Eliza married John Murdoch and their children were Fred, Alfred, Elsie, Bert, Edward, Alice and George.
Susan Graham nee Dudley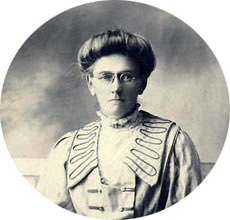 Thanks to my cousin, Gloria, for this photograph
Susan married Ted Graham and they had George, Bill, James, Alice, Charles, Leslie and Percy.
Priscilla married George Kinney and they had William and Myra.
William Dudley, known as Charles, Val's father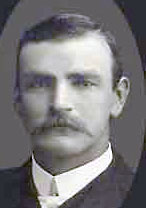 William (known as Charles), married Elizabeth Canet and they had Valerie (Carnegie), Daisy (Roughsedge), Merlyn (Mann) (and stillborn twin), Ulva, and Lester.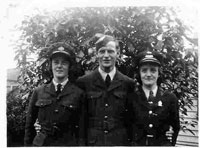 Valerie, Ulva and Meryln Mann
Edward married Annie Rennick and they had Vera, Bert and Leslie.
Fred married Lena Gore and their children were Harry, Nell, (private male), Flo, Elsie, Frank, Connie, Jack, Wally, Joyce and (private female).
Notes (edited by Diana) from Valerie
George Dudley's wife, Elizabeth, was given the surname of Harrison in the original report, however we now know it to be Sinfield, and further on in the report she is listed as Sinfield so to avoid confusion I have changed this original entry to read Sinfield.
We believe William was born in 20th Feb 1837 hence why it was not registered, source IGI records
Samuel (thought to have died in Ridgmont),was born in 1825 and emigrated to Australia on the 27th Dec 1852. Joseph was younger than William and was born in 1839 (have birth certificate) and emigrated aged 18 on the Parsee which arrived in Australia on the 18th May 1858.
Feedback - I'm always happy to receive feedback about my site.
Please contact me here.
This page was updated by Diana Kupke (Diana Mann) on 5 January 2023