The Streeter/Streater Family
To Australia from Kent on the Prince Regent
The Streater/Streeter line in Australia can be tracked back to Emory Streater who was born in 1780 in Kent and who married Frances Catherine Gillman (born 1784 at Dover) on 22 September, 1798 at St Mary's at Dover.
Emory and Frances had five children, Anne (born 1799), Frances Catherine (born 1801), Catherine (born 1802), William (1805 to 1882), and Edward (born 1807).
Prince Regent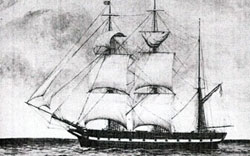 When William was 34 he left England and came to Australia aboard the Prince Regent with his family, wife Charlotte Pelham and four children, William (1826 to 1875), Anne (1832 to 1868), Charlotte (1834 to 1892) and Emmory, known as Henry (1835 to 1907). Three more children were born after their arrival, Edward (1842 to 1908), Delia (born 1844) and Robert (1848 to 1890).
William's brother, Edward, married Rebecca Huntly in Sussex and they had two children, William (born 1842 at St John's Cross in Sussex), and Henry (born 1846 in Folkstone, Kent).
Lady Milton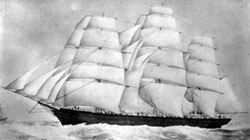 Both Edward and Rebecca's sons left England on board the Lady Milton and arrived in Sydney on 28 July 1862. William had eleven children and Trevor Jordan reports the descendants are now spread all over Queensland from Calliope to Bundaberg.
Now we go back to William Streater and Charlotte Pelham's son, Edward (born 1842) Who married Mary Pollard (1842 to 1921), the daughter of two convicts, Henry Pollard and Martha Brooks who are mentioned in my convict list.
Edward Streeter died on 15 February 1908 in Sydney while Mary died on 28 November 1921 at Botany. They had five children, Edward (1865 to 1932), Martha (1867 to 1928), Albert (born 1869), Alfred (1874 to 1913) and Fanetta (1875 to 1963). Son Edward married Easter Ellen Gane in 1888 at Alexandria in New South Wales, and their grave is in very good condition. Edward and Easter had four children, Florence (born 1888), Albert (born and died 1887), Percy (born 1889)and Clarice (born 1893).
Trevor Jordan has been a wonderful resource and all the following photographs and information have been been contributed by him.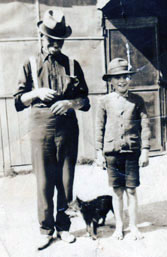 Above is Edward Henry Streeter who is pictured with his grandson, Reuben Charles Jordan (1915 to 1969), and unknown dog. The house was thought to be in Stephens Road, Botany and the photograph was taken during the early 1930's during the depression.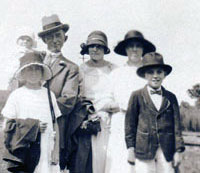 Trevor writes this photograph was taken near the railway tracks behind Kelloggs in Botany. "This is my grandparents (Edward and Easter Streeter), my father (Reuben), and his sister, Florence May (born 1914) and younger brother William Edward (born 1925). In the middle is Grandmother Flo's younger sister, Clarice Olive Myrtle (1893 to 1983). Clarice married Alfred Austin Speechley (known as Ernest). This marriage merged the flower empires of the Streeters in Mascot to the Speechleys in Botany."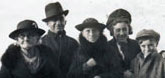 Trevor's grandparents and Easter Ellen, his mother, Bessie (nee Swan), and the young Billy Jordan. Grandfather is at the back.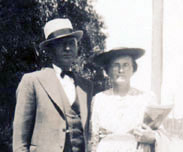 Trevor's grandparents, Reuben Charles and Florence May. Reuben could play the guitar and banjo and had a beautiful singing voice.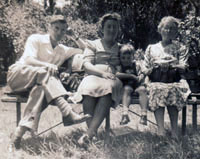 Trevor writes the photo was taken around 1948/1949. Florence May, his mother, his brother Peter, and Billy. Soon after this Billy married and died.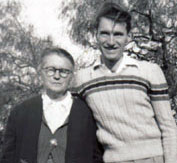 Billy and Flo.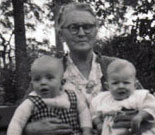 Florence May with Trevor Jordan on the left and his cousin, Lea, who was born after her father, Billy, died.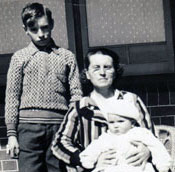 A young Billy, Florence May and Trevor believes one of his cousins, either Kevin or Lyle Wright.
Very many thanks indeed to Trevor Jordan for sharing this information.
Feedback - I look forward to receiving feedback about my site.
Please contact me here.
This page was updated by Diana Kupke (Diana Mann) on 5 January 2023