The Lyons Family
From Tipperary in Ireland to Lexton in Victoria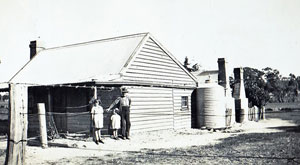 300.165
The house where Charles Mann and Ellen Lyons lived
Credit: Malcolm Williams and the Creswick Connections site
Many of my ancestors have lived in Creswick, near Lexton, and as a result, on the suggestion of Noel Robertson, I have happily joined Creswick Connections on Facebook. A wonderful page. It was begun by Malcolm Williams who has dedicated the site to Joan Lavinia Jones (nee Mann). Joan, who died in 1987, carried out a lot of early research into the Mann family, long before the days of the internet.
Present day memorial to Michael Lyons at Lexton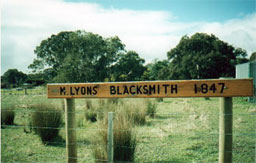 My great great grandfather, Michael Lyons, was born around 1816 at Breunstown, Tipperary in Ireland. Michael married Sarah Jane Marks and soon after their wedding they made the decision to begin a new life in Australia. The couple left Plymouth on November 27 1839 and travelled on the China to arrive at Port Philip on May 1 1840. Two months later Sarah would give birth to her first child so the voyage would not have been very pleasant for her.
In Ireland Michael was a blacksmith but in Australia he went in a new direction and by 1856 he was an innkeeper. He obviously had a strong interest in education as in 1853 he helped set up a school at Colac and a few years later he successfully gained a land grant at Lexton, with the help of a Father Bleasdale, and, for the amount of 333 pounds, a school was built there as well. He was a trustee of the Lexton school committee.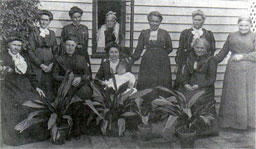 My great grandmother, Ellen Mann nee Lyons is on the far right.
Michael and Sarah had eight children of whom at least one died as an infant. Margaret (1840-1909), Mary (1840), my great grandmother Ellen (10 January 1844 - 22 October 1933), Michael (1847), Sarah (1848), James (1851), Edmond (1853-1855) and Joseph (1855).
Ellen Lyons married Charles Mann in 1861 in Maryborough. The Manns lived in Lexton for many years and below is a photograph taken by Dale and Heather Mann of the house site.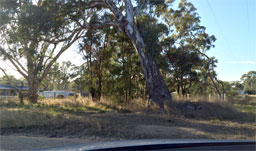 Above, Lexton, the site of the Mann family home
Feedback - I'm always happy to receive feedback about my site.
Please contact me here.
This page was updated by Diana Kupke (Diana Mann) on 5 January 2023