The First Fleet
Dumping Grounds
Until 1776, British convicts were dumped on the American colonies however after the American War of Independence began, this avenue was shut off . The British, who were determined to rid themselves of undesirables, then made two attempts, between 1781 and 1782, to begin convict colonies in west Africa. These attempts failed when the majority of the convicts either escaped, or died from disease, or from malnutrition.
In August 1783, when it appeared peace with America would allow further transport of convicts, Britain sent a shipful on the Swift whereupon a mutiny took place and many people escaped. In March 1784 another mutiny took place on the Mercury with more escapees. Refused by the United States, the Mercury found landfall on the Mosquito Coast in Central America.
Britain gave up on the United States and on August 18, 1786, Lord Sydney wrote to the Treasury asking for ships to be provisioned to carry convicts to New South Wales. New Holland which had been discovered by Captain James Cook in 1770, was renamed, by him, New South Wales, and was described as a good place for a settlement.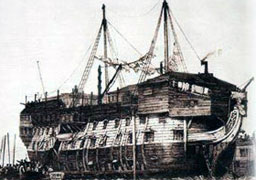 Prison Hulks
Convicts who were destined to travel on the First Fleet were often held, prior to sailing, on prison hulks, until, finally, the First Fleet sailed from Portsmouth, in Hampshire, on May 13 1787 with two of the convicts being my great great great great grandparents, Olivia Gascoigne and Nathaniel Lucas who, at this point, did not know each other as they sailed on separate ships.
Captain Arthur Phillip commanded the First Fleet which included six convict transports Alexander, Scarborough, Prince of Wales, Lady Penrhyn, Charlotte, and Friendship; two naval vessels HMS Sirius and HMS Supply, and three supply ships Borderdale, Golden Grove and Fishburn. Personnel required to man the ships and guard the convicts included 19 officers and 191 sailors. There were 191 female convicts on board and 568 male convicts. Another figure gives us 550 officers/marines/ship crew and their families.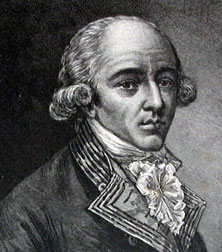 Captain Arthur Phillip
The long voyage, of some 15,000 miles, was broken by stop-overs on numerous occasions however it is unlikely any of the convicts were able to step on dry land until they finally reached the great brown land which would become known as Australia.
Project Gutenberg
Project Gutenberg has the ebook of The Voyage Of Governor Phillip To Botany Bay With An Account Of The Establishment Of The Colonies Of Port Jackson And Norfolk Island (1789) which was written by Arthur Phillip. It is Ebook #15100 and can be quickly downloaded.
Project Gutenberg
The following are excerpts from the original introduction.
Arthur Phillip was the son of Jacob Phillip, 'a native of Frankfort, in Germany' and Elizabeth Breach. The young Arthur went to the school of Greenwich and began his life at sea at the age of 16. In 1761, at the age of 23 he became a lieutenant on the Stirling-Castle, and several years later he married and settled at Lyndhurst in the New Forest.
For a time 'he amused himself with farming, and like other country gentlemen, discharged assiduously those provincial offices, which, however unimportant, occupy respectably the owners of land, who, in this island, require no office to make them important'.
Phillip offers services to Portugese court
When Portugal engaged in war with Spain, Phillip offered his services to the Portugese court. In 1779 he was made master and commander of the Basilisk fireship, and then moved on to become post-captain on the Ariadne frigate. On the 13 November, 1781, when he was 43, he moved to the vessel, the Europe. In January, 1783, he sailed with a reinforcement to the East Indies, 'where superior bravery contended against force, till the policy of our negotiators put an end to unequal hostilities by a necessary peace'.
When it was 'determined to form a settlement on that part of New Holland, denominated New South Wales', Phillip was thought of as the perfect officer to undertake the venture, one which 'required professional knowledge, and habitual prudence'.
In sharp contrast to later convict voyages, there were only 23 deaths during the passage of the First Fleet which arrived at Port Jackson on 26 January 1788. There had been several incidents though including two attempted mutinees by the male convicts on board the Scarborough, the vessel in which my great great great great grandfather, Nathaniel Lucas, sailed.
By November that year only the Supply remained at the new colony. In May the Lady Penrhyn. Charlotte, and Scarborough sailed for China, and two months later the Borrowdale, Alexander, Friendship and Prince of Wales sailed for England. On October 2 the Sirius sailed for Cape of Good Hope for supplies and on November 19 the Fishburn and Golden Grove left for England.
At the beginning of July 1790, the Second Fleet arrived and in August-October 1791 the ships from the Third Fleet arrived. On December 18 the poor sailors from the First Fleet were finally able to go home, to England, on board the HMS Gorgon.
Links to other pages about convicts
Links to convicts associated with my family
Links to surnames associated with my family
Feedback - I'm always happy to receive feedback about my site.
Please contact me here.
This page was updated by Diana Kupke (Diana Mann) on 30 May 2020