James Sandilands
A short story of a great great grandfather
by George Canet
My thanks to George's son, Peter Canet, for providing me with a huge amount of research on our families including this fascinating story about the Sandilands family which I have slightly abridged.
Introductory
It really is a small world. One day in my old age Betty (George's wife) and I were over at the Pacific Fair shopping centre on the Gold Coast talking to David and Susan Petty who run our favourite green grocery there. They mentioned that they had come from Templestowe in Victoria after selling their orchard to the Victorian Government which is retaining and developing it as a tourist attraction to show all the different types of fruit trees and berries which had been grown in the area since the early settlers first started producing fruit commercially in the Bulleen Shire. Mention of the Bulleen Shire immediately rang a bell as Annette Montgomery of Tallygaroopna had kindly sent me information about a James Sandilands who was one of the early pioneer farmers at Bulleen and who was my grandmother Canet's grandfather.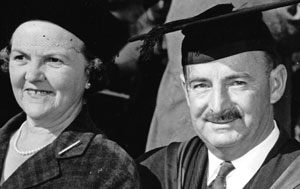 Betty and George Canet in the mid 1960's
This was the first time I had known that I actually had a great great grandfather who had lived in Australia and my first indication that our family had any connection with the Sandilands, even though, as a child, I had been to school with three of them. (David and Susan put George in touch with Irvine Green, author, historian and president of the Doncaster-Templestowe Historical Society. Mr Green extracted information regarding James Sandilands, and maps, and sent them to George.)
England
James Sandilands was a cabinetmaker living and carrying on his business for most of his life at Harrow-on-the-Hill, Middlesex, London. He was baptised on January 10, 1796 at Wells Street, Scotch Church, Marylebone, the eldest child of James Sandilands, cabinetmaker, and Sarah Hammond who were married at St. Andrew's Church, Holborn on 31 October 1794.
James married circa 1818/1819 Margaret Wilkinson who was born at Stockton, near Durham, on 5 August 1795, the daughter of George and Ann (Clarkson) Wilkinson. They had nine children, eight of whom survived. The six youngest were baptised at Harrow. The two eldest, James, and Margaret, do not appear in the Harrow Registers. The 1841 census, however, shows the family living at Harrow Town and lists all eight children as having been born in Middlesex, indicating the first two were probably born in a neighbouring parish. It seems probably, therefore, that the family changed their residence between the births of Margaret and John, moving to Harrow town around 1826.
Bulleen
Bulleen was the name given by the Wrundjeri to the area around the confluence of the Plenty and Yarra rivers and in their language meant 'resting place'.
The exact date on which James Sandilands arrived in the colony has not, at the time of writing, been revealed. We know for certain he and his family were living in Harrow at the time of the 1841 Census. Searches of trade directories for the Harrow area in the years subsequent to the Census do not show any sign of James.
The passenger list for the sailing ship Himalaya, which left Plymouth on October 30 1841 and arried at Port Phillip on February 26 1842 shows that eldest son, James, and eldest daughter, Margaret, were passengers on the ship for whom the fare of nineteen pounds was paid for each. Passenger records show James, aged 19, was a carpenter, Protestant, and able to read and write, and was not married. Margaret, aged 16, was a house servant, Protestant, and able to read and write and was not married.
There are good indications of the 1842 arrival including James' death certificate of 1867 which showed he spent 25 years in Victoria and other death certificates of the family which tally with an arrival in 1842. There is also the belief that one of the 'Sandilands girls drowned in a mud holes in Swanston Street, Melbourne' and this could only have been Catherine (Amelia). Investigation shows she did indeed die tragically on June 6 1842.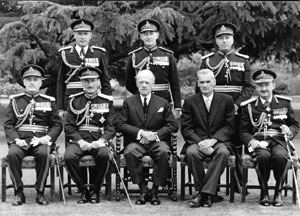 George Canet, far right front row, part of the Military Board 1964. At the time he was Major-General L.G.Canet.
Carlton Estate
In 1837 an area across the Yarra from Heidelberg was surveyed, sub-divided into 32 farms, and became known as the Carlton Estate. James Sandilands leased and later owned one of these farms. The first official reference to James being on the farm is in the 1851 Memorial Book which reveals the financial assistance provided by James for his eldest son and also establishes the fact James (the son) was in the Port Phillip area at the time.
George Canet noted numerous entries relating to James Sandilands at the Carlton Estate as found not only in the Memorial Book but also in Rate Book entries. The Rate Book entry for 1867 notes James Sandilands died 16 Dec 1867.
Looking across Koonung Creek
Not long after World War Two, Betty and I went out to North Balwyn to inspect one of the first post-war housing sub divisions in the Melbourne Metropolitan area. It was just a little past the Doncaster Road tram terminus and we bought two adjacent blocks on the corner of Woodville and Ellendale Streets.
Looking down over Koonung Creek we were attracted by the open country to the east of the Yarra so drove over Koonung Creek, around the open area, and back along Bulleen Road. It was not until some 40 years later that we realised we had driven along a boundary of, and right around, what had been my great great grandfather's farm, and it was only half a mile from our newly acquired blocks!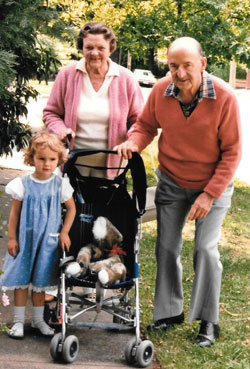 Betty and George Canet with their grand daughter Sophia
Two Town Blocks
The Doncaster-Templestowe Historical Society also had a record of James Sandilands having owned two blocks of land at the corner of King William and Fitzroy streets in Fitzroy. He bought the land in 1849 for twenty pounds seventeen shillings and tenpence and sold them in 1852 for seventy-two pounds.
Some notes on James' Family
Wife, Margaret nee Wilkinson. Born at Stockton near Durham, England, on August 5 1795. Margaret, the daughter of George and Ann (nee Clarkson) Wilkinson, was baptised at Stockton on October 4 1795. Her brother, John, was baptised on March 21 1799. George Wilkinson was a native of Horton and gave his occupation as gardener. Ann Clarkson was a native of Silton in the Parish of Leak, York. Margaret died at the farm at Bulleen on June 8 1863.
Son, James who arrived at Port Phillip on the Himalaya on February 26 1842. There are various real estate transactions in his name.
Daughter, Margaret also arrived on the Himalaya. She was a witness at the marriage of her younger sister, Elizabeth, in Geelong on August 22 1849. The other witness was Richard Grigg who became her brother-in-law as she married his brother George Hooper Griff during the same month. Richard and two of his brothers, William and John, came out from England on the same voyage as Margaret. George had a property, Oakhill at Ceres, near Geelong. Margaret died on a family visit to Rochester, Victoria, in 1878 at the age of 53.
Son, John was born in 1827 and later share farmed with his brother-in-law, John Montgomery, during the mid 1850's. The partnership in the farm at Duck Ponds near Geelong was dissolved on August 26 1858. He married widow, Mary Ann Clark (nee lowthian) at Kyneton on July 22 1875. They had a son, Robert, born in 1975 who was only three when his father died on June 30 1878. During his short married life he helped Mary Ann with the farm which she had inherited when her first husband, William Clark, died in 1869. Although she had children from her first marriage, she passed the farm onto Robert in 1915.
Daughter, Elizabeth Ann came to Australia as a teenager, married young, to John Montgomery and died in Tallygaroopna in 1903.
Son, Clarkson who was given the surname of his maternal grandmother, died at Mooroopna Hospital, aged 68, in 1899.
Daughter Amelia who appears in the family records as Catherine Jane but is called Amelia on her baptism paper. She drowned in a mud puddle at the age of eight in the heart of Melbourne.
Daughter Jane. George did not have details but she was born in 1835, married William Thomson and died in 1869 at the age of 34 after giving birth to nine children.
Son Henry George was the last born and lived on the farm at Bulleen with his parents. One year after his mother died he married Lucy Hicks and had 20 children. The farm was disposed of in 1878 and he then moved to Block no 36 at Tallygaroopna West very close to that of his sister, Elizabeth and brother in law, John, who had block no 43. Henry died aged 72 at Mitcham and his wife, Lucy, died the following year aged 62.
The Grigg Family
Emigrated from Cornwall 1842
The family of Humphrey and Elizabeth (Hooper) Grigg
William (1811), Mary Ann (1813), Thomas (1815), Richard (1817), Daniel (1819), John (1821), Tobias (1823) and George (1827).
William, Richard and John Grigg arrived in the Himalaya as did James and Margaret Sandilands. The three young men went to the Bellarine Peninsula.
The family of George and Margaret (Sandilands) Grigg
Jane (1852), Margaret (1854), William (1857), James (1858), Arthur (1860), Alfred (1862), Thomas (1863), Thomas (1865).
The family of Arthur Grigg
This information is from Diana, Arthur married Elizabeth Coombs and they had a son Arthur Percival and a daughter Margaret Ann. The father, Arthur, died on July 4 in 1947 and his wife died nine days later, both aged 87.
Feedback - I'm always happy to receive feedback about my site.
Please contact me here.
This page was updated by Diana Kupke (Diana Mann) on 5 January 2023