The Sandilands Family
To Australia from England on the Himalaya
The link above is thanks to Peter Canet, who has provided me with his father's story on James Sandilands, and an enormous amount of wonderful research.
The first member of my Sandilands family to arrive in Australia was my great great great grandfather James Sandilands who was born on 7 December 1795 at Westminster, Middlesex, Engand, and who arrived in Melbourne on February 26 1842, on the Himalaya, with his wife, Margaret Wilkinson.
My thanks go to Robert La Nauze who has provided much of the following information.
James Sandilands (1795-1867) was a cabinet maker renting premises in Harrow-on-the Hill, England. He was living there with his wife, Margaret Wilkinson (1795-1863) with their eight children on the night of the June census in 1841 in large premises with extensive gardens. James and Margaret were believed to have married in St Marylebone Parish Church on 29 April 1821. James' father, was most likely James Sandilands (the elder), a cabinet maker of Carey Street, London although this has not been verified.
James and Margaret sold their household goods by auction before they left England. They included a range of mahogany furniture and Brussels carpets. Their leasehold estate, at High Street, Harrow was also auctioned.
James Sandilands and Margaret Wilkinson had (at least) eight children: James (1824-1907), Margaret (1825-1878), John (1828-1878), Elizabeth Ann (1829-1903), Clarkson (1831-1899), Catherine Jane (1833-1842), Jane (1835-1869), and Henry [George] (1837-1909).
Margaret's sister was Elizabeth Wilkinson (1792-1866) who married George Thwaites, cabinet maker, on 6 June 1813 at St Marylebone Parish Church. Elizabeth, who was born 30 September 1792 at Stockton-on-Tees, Durham, was the eldest daughter of George Wilkinson and Ann Clarkson. Presumably Margaret was also born there on 1 May 1795. George Thwaites and Elizabeth Wilkinson had (at least) six children: George (1821-1897), Mary Ann (1823-1828), Thomas Henry (1826-1912), Louisa (1828-1853), Jane (1830-1831), and John (1833-1903).
Sandilands and Thwaites emigrate
The Sandilands and Thwaites emigrated to Port Phillip in late 1841. They travelled together on the Himalaya arriving at Sandridge (Melbourne) on 26 Feb 1842 Rob notes correspondence regarding a Bill of Lading of cargo for Thwaites and Sandilands on the Louisa, which arrived Melbourne Feb 1842 bringing their cabinet making tools.
James and Margaret's children, James and Margaret, came as assisted (bounty) passengers under the category of carpenter and domestic servant respectively. George Thwaites jnr. and his wife Eliza Thwaites also came as bounty passengers under the same categories respectively. The rest paid their way as steerage class passengers.
Together they started to establish a cabinet making business in Melbourne. There were five men trained, or training, as cabinet makers who included George, George jnr, and Thomas Henry Thwaites and James and James jnr Sandilands.
Catherine Sandilands drowned on 6 June 1842 in Melbourne and following this the Sandlilands moved 'to the bush' at Bulleen.
Ancestry
My great great great grandfather James was the son of yet another James who was married to Sarah, surname unknown. This James died on 27 March 1863 at Harrow on the Hill which was also where his wife died a few years later on 5 March 1866. They had seven children of whom James, my great great great grandfather, was the eldest.
My great great great grandmother, Margaret, was the daughter of George Wilkinson and Ann Clarkson.
Elizabeth Anne Sandilands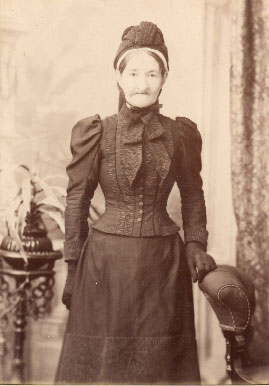 Lots of Elizabeths
Margaret and James' daughter, Elizabeth Ann, was yet another unimaginative ancestor as she also called her daughter Elizabeth Ann.
Elizabeth Ann Sandilands married John Montgomery on 22 August 1849 at Christ Church, Geelong, Victoria. John, who had owned a blacksmith and stables business in Geelong, moved to Tallygaroopna and became a farmer. It is believed John's family came from Aberdeen in Scotland, however he was born, around 1815 to 1816 in Killaugh, Downpatrick in Ireland. He died on 10 June 1892 at Tallygaroopna. His wife, Elizabeth Ann (nee Sandilands) also died in Tallygaroopa, at the age of 74, on 25 November 1903.
John and Elizabeth Ann Sandilands had eleven children being Graham (1850-1851), Henry (1852-?), John (1854-?), James (1857-1857), George (1858-1858), Elizabeth Ann (my great great grandmother (1859-1948), George (1862-1944), Thomas (1867-1954), William (1868-1929), Jane (1870-1946), and Robert (1872-1956).
Feedback - I'm always happy to receive feedback about my site.
Please contact me here.
This page was updated by Diana Kupke (Diana Mann) on 5 January 2023