Canet Family
Deserter
My great grandfather, Robert Canet, arrived in Australia precipitously in 1863 at the age of seventeen and eleven months when, as a crew member on board the Camperdown, he jumped ship. I had written he was in the company of two other lads but, rereading an old email from Peter Canet I now realise a total of 18 sailors jumped ship, and a few others were legally discharged in Melbourne. In addition to Robert the other deserters were Edward Cumming 32, Robert Webster 18, Benjamin Kerward 21, David Cook 18, Henry Peterson 34, John Anderson 30, James Scott 30, Hugh Dewar 22, Robert Tyrell 26, Robert Garling 58, George Cushing 22, James Downing 30, William Crosby 23, William Mason 27, John Olley 46, Thomas Dowling 24, and George Gray 20. As a deserter Robert promptly vanished and nothing is known about him for some fifteen years.
On his daughter's death index reference he was called Robert O'Brien Canet and it is thought he may have gone under the alias of O'Brien and possibly worked on the goldfields. If this was the case he certainly didn't make his fortune.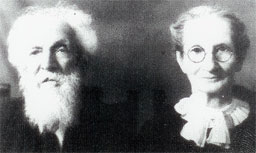 Above Robert Canet and his wife Elizabeth (nee Montgomery)
Robert was born at 63 South Moulton Street, London and was christened, on 7 March 1847, at St Mary's Staining Church, Marylebone, London. His parents were Zacharias Theophile Canet (known as Theophile) and Margaret Turnbull. Little is known about Zacharias' family except that his father, Bertrand, was born around 1790 and was a linen cloth manufacturer, probably in Portugal. It is understood he never visited England and it is thought his children all had schooling in Portugal. Nothing is known about Bertrand's wife. In spite of hours of research by many Canet cousins we have never been able to go back beyond Bertrand.
Zacharias Canet died in Portugal
Zacharias was born approximately 1813 and died, aged 37, in 1850 in Lisbon, Portugal from yellow fever. He was a tailor and it is believed contaminated cloth or clothes, which had been imported from Brazil, was the source of the infection. His son, Theophile also died. Zacharias had married Margaret Turnbull on 18 January 1841 at St Anne's Church, Westminster, London. She may have been the daughter of Algernon Robert Turnbull who was born in 1770 in Alnwick, Northumberland, England and who died in 1843 in London. He was married to Margaret Morgan who was born in 1772 and died in 1857 in Marylebone.
At the time of their marriage they lived at Frith Street, Westminster and four years later their address was 63 South Moulton Street, Hanover Square, London. Their children were Catherine Honorine (1841-1909), Theophile (1843-1848), Robert (1845-1936), Philip (1847-1917), Theophile (1849-1916) and Margaret (1851-1907).
Apart from Robert, the only other child to have children was Theophile who married Hannah Elizabeth Bennett on 9 ctober 1881 at Camberwell, a London suburb. They had Margaret born in 1878, who married George Harrington Bovett, and they had five children, Margaret (1901-1998), Louise (1903-1998), May (1909-2002), Elizabeth (1911-?) and George (1913-1944). All my information on this branch of the family comes from cousin Chris Cutting who lives in England.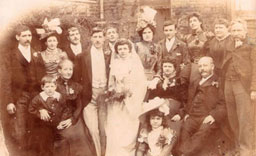 Margaret Canet marries George Harrington Bovett on April 15 1900.
Many thanks to Chris Cutting for this photograph
So Robert married Elizabeth Ann Montgomery (1859-1948) on 20 May 1878 at Mooroopna.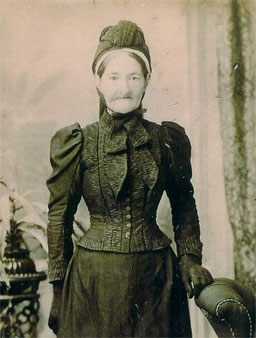 Elizabeth Ann Montgomery, nee Sandilands, mother of Elizabeth Ann Montgomery who married Robert Canet.
Robert and Elizabeth had thirteen children of whom my grandmother, Elizabeth Ann (1880-1955) was the second eldest. The other children were Henry (1878-1953), Honorine (1882-1883), Albert (1883-1955), Rosa Honorine (1885-1965), Robert (1886-1956), Violet (1888-1889), Daisy (1889-1986), John (1891-1969), Honorine Renee (1893-1978), Charles (1895-1978), Jessie (1898-1974) and Pauline (1898-2001).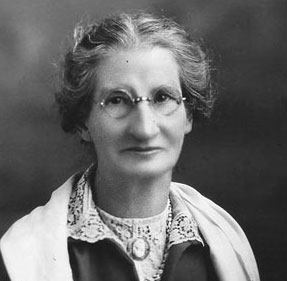 Elizabeth Ann Canet known as Lily
My grandmother Elizabeth Ann Canet, always known as Lily, married William Charles Dudley, always known as Charles, on 2 November 1911 at Yalca in Victoria. Their children were Valerie Lillian (15 May 1912-1 October 2003), Daisy Merlyn (15 February 1914-30 March 1997), Merlyn Isobel (25 May 1915-15 April 2005), Merlyn's stillborn twin, Ulva Neil (28 February 1919-4 January 1945), and Lester Zane (9 June 1921-3 June 2000).
A number of us Canet-descended cousins have shared information for many years but our very high brick wall remains with Bertrand. Any information would be gratefully received.
Canets and Gardiners
Robert and Elizabeth's daughter, Honorine Renee Canet married John Cochrane Gardiner who was from Scotland. The following photographs are all from Luna Honorine Gardiner and are very much appreciated. This first one, of Robert and Elizabeth with their twelve children, is one I have heard about for very many years and now, thanks to Luna, I have finally seen! Recently another cousin, Peter Canet, arranged for them to be improved. My grateful thanks to both Luna and Peter because I had heard about this photograph many years ago but had never had the opportunity to see it.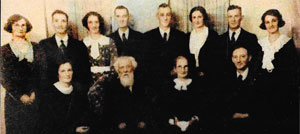 Above, Robert and Elizabeth Canet and their twelve children.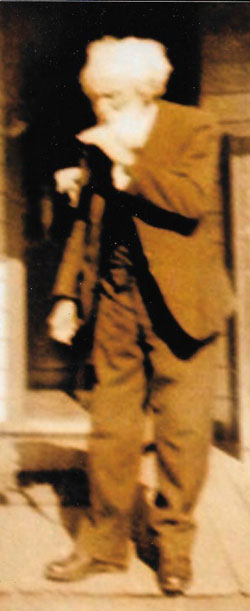 Above, Robert Canet at his family home at Burnell Street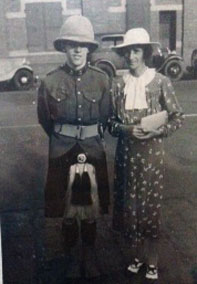 Above, Stan and Renee Gardiner
Canets and Morgans

Above is a lovely cheerful photo which shows Josephine Rodger (nee Canet), Cecelina Morgan (Josephine's maternal grandmother), Agnes (Sadie) Constable (nee Morgan) and Lesley Young (nee Canet).
Sandilands, Wilkinson, Dudley, Green, Canet, Montgomery and Turnbull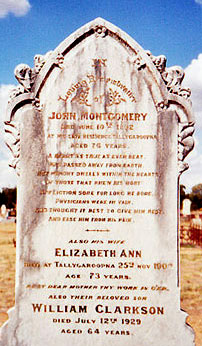 My cousins, Nell and Rosie from the Shepparton area, sent me the above photograph of the gravestone of my great great grandparents, John Montgomery and Elizabeth Sandilands. Their daughter, Elizabeth Ann, married Robert Canet, son of Zacharias Theophile Canet and Margaret Turnbull of London.
John Montgomery, whose parents came from Aberdeen, Scotland, was born in Downpatrick, Ireland, in 1815 or 1816. Elizabeth was born in Harrow on the Hill, Middlesex in 1829. They died in Tallygaroopna, Victoria (near Shepparton) in 1892 (John) and 1903 (Elizabeth).
It is a wonder I have any imagination at all as Elizabeth Anne named a daughter Elizabeth Anne (Montgomery) who named a daughter Elizabeth Anne (Canet). Happily Elizabeth Canet, who married William Dudley, broke this chain and called my mother Merlyn.
Cousin Lesley Canet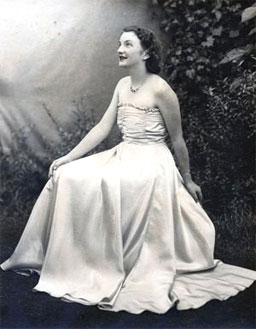 My cousin, Lesley Palmer nee Canet, died in 2008. She was the daughter of Albert and Linda (nee Miechel) Canet and grew up in Tallygaroopna, just across the lane from my mother and her family. Thanks to my cousin, Judy, for the photograph of her mother, Lesley, and also thanks to my cousin, Amanda Dickson, for the photographs of Albert, (below) and Linda and Ronald.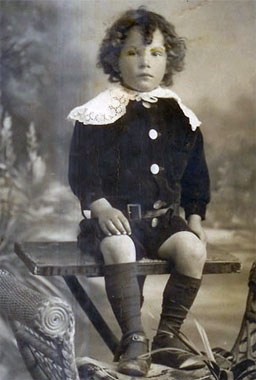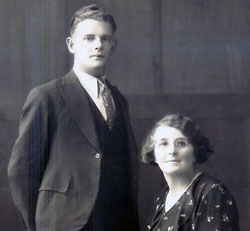 Feedback - I'm always happy to receive feedback about my site.
Please contact me here.
This page was updated by Diana Kupke (Diana Mann) on 5 January 2023