Dudley Family History from Ridgmont UK to Victoria
Down, down, down in the Workhouse
My great great grandparents were George Dudley, born in Wilshamstead, Bedfordshire (1799-1849) and Elizabeth Sinfield, born in Somerstown, Middlesex (1799-1855). They lived in Ridgmont, Bedfordshire where they had nine children, Kitty (1819-1832), Richard (1823-1864), Samuel (1825-1900), Thomas (1829-?), Ann (1830-1832), Catherine (1832-1838, George (1834-after 1851), William (my great grandfather - 1837-1882) and Joseph (1839-1920).
The family was poverty stricken and was believed to have lived in workhouses at various periods. All the girls died young and Richard, Samuel, William, and Joseph all moved to Australia leaving only Thomas in England. He married Mary Hall who gave birth to 11 children.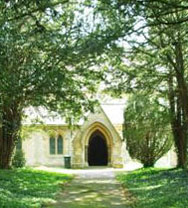 Church in present day Ridgmont
My great grandparents, William Dudley, a labourer, and Hannah Green, a plaiter, married in Bedfordshire on 8 December 1861. William, who was born on 20 February 1837, came to Australia at the age of 25, with his very new wife, Hannah, on the Shackamaxon.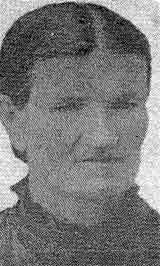 Hannah Green, wife of William Dudley
Also on board the Shackamaxon were William's brothers, Samuel and Richard. Their brother, Joseph, went to Melbourne some years before his brothers, arriving, on the Parsee on 14 May 1858. Although he was only 18 he apparently knew exactly what he wanted to do and went, 'on his own account' to Pentridge prison where he was a gardener.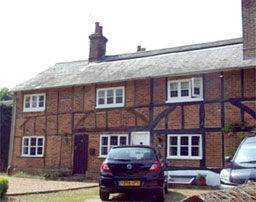 House in modern day Ridgmont
Hannah was the daughter of James Green (1811-1879) and Harriet Grace (1814-1854). They had five children of whom Hannah (1842-1912) was the eldest. The other children were Elizabeth (1845-died young), Elizabeth (1847-1889), Henry (1853-?) and Susie (unknown).
To Corop in Victoria
On their arrival in Victoria William and Hannah went to Corop where they farmed and had their first child. Like so many others at the time, the family caught goldfever, and moved to Linton where their second child was born and in 1876 they moved to Gunbower.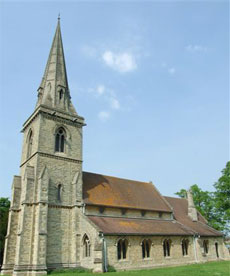 Ridgmont church
William and Hannah had a mini dynasty with 12 children, about 52 grandchildren, and 126 great grandchildren.
Chorley
Hannah, who always called her husband Chorley, was only 12 when her mother died. She must have been an unprepossessing young woman as her aunt, who brought her up, once told Hannah her sister looked prettier in rags than Hannah would in silks. And no doubt poor Hannah never forgot that remark as it passed down through the family to my aunt, Valerie Carnegie (nee Dudley) and is mentioned in her family history.
William and Hannah's children were George (1863-1912), Henry (1864-1949), Alfred (1886-1951), James (1868-1869), Jane (1869-1869), Eliza (1870-1946), Susan (1871-1951, Matilda (1873-1876), Priscilla (1875-1937), William (my grandfather 1877-1950), Edward (1880-1967), Frederick (1881-1953) and Ellen (1883-1972). Ellen was born after her father died. Charlie, who was only 45, died from heart disease which he had had for the previous 18 months.
My grandfather
My grandfather William was only ten when his father died. He left school when he was 13, to work as a house boy on a farm. His earnings were handed over to his mother to supplement the family's meagre income. He later worked in a butcher shop and then for his older brother, Harry, driving a cream truck. He moved in with his brother Harry and stayed with him until he was grown-up.
The Six Footers
William and his brothers must have been striking to look at as one time, when there was a drought, he went with some other brothers to look for work in Gippsland and when a letter was sent to Mr Charley Dudley (because of course he was never called William!) c/- The Six Footers, Walking in Gippsland, the letter reached him! He was a share farmer for some years and also worked making roads, irrigation channels, and levee banks.
He married Elizabeth Ann Canet (always known as Lily) and they had six children, Valerie (1912-2003), Daisy (1914-1997), Merlyn (my mother - 1915-2005), Merlyn's twin (stillborn), Ulva Neil (1919-1945) and Lester Zane (1921-2000). Ulva died during the Second World War flying a Kittyhawk. Below are his wings, passed on to me by my cousin Nell.

Valerie's Story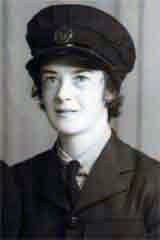 My aunt, Valerie (Dudley) Carnegie spent many years researching the Dudley family. She later sent the completed document on the Dudley family to my mother, Merlyn (Dudley) Mann, and to her sister, Daisy (Dudley) Roughsedge, and to her brother, Lester Dudley.
Ridgmont in Bedfordshire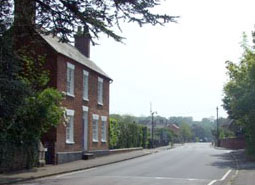 All the photographs on this page of present day Ridgmont, Bedfordshire were taken by Ian McAinsh. Many thanks to Ian for sending these photographs to me.
Many thanks to my cousin, Gloria, for the photographs, below, of William and Hannah's children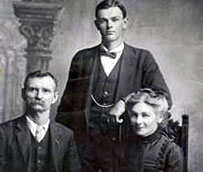 Priscilla (Dudley) Kinney with husband, George, and their son, William.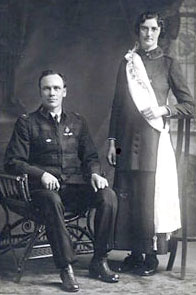 John Murdoch and Eliza Dudley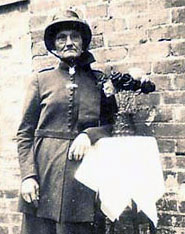 Eliza (Dudley) Murdoch (born 1870)
Susan Dudley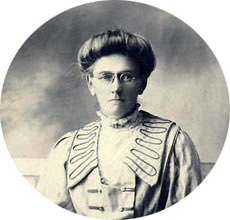 Susan Dudley, my great aunt, married (Ted) Graham on 21 April, 1892, at Wunghnu in Victoria.
The Grahams
Gloria, has also sent me a lovely family photograph of our Graham relations who lived in the Wunghnu area. Wunghnu is roughly half way between Shepparton and Numurkah in Victoria. Close to Wunghnu is Tallygaroopna where my mother and her family grew up.
The photograph, which dates back to 1914, shows the family of Susan (nee Dudley) and Edward Graham. The backrow, from left to right, shows William, Ted, and George. The front row has Leslie, Edward, Percy, Susan and Alice.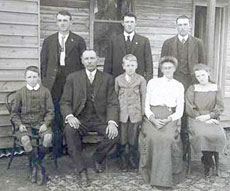 The Graham family of Wunghnu, Victoria
Double cousins - from the Grace/Green side
Below are photos of English cousins. Kate Oldmeadow married Francis Armstrong and they had two children, a daughter, June, and a son, Trevor. Trevor married Pat and I am related, separately, to both Trevor and Pat through my mother's side of the family. The family names include Grace and Green amongst others.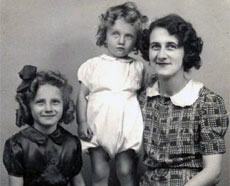 Above June, Trevor and Kate Armstrong, and below Francis and Kate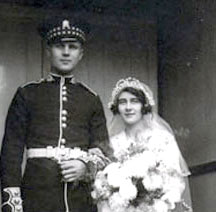 Kate Oldmeadow was born in 1911 at Maids Moreton in Buckinghamshire. Her great great grandfather was John Grace who was born in 1756 who is also one of my direct ancestors.
Many thanks to both Pat and Trevor for providing so much information and for filling in more of my family tree. I have enjoyed genealogy for many years and through this hobby have met cousins from all over the world.

Photograph of Ridgemont in Bedfordshire taken by Dean Dudley
Below are some of my Queensland Dudley cousins, with thanks to Earl Dudley. Pictured are Charles and Doreen Dudley and their four sons.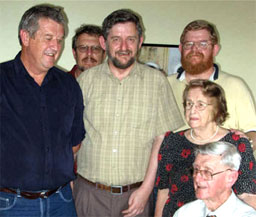 Feedback - I'm always happy to receive feedback about my site.
Please contact me here.
This page was updated by Diana Kupke (Diana Mann) on 5 January 2023