Basan Family History and Genealogy
From England to Jamaica
and back again and includes the Thomas family of Australia
Earliest ancestor
The earliest known ancestor, when I first wrote this page, was Jacob Basan who was born in England, in approximately 1780 and who died, in 1816, in Philadelphia, USA. He was described as living at Port Royal in Jamaica and being a sojourner in Philadelphia. His wife was Judith Rietti who was born in England, around 1760, and died, in 1834, at Southsea in Hampshire, England. She was the daughter of Ester Reitti and had a brother called Abraham. I had Isaac as Ester's husband but this could be incorrect. After Judith's father died, her mother, Ester, married Joseph deMercado and they had a won, Manessah deMercado (George) who was born in March 1790. Ester died on 3 September 1833 in a house owned by her daughter, Judith.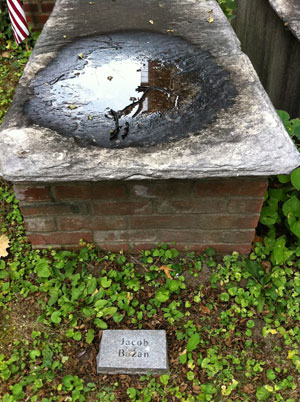 Above is Jacob Basan's grave in Philadelphia
More information
Thanks to a variety of Basan family members I can now take the Basan line back to Eliaser Bassan (1627 to 1674) and his wife Estrella Mozes (1632 to 1704). Eliaser was from Italy and Estrella was from Czechoslovakia. If you would like more information please send me an email.
Slaves in Jamaica
I previously believed Jacob and Judith ran a plantation in Jamaica however Brent Hussey points out they had a store and Jacob also owned a wharf. He was in the ship piloting and freight distribution business with up to 60 slaves. Following a huge fire in Port Royal, the store was lost. Brent also notes that Jacob was appointed one of the readers at the Sephardic place of worship in Kingston. In his will Jacob left a bequest, manumission, for Edward, a mulato servant and the son of his slave Jenny. Manumission means, in varying ways, the slave was freed.
Their children were David, Sarah, Esther, George and Caleb.
In the Knowles Collection, Jews of the Caribbean, there is mention of David Jacob Basan, who was born in 1799 and who died on 18 July, 1827 at Kingston in Jamaica. A burial is mentioned for him at the Orange Street Cemetery at Kingston. David was married to Deborah, born in 1801 in Barbados who died in 1881 in London. They had two sons, Halbert and Wallace. Halbert was married to Matilda Delgado and they had a daughter, Mary Anne and a son, Wallace.
Sarah (born 1805) married Joseph Adolphus and they had two daughters, Mary Anne and Esther, who married Robert Murcutt.
In 1826 Esther (born 1805) married James Bunstone Bunning (6 October 1802 to 2 November 1863). James was a British architect of some note.
About George
George, born in 1809, was married to Mary Jane Folwell and they had eight children.
Their children were Georgiana (1832-1912), George (1834-1897), Alphonso (1837-1934), Conrad (1841-1909), Theodore (1842-1915), Harold (1847-1901), Arabella (born and died 1853), and Medora (1872-1958).
Caleb (born 1811) was married to Catherine Dickins and they had a son, Horace (married to Lucy Edwards with son, Caleb), and a daughter Catherine.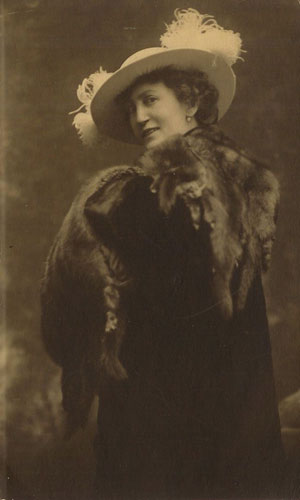 Blanche Adolphus, granddaughter of Sarah Basan.
The latest information is that the Basans were Sephardic Jews who were possibly a Portugese Jewish family as an extract from the will of Jacob Basan shows he bequeathed some of his estate to the Portugese Jewish Synagogue in Philadelphia. The Rietti's appear to be Sephardic Jews from the town of Rieti in Italy
Jacob's Will
This is an extract from the will of Jacob Basan:
"BASAN, JACOB. A resident, when at home, of the Parish of Port Royal, in the Island of Jamaica, but now a sojourner in Phila. (October 30, 1816. December 6, 1816.) To my wife, Judith, and my four children: Sarah, Esther, George and Caleb Basan. To eldest son, David Basan. Execs. in Jamaica: wife Judith Basan, Abraham Vetti or Rietti, of Kingston, Jamaica and Ralph Brandon and sons, merchants of London. Execs.in United States of America: Friends Samuel Bens Akin and Abraham Elken. To Eve Elkins, wife of said friend, Abraham Elkins. To Portuguese Jews Synagogue of Phila. Wit: Robert Beck Laidly, John Brown, Joseph Alexander."
There is a register of slaves for Jacob dated 17 September 1817 and a register of slaves for Judith dated 5 July 1823.
George married Mary Folwell
George, who was born in 1809, died in 1881 in Prahran, Victoria, Australia. He was married to Mary Folwell who was born in England in 1810. Their offspring included Georgina (1833-1912), George (1834-1897), Alphonso (1837-), Conrad (1841-1909), Theodore (1842-1915), Harold (1847-1901), Arabella (1853-1853) and Medora.
Georgina Basan was born around 1833 in London, England and died in 1912 at San Remo in Victoria, Australia. She married George Hull (1822 to 1910) in 1851 in Melbourne, Victoria. Their children were George (1852-), Mary (1854-), Georgina (1857-), Lucy (1859-1884), Fanny (1861-1897), Emily (1862-1928), Alice (1864-1916), Alfred (1868-), Ann (1870-1870), William (1871-), and Edward (1874-).
Georgina Hull (daughter of Georgina Basan and George Hull) was married to Llewellyn Rhun Davies-Griffith who was born in 1850, at Llandudno, Wales. Their children were Hugh (1881-), George (1882-), Owen (1884-), William (1886-), Frederick (1887-), and Leslie (1889-).
Married to Matilda Craig
George Basan was born in 1834 in England and died in 1897 at Collingwood in Victoria, Australia. He married Matilda Craig who was born in 1835 and who died in 1865. Their children were George (1858-1877), Alfred (Alphonse) (1862-), and Matilda Mary Medora (1860-). Possibly following Matilda's early death at the age of 30, the children were either fostered or adopted by a family called Thomas and they then used this as their surname.
At some time following Matilda's death, George married Charlotte Louisa Peachman. George and Charlotte (1848-1898)had a child who was born and died in 1873 and two daughters, Rebecca Jane (1878-1879) and Minnie Ethel (1881-).
George and Matilda's son, Alfred (Alphonse) used the surname Thomas. He was born in 1862 at East Collingwood, Victoria, Australia. Alfred married Martha Elizabeth Jane Streeter (1867-1928)who was the daughter of Edward Streeter (1842-1908)and Mary Pollard (1842- 1921). Alfred and Martha's children were Dora (1885-), Albert Henry (1888-1962), Fanetta (1891-), Vera (1893-), Alphonso (1897-1984), Theodore, and Alma (1885-).
Albert died at Charters Towers
Albert who was born in 1888 at Waterloo, Sydney and who died in 1962 at Charters Towers in Queensland, was married to Alice McMurray who was born in Charters Towers in 1896 and who died in 1923. Her parents were William George McMurray and Mary Jane Bamford. Albert used the surname of Thomas.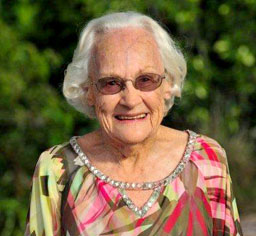 Peggy Molesworth was the daughter of Albert and Alice (McMurray) Thomas
Conrad Basan (the son of George and Mary Folwell) was born in London in 1841 and died in Dunedin, New Zealand in 1909. He was married to Sarah Sutton who was born in 1853 in Melbourne and who died in 1933 in Dunedin. Her parents were Oliver Lewis Sutton (1816-)and Sarah Cecelia Taylor (1824-). Conrad and his wife Sarah has the following children, Conrad (1873-), Mary (1877-), George (1879-), Maud (1881-), Laura (1884-1945), Sarah (1886-), Flo (1888-), Martha (1890-), and Eveline (1894-).
George and Mary Folwell's son, Theodore Basan was born in Kent, England in 1842 and died in 1915 at Cranbourne, Victoria, Australia. He married Mary Jane Henderson who was born in 1842, Newcastle on Tyne, Northumberland, England and who died in 1928, at Tooradin, Victoria, Australia. Their children were Arabella (1869), Mary (1871), Medora (1872-1958), Theolinda (1875), Constance (1877 lived 6 months), Horace (1879), Theodore (1880), Eileen (1882 lived 9 months), Ivy (1883 lived 3 months), Jennie (1885-).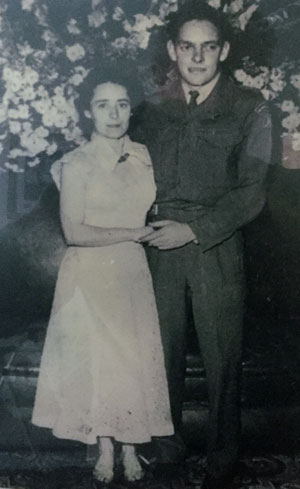 Photograph from Caitlin Letourneau
The photograph above shows Bert Thomas and his wife, Patricia, nee Curran. Bert was the son of Alphonso Thomas and Ellen Colquhoun, and brother of Darcy. Bert, who died in an accident in 1957, and Patricia, had twin sons, James and John, and a daughter Karen.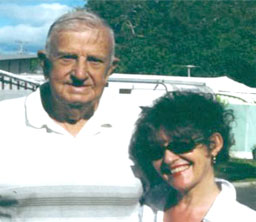 Nola met her great uncle, Fonny (Alphonso) Basan, which enabled her to learn even more about the family Basan history. Although this branch came to Australia from England, it is believed they originally came from Spain, and, from later information, the matriarch's family, Reitti, came from Italy.
Many Basan Cousins
Many descendants from this family have contacted me and provided more information including Brent Hussey, Caitlin Letourneau, Richard Ranson with a very interesting family tree, and Bren Martin with the latter supplying photographs of Jacob Basan's grave and of Blanche Adolphus.
Brent has a page - Judith Basan (nee Rietti) Born c1783 to Feb 1834 - which has photographs and interesting information. Judith Basan
Feedback - I'm always happy to receive feedback about my site.
Please contact me here.
This page was updated by Diana Kupke (Diana Mann) on 5 January 2023