Summer Heights High
As a televison viewer I am a failure. I use my pointy thing with gay abandon the minute I begin to feel bored. When I was researching information for my old school, Brighton High School, now called the Brighton Secondary College, I came across a series, called Summer Heights High, which was set in the school which I had attended fifty-nine years before.
My daughter, Amanda, and I, watched the complete series during a four hour marathon. Knowing nothing about Summer Heights High, we were initially rather confused but once we realised it was a parody we relaxed and throughly enjoyed each segment. I originally only wanted to watch the program in order to see my old school but the story lines and characters soon took over.
Removed!
Following Black Lives Matter, Netflix has now removed Summer Heights High from the listings. This was possibly due to the fact Chris Lilley wore blackface make-up for his role as Jonah from Tonga.
Originally a Sydney-sider, Chris Lilley, who now lives in Melbourne, wrote the series and starred as the three main characters, my favourite, the Tongan student Jonah Takalua, the drama teacher Mr G, and the teenager Ja'mie King.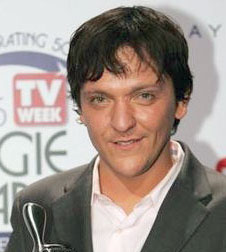 Chris Liilley, author of, and actor in, Summer Heights High
The series, which premiered on 5 September 2007, rose quickly in the ratings when it was shown on the ABC and was later sold widely overseas including in the UK, USA and Canada. It is no longer available on ABC iview. I have just found it on something called metatube, apparently a Spanish app which is also available in English.
Chris Lilley, who graduated as a teacher in 1997, wrote and starred in an earlier mockumentary We Can Be Heroes.
Summer Heights High mixes professional actors with real-life students and staff from Brighton Secondary College. The part of the principal is played by real life principal, Elida Brereton, who was principal of Camberwell High School until the end of 2009. Previously 50 actors had been looked at for the role.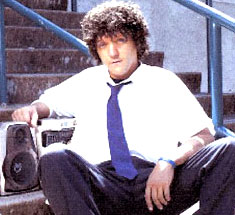 Jonah from Summer Heights High
Links to other pages about Schools
Feedback - I look forward to receiving feedback about my site.
Please contact me here.
This page was updated by Diana Kupke (Diana Mann) on 6 January 2022