Victoria Park Primary School
Victoria Park Primary School in Mackay has had a number of members of my family through its doors including my daughters, Suzanne and Amanda, my daughter-in-law, Denese, and three grandchildren, Kial, Alishia and Riley. Although there may be a time when I don't have any direct connection with the school, it will always have a place in my heart.
The school is in South Mackay and adjoins Queen's Park, however when the school was built, back in 1926, the recreation area was known as Queen Victoria Park and therefore the school was called Victoria Park. In 1970 the infants section of the school moved across Shakespeare Street to its own site.
This situation only continued for 25 years when they were amalgamated once more on the original school site bounded by Goldsmith and Shakespeare Streets. To enable the move Mackay City Council provided additional playground space in Queen's Park and in 2007, when the newly established prep classes began, the old infants site was given a makeover with an oval, a tennis court and a softball diamond.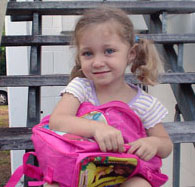 Alishia's first day at Victoria Park Primary School
Victoria Park has 31 classrooms and the 700 students are privileged to have their own onsite swimming pool. Musical interests are encouraged and the school have brass, woodwind and strings ensembles which entertain visitors.
Sixty students at the school are involved in an InnovateIT program whereby they use laptops to access the entire curriculum. Victoria Park is the first primary school in the district to use this program.
The school motto is Loyalty and Truth.
Links to other pages about Schools
Feedback - I look forward to receiving feedback about my site.
Please contact me here.
This page was updated by Diana Kupke (Diana Mann) on 8 January 2022