Places that are part of my ancestry
Tallygaroopna
Home of the Dudleys and Canets
Tallygaroopna, 180 kilometres north of Melbourne is where my mother, Merlyn Dudley, and her siblings, and their cousins the Canets, the Montgomerys, and the Sandilands, grew up and to say it is an obscure place is to speak kindly. I have fond memories of Tallygaroopna and of my grandparent's house which was opposite the state school which celebrated 125 years of education on 20 November 2016.
Murder!
I was totally shocked today, 15 August 2021, to read on the ABC that the beautiful avenue of memorial trees, which I remember so well, have been hacked, murdered!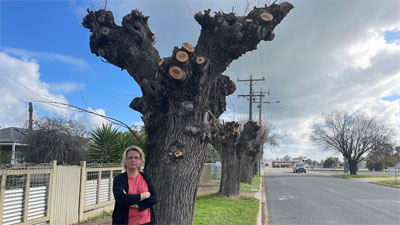 The ABC reported that Powercor had decimated the trees as part of trimming work to clear electrical lines.
Above is Tally farmer, Natalie Akers who lives close by. She described the work as butchery.
Men's Shed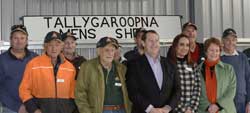 The new Tallygaroopna Men's shed has been opened in Victoria Street, Tallygaroopna.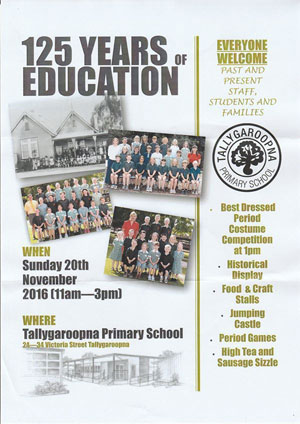 Flood!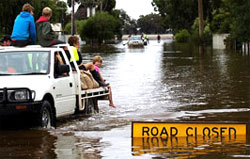 In March 2012 Tallygaroopna, and areas around it, including Numurkah, where I also have family, flooded and, having gone through the Mackay floods in 2008, I know how awful this experience is.
The photograph below is of the 125 year old Tally pub which sadly is no more. I never went inside the Tallygaroopna Hotel but I often walked past it when I was staying at my grandparent's falling down home. Less than six weeks after surviving the floods, the pub was consumed by fire.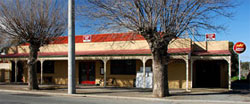 Below is an early photograph of Tallygaroopna Primary School.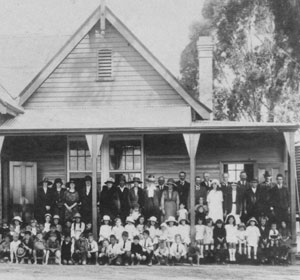 Photographs by Gloria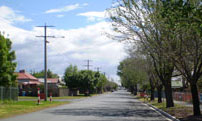 The photographs on this page were sent to me by my cousin Gloria and show modern day Tallygaroopna.I have many memories of visiting the house of my grandparents, Charlie Dudley and wife Lily (nee Canet) when I was very small. I remember sleeping in a sleep-out off the main verandah, the walls were covered with sheets of newspaper. I also vividly remember the glorious perfume of clove carnations when I walked up the few stairs to the front verandah. Just across the lane were my Canet relations.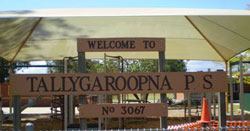 I spent many happy hours high up in a very large peppercorn tree in the front garden where I could gaze across the road to Tallygaroopna State School. I wasn't at school myself so must have been under the age of 5. What were my parents doing allowing me to climb so high?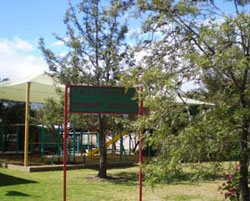 Tallygaroopna appears to have gained its name from a pastoral station of the same name which was begun in the 1840's by Edward Khull. Thirty years or so later the station was broken up to enable settlement of the area however Tallygaroopna Homestead still stands. On 7 December 1875 a post office was opened and life in the small town began. Tallygaroopna is 207 kilometres north of Melbourne and is part of the City of Greater Shepparton. It is on the Goulburn Valley Highway and remains a fairly small place as the 2006 Census revealed a population of 270. Tallygaroopna is 17 kilometres north of Shepparton and 18 kilometres south of Numurkah.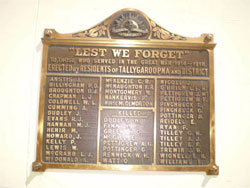 The township has numerous small businesses, a primary school and the Tallygaroopna Soldiers' Memorial Hall where the dedication reads "To commemorate the services of those who fought in the Great War 1914-1918". Names on the memorial include family names Dudley and Montgomery. I have a delightful memory of this hall, I would have been ten or so when my cousins, Maurice and Sid Roughsedge (and I assume their wives-to-be Bet Graham and Doris Latham) took me along to a dance there.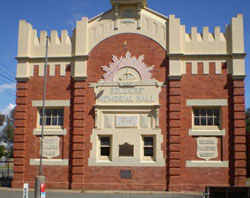 Tallygaroopna Hall
Lots of statistics aboutTallygaroopna
I found some statistics which said Tallygaroopna's population, of 672 people, comprised 47.8 percent females with the remainder being males. The median age is 40 and 63.6 percent of the population is married. The unemployment rate is a low 2.3 percent.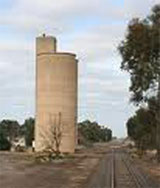 The grain silo at Tallygaroopna
Links to the pages about Places
Feedback - I look forward to receiving feedback about my site.
Please contact me here.
This page was updated by Diana Kupke (Diana Mann) on 8 January 2022