Fourth Archive
Items from 16 June to 7 October 2009
October 4 to October 7, 2009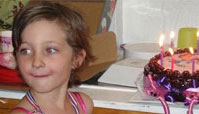 My granddaughter, Alishia, turned eight recently and her party included her cousins, Lakeda, Isabella and Tahlia. It was a pink day and all the females in the family were in the pink when Nick took the photographs below.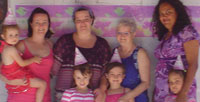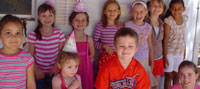 Neuroplasticity
Following a conversation with my friend, Anne, who lives in Townsville, I have become very interested in neuroplasticity. After four and a half years of researching a variety of themes for my university studies, my brain just doesn't want to have a rest yet and I am fascinated in the concept that it is possible for the brain to change its structure and functions, even as we grow older. An odd bestseller, The Brain that Changes Itself, is written by a psychiatrist, Norman Doidge and includes numerous case studies.
One of the first scientists to bring neuroplasticity to the gaze of the public, Mark Rosenzweig, found that the brains of rats who were stimulated were heavier, had a better blood supply, and had more neurotransmitters than the brains of rats whose environment lacked stimulation. Neuroplasticity describes nerve cell activity which can produce changes in the brain. And how do we change our own brains? I'll tell you when I finish reading the book.
Longevity
A subject in which we're all interested is longevity. How long will we live? How much time have we got left in which to do all the things we want to do? An interesting quiz is on mylongevity. Go to the sign on the right which says "Go to Shape Analyser" and answer the questions. I was pleasantly surprised.
September 26 to October 3, 2009
I love alliteration and the marriage of Mikaila with Ben, at Wonga Beach at the home of Mikaila's mother, Judy, is the perfect excuse.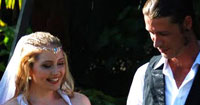 Mikaila and Ben
And by the way...
After four and a half years I have finally finished studies for a Bachelor of Multimedia Studies. I have learned a great deal during that time and will continue with private studies on website coding which I thoroughly enjoy.
September 9 to September 25, 2009
Been very busy with work and the final weeks of my uni degree. While doing a website for uni I have discovered widgets.
September 1 to September 8, 2009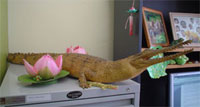 Yes it is!
Yes, that is indeed a croc in the shop (office)! Dear old 147 was bought at a house auction in Mackay about 22 years ago. For some years he lived with us but, becoming bored, went to live with another (stuffed) crocodile at Endeavour Seafoods with Colleen and Max. When the shop closed 147 spent a little time with Colleen and Max and recently arrived at Mackay Division for General Practice where he retreated (sensibly) to the top of my filing cabinet.
Being slightly accident prone I ended up hitting my head on his jaw every time I went to the filing cabinet. A very small friend appeared but, sad to say, the time came for 147 to come home with me. Now he reclines on top of my fridge with two sets of bells hanging from between his teeth.
Anti-social Diana Gads About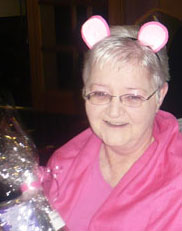 I've been at Mackay Division for two years and during that time I have steadfastly, indeed grimly, refused all kinds of social invitations. I am the original anti-socialist. So well known am I for this trait that when I suddenly agreed to go along to a trivia night, I ended up receiving an award, just for going out!
Most people at the Division are mad, no wonder I feel so at home there. When they have fun they go overboard. Interesting that one of the questions was "What is a pashmina?" and I was wearing one. Clearly I belonged to the pink team and, thanks to Carmel and Nicole, I wore a pink t-shirt with a transfer of the Pink Panther on the front and back, charming ears and a tail. Below are some of the teams which participated (very loudly).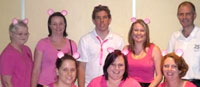 Eggs are ORF!
Special thanks to Mandy who lent me a book which included information about Cleve Backster who used a polygraph which he said showed a fear response in plants and then! upon cracking open the first of a dozen eggs he measured a fear reaction in it which caused the remaining eggs to "faint" so they would not feel pain!! I gave my half dozen eggs to my daughter. I have now taken eggs off my already limited dinner menus.
August 26 to August 31, 2009
In less than five hours it will be spring! Goodbye to the winter of my discontent. Mackay has had some lovely weather lately, I am still wearing track suits and ugg/ugh boots in the early morning but by the time I go to work I am down to a blouse and slacks and sandals.
Many congratulations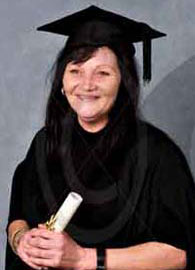 Many congratulations to Donna - who now lives far away in Brisbane - who has graduated as an Endorsed Enrolled Nurse (EEN). Following her graduation she has now been employed in a graduate program for 12 months as an EEN at the Royal Brisbane Women's Hospital.
A new old wedding photograph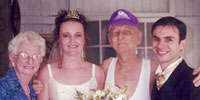 The photograph, above, was taken at the beginning of 2000 when my daughter, Suzanne, married Michael. Following the wedding ceremony at St Mary's in South Mackay, they flitted across Juliet Street and down Stevenson Street to call in to see our long-time neighbour, Col, who was too ill to go to the wedding. Also in the photograph is Col's wife, Phyl.
August 17 to August 25, 2009
April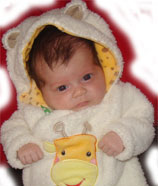 Above is April whose mother is very fond of giraffes. And let me not cast any aspersions as I have a house full of frogs. For a quick reference source I go to Wikipedia. This is where you will find the following fascinating facts (and alliteration is also a source of great pleasure for me). The species name translates to camelopard. An interesting theory as to why the giraffe has a long neck is because it gives 'males an advantage in "necking" contests!' And don't be beguiled by the normal gait which is an amble, a giraffe can run up to 55 km/h. As for sleep, they are not likely to get Alzheimer's (see the story below) as they only require between ten minutes and two hours sleep in any 24 hour period.
Heather and Dale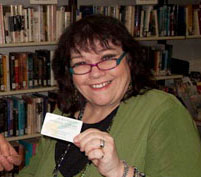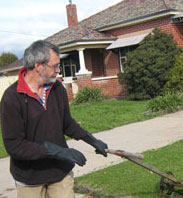 Pictured above is my sister-in-law Heather, taking control of her very first library card. Heather, who works at the University of Melbourne, certainly has access to a lot of books. Next to her is my brother, Dale, who is hard at work with a good old-fashioned lawnmower at their home in Euroa. These photographs will leap out at you as you run your mouse over them.
More about Dementia
New research, from the University Hospital of Madrid, shows people who have eight or more hours sleep every night are twice as likely to get Alzheimer's. Great sigh of relief from me as my sleep is woeful. The danger appears to escalate for those people who have afternoon naps and who sleep in in the mornings.
Other research at both Monash Immunology and Stem Cell Laboratories, and at the University of California, is focusing on stem cells and work with harvesting cells from healthy mice and putting them in mice with Alzheimer's. I wish I hadn't found that piece of information, it is preying on my mind.

Above is a lovely cheerful photo sent to me by my cousin Amanda which shows her mother, Josephine Rodger (nee Canet), Cecelina Morgan (Josephine's maternal grandmother), Agnes (Sadie) Constable (nee Morgan) and Lesley Young (nee Canet).
August 4 to August 16, 2009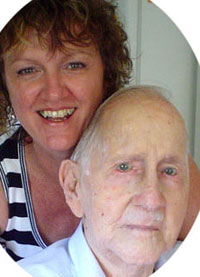 Sam Grant with his daughter, Ellen
Family friend, Sam Grant, died on Sunday, August 9, just two months short of his 89th birthday. Sam and his wife, Louisa, who died a few years ago, led an amazing life and, together with their four children, they travelled and lived all over Australia and on a variety of islands. A few weeks before he died his son, Sam, and daughter, Ellen, visited Sam in his new abode in Mackay and are pictured below.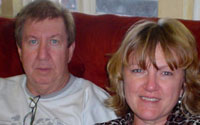 An amazing winter day
I was very excited today, but then I am easily excited. Last week it was because Carmel at work had provided me with a sticky roll thing and I am now cat hair free. I go to work in black rather than in black decorated with white cat hairs. The excitement today arose because at midday, as I drove to the dreaded supermarket, I perspired. And it is still officially winter. And tonight, while moving furniture, yet again, it happened again. Summer may yet arrive although I have had my doubts as I trundled around Mackay wearing thermal underwear, blouses, cardigans, jackets, thick slacks and socks.
Perspiration is not just water and salt, it also includes potassium and, yuk, bodily wastes. Every day we lose about 600 grams of moisture via the skin which is also the biggest organ in the body. A lovely quote is "Horses sweat, men perspire, and women simply glisten." So today I glistened, twice.
The cat(s) did NOT sit on the mat
No, yet again scads of felines took over my couch, chair and footrest thing.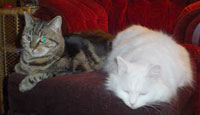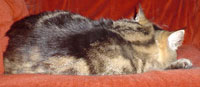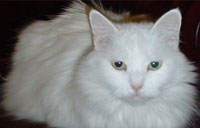 Ticket Time
My children, who usually park outside my house, have been ticketed several times by council. A pity the officer involved didn't visit last weekend when the street was filled.


Sunrise over Mackay State High School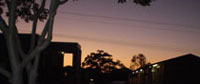 July 24 to August 3, 2009

I have been thinking a great deal about Hong Kong recently since a friend and her family visited there and brought back many photographs. Above is Caitlin and to her right is a Hong Kong ferry which doesn't seem to have changed much (except the paint is brighter) since I lived there forty years ago. The ferry rides were enjoyable as opposed to the one trip on a wallah wallah across Hong Kong harbour which was terrifying. The wallah wallah was a very very small boat which had just enough room for some luggage, the boatperson/driver, and a couple of highly nervous human beings. Below is Caitlin again with Bruce and Brian with the Hong Kong skyline stretching on forever.

Amazing scaffolding
One of my memories about Hong Kong was of the scaffolding, all of which was made from bamboo. Apparently this continues to be used today as it is cost effective and lightweight, yet it is durable and is able to support the weight of the workers and their equipment. It can be transported easily and can be quickly configured to the shape of any building. I used to keep a close eye on the scaffolding on windy days as I was convinced it would take off.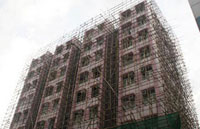 Sad statistic
Mackay has the second highest number of people caught hooning in Queensland. What a sad statistic. Another way to look at this is that perhaps those young men (as they invariably are) will learn their lesson, after losing their cars, and may drive more safely in future.
July 17 to July 23, 2009

I took the photograph of the sunset, above, a few nights ago. I aimed my camera across Paradise Street and the long line of trees, planted many years ago as a buffer to dampen down the noise of passing trains, were silhouettes. The trains have not travelled along that route for many years but the lovely trees remain and are home to a multitude of birds.
I think Stampy and Queenie have been reading my website and, seeing how Thor and Champagne have taken over Dale and Heather's couch, they have followed suit. At least they keep the seat warm even if I constantly wear a faint layer of white hair about my nether regions.
Is there mushroom on this table?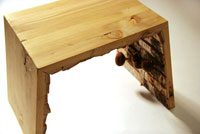 The garden table, above, designed by Shinweirhoda Yen, is made of wood which has been embedded with mushroom spores. Once the table is exposed to the weather, the mushrooms grow and can be eaten. After a few years the table will break down but not before providing the owners with many meals. And this has been yet another fascinating story from one of my favourite sites designboom .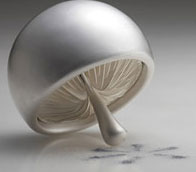 This beautiful silver mushroom, a spore shaker and onion sauce jar, which was designed by Heather Bayless, recently won first prize in the competition, beyond silver, organised by designboom in collaboration with MACEF. The competition attracted 3566 designers from 89 countries.
July 11 to July 16, 2009
Boutique publisher Trunkbook is taking an interesting look at the human body with a series of books which began with "Hair" and is continuing with "Blood".
Trunkbooks is seeking submissions which may include visual materials, which look at all aspects of blood, be it cultural, medical, geographical, historical, religious or social. If you have something that is curious, entertaining, and/or stimulating you have until October 30 to make your submission.
Did you know you can buy a blood spatter mug at Zazzle, or a blood spatter cushion upon which to rest your weary head, or even a blood spatter clock at homedecor.cafepress?



School Days

Old school friend, Denis, brought over a copy of our form four Brighton High School magazine, Voyager, which brought back many memories. The above extract, about the Diana Mann I once was, appeared almost half a century ago.
Thor Thaws Out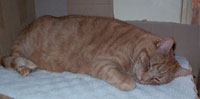 My cats love my heated water bed but now they are jealous that Thor, who belongs to Dale and Heather, has her own heated bed.
Blood Drops Keep Falling on My Head
I am delighted I have overcome my fixation with oval-shaped photographs, but it is rather dismaying that my new fixation - of falling snow, yellow flowers, purple flowers and now drops of blood - may be very distracting for my readers. I haven't had any complaints yet so will keep up the good work.
July 9 to July 10, 2009
For years my Merck's Manual has been one of my favourite non-fiction books, now I have discovered there is a Merck Manual of Geriatrics and Chapter 40 is all about dementia.
Below is a photograph of Mackay Division of General Practice GP, Fiona Millard, who has just visited the XIXth IAGG World Congress of Gerontology and Geriatrics, in Paris as part of a study trip to England and Europe.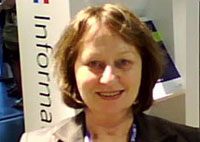 Alzheimers
Fiona's speciality is the study of alzheimers, and as I have a bevy of close relations who all suffered from this, I am particularly interested in her findings.
Alzheimer's Disease affects 24 million people around the world and this figure represents seventy percent of people who have dementia.
One of the speakers at the congress,Professor Francoise Forette, geriatrician and Director of the Fondation Nationale de Gerontologie, described Alzheimer's Disease as a scourge.
There are two types of Alzheimer's, one is familial (with which I am overly familiar with) and sporadic. A world-wide figure suggests a new case of Alzheimer's is diagnosed every seven seconds, a total of 4.6 million new cases every year.
Advance Reminder
On the off-chance that I do indeed become a victim of Alzheimer's, I have changed the side-bar on this website to show photographs of my children, their partners, and their children in order to assist me to recognise them.
July 6 to July 8, 2009

And now it is the turn of my granddaughter, Isabella, to be the star for the day as she celebrates her birthday. She turns six today. Happy birthday, may you have a fun-filled day. Hope you enjoy the falling gold stars.
Face About!
I had an imaginary friend when I was little. She was so real to me I convinced my mother to set a place for her at the dinner table for years.
July 2 to July 5, 2009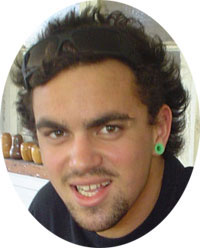 Kial was seventeen yesterday and in three weeks he will get his p plates. May he have a wonderful and a safe year.
Stampy, below. Along with Snoopy, Queenie and Willow, she is curled up in my study where the split airconditioner is making our lives bearable with 26 degrees of heat.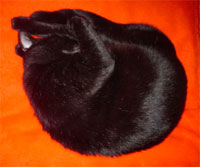 June 28 to July 1, 2009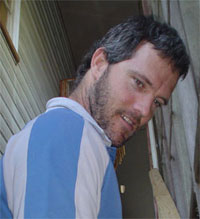 I came home today to discover my son, Nick, armed with his hammer, hard at work putting up a new railing next to my back stairs. As my large black dog often charges up the stairs at the same time as me, the second railing will make it much safer. As I reach the age where falls can be quite dangerous, I will be making good use of the rail.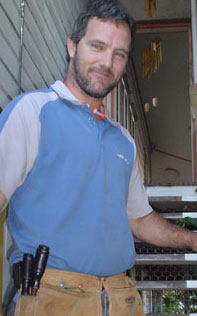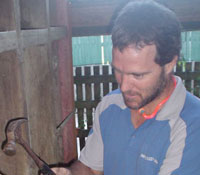 I've had a busy few days both at work and at home. Next week second semester begins and I am on to my final two subjects for the Bachelor of Multimedia Studies. I've been doing a lot of preparation research for the subjects in the hope of lessening the stress of the combination of working and studying. Last night, feeling the cold, I shut myself up in the study with the split airconditioner set to a mild 26 degrees. I was joined not only by Willow my dog, but also by both my cats and both the cats belonging to my daughter.
Granddaughters, Lakeda and Alishia and my dog, Willow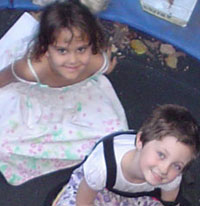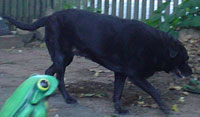 I've been doing some gardening, in a very gentle fashion, mainly pruning and also clearing my secret garden of dead palm fronds. Planting out the secret garden a decade ago was one of the best things I have ever done. The area is a triangle and, in spite of having two busy street frontages, it is quite private and is a delightfully serene place to sit with dog at foot and cats frolicking.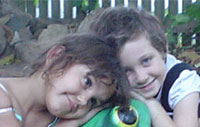 June 27, 2009
Yesterday I had snowflakes falling on this page but it all became too cold for me and I have opted instead for flowers, yellow of course. I am also fairly excited (which shows what a tragic life I lead) by the fact that I have finally managed to have a favicon icon appear next to the name of my site.
Mortification
Our latest link nurse education evening caused much mortification for myself and for Ros. We had fun preparing for a (palliative care) movie night and had pizzas and softdrink and multiple bowls of sweets. Unfortunately the rotten laptop (which was connected to the big flat screen television) went into an endless sleep.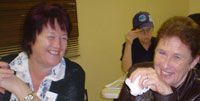 June 23 to June 26, 2009
Having fun
With some free time thanks to the university vacation, I have been having fun trying out different things on my website. I have been delving into the depths of Dynamic Drive where kindly web developers have put pieces of code to amuse and distract.
I hope you enjoyed the earlier snowfall - I could have coded it to go on forever but thought that might make everyone flaky. (This code is thanks to Altan). The cat photo coding below comes from the very active John Davenport Scheuer. If you put his name into a search engine you will find all sorts of code which he has written to enable those of us who play around with websites, to do interesting things.
Stop right now!
Researchers at the University of Utah have invented an item which may be the answer to a parent's prayer. The Key2SafeDriving prevents people from talking on mobile phones or from sending text messages while driving. Studies show those who use mobile phones while driving are four times more likely to be involved in a car crash than other drivers.
Motorists who use mobile phones, or hands-free telephones, while driving suffer from inattention blindness where they are less able to understand what their eyes are seeing. It is the conversation which forms the distraction. However drivers who spoke with passengers or listened to the radio, or to books on tape did not suffer from the problem.
Studies show drivers who spoke on telephones of any kind had impaired driving performance which was accentuated when there was increased traffic.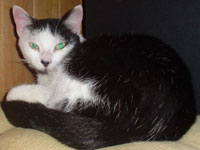 Harry Potter Fans Beware!
Think again if you plan to download a pirated copy of "Harry Potter and the Half-Blood Prince" as it is possible it may contain malware. Peer to peer file sharing sites are being targeted by cybercriminals who are using a particular website which prompts people to install a streamviewer which then installs malware.
June 22, 2009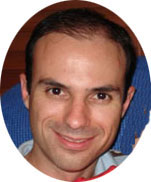 Happy birthday to my son-in-law Michael. In spite of his nefarious project, may he keep his head out of water.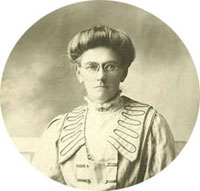 Great Aunt Susan
My cousin Gloria has sent me some lovely photographs of our Dudley/Graham relations which includes the one, above. I have added other photographs from Gloria to my Dudley page.
June 20 to June 21, 2009
Words have always fascinated me. As a little girl my two favourite books were the Home Medical Encyclopedia (which was why my favourite disease was anorexia nervosa long before most people had heard of it), and a huge Webster's Dictionary. I have never liked the word orange and today, for fun, I did a search for ugly words and came up with Wordie which lists 78 words and includes the number of times certain words have been selected as ugly.
Masticate, ochre, treacle, fuschia, quaff and onerous are all words which have been voted over and over as ugly words. I question treacle but agree with the remainder.
Wordie was built by John McGrath, apparently as a joke, however it has gained a very large following.
Irritating Phrases
Oxford University researchers have compiled a list of the top ten irritating phrases
At the end of the day
Fairly unique
I personally
At this moment in time
With all due respect
Absolutely
It's a nightmare
Shouldn't of
24/7
It's not rocket science
I have used 'absolutely' at various times but otherwise I don't use any of the above.
Favourite Words
British people have voted for their favourite words, year after year. In 2002 the three favourites were serendipity, Quidditch and love. By 2007 serendipity had lost out to nincompoop, love featured in second place and mum was placed third.
June 17 to June 19 2009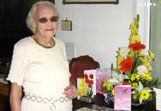 Happy birthday to my dear mother-in-law, Peggy, who is 92 today.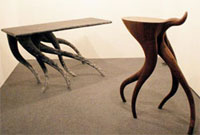 Running horses are translated into furniture by Korean designer, Chul an Kwak. His work is featured on designboom. These tables seem to be dancing which is why I am probably attracted to them.
June 16, 2009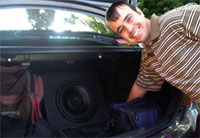 Car boots are no longer the place to store luggage or groceries, they are now the best place in which to secrete large speakers. Anthony, above, who has an ongoing fascination with sound, had decked out his brand new car with an optional extra which is not usually considered by older drivers. My grandson, Kial, who frighteningly will obtain his P plates on July 4 (I am the one who is frightened, it was bad enough living through my three children obtaining their licences, let alone grandchildren), has apparently almost filled his boot with speakers. My boot is pretty mundane, jumper leads, an unread manual for the car, and numerous green carry bags. Below are photographs of Anthony's car from the front, and also of him working on my older, rather sick, computer.
Curiouser and curiouser
I'm delighted that as I get older I continue to hear about new and amazing things. The latest is from Jonathan Tolhurst's website where he talks about a visit he made last weekend to the World Stingiing Nettle Eating Championship at the Bottle Inn in Marshwood, in Dorset.
I've read about stinging nettles being used medically, for instance to take away joint pain and for urinary problems, but I didn't realise people would eat them raw. And with good reason as one competitor, quoted in the Sunday Telegraph (UK), said they tasted foul. Competitors, limited to 65 although many more want to enter, try different methods of ingesting the nettles, one being to roll up the leaf and throw it at the back of the throat. Young nettles can be cooked and have a nutty flavour and they can also be used in soup and even in cakes, but the raw item is quite a different kettle of fish.
5th archive
3th archive
Feedback - I look forward to receiving feedback about my site.
Please contact me here.
This page was updated by Diana Kupke (Diana Mann) on 8 January 2022