Second Archive
Items from 5 September 2008 to 15 February 2009
February 12 to February 15, 2009

After seven months, during which time we covered two subjects, our university group, consisting of Carolyn, Kelly and myself, have finally finished those modules. We had some rather traumatic times and learned a couple of lessons, one to persevere and two, that just because some people run businesses does not mean they are businesslike.
Thanks to Carolyn and Kelly for their distant company - Carolyn is in Caloundra and Kelly is in China. Our logo, above, was designed by Kelly. We produced a website for Mackay North Lions Club.
If everything goes to plan, Carolyn and Kelly will soon be Bachelors of Multimedia Studies.
Fighting an addiction
Ever since the Mackay floods on February 15 last year I am unable to sit in front of an online computer without going to BOM, the Bureau of Metereology site. I check out all the weather forecasts and warnings and then check out the radar for Cairns, Townsville, Bowen and Mackay.
I stare at blue blotches heading for Mackay and go into panic mode especially if there are
yellow blobs in the blotches. I don't know what I think I can achieve, I can hardly send
storms away, all I can do is watch, mesmerised, as the blotches come closer.
Today we have had sunshine which is pretty exciting. Then the sun went in, then the sun came out and then the sun went in again. So I guess with all that movement it must be SUNday.
January 27 to February 11, 2009
It feels almost foolish to be writing twaddle when several hundred people have lost their lives in the Victorian bushfires and when so much of Queensland is flooded.
I haven't written for more than two weeks but now CQU third semester has finally come to an end, I have a few weeks break before I begin the next two subjects of the Bachelor of Mulitmedia Degree.
I've had a few days off work, along with almost all other staff members, as our server has been down. Paperless offices are good as far as saving trees is concerned, but it certainly brings all work to a halt when the computers are off-line and it will be very interesting to have a meeting tonight without an agenda, minutes, or supporting documentation. The Mackay Division Programs Advisory Team met in January and below are some of the members of the group.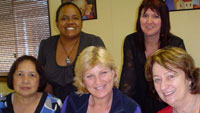 Bianca and Donna (at rear) with Babes, Jan and Fiona
Dengue
It is very difficult to remain a pacifist when dengue fever is a major risk just to the north of Mackay. I will continue to blow away mosquitoes that land on my arms but I think death is going to be the answer for those that land elsewhere.
The past few weeks have seen incredibly high temperatures in the southern states and an e-mail is doing the rounds which shows a koala drinking and then dunking itself in a bowl of water. There is another, where a koala is being given a drink by a trio of cyclists and I am using both photographs below. Two more of my grandchildren, Isabella, and Lakeda, began prep on January 27 while Alishia went into grade three. Only Tahlia is left at home while Kial has marked his one year anniversary of working at G&S Engineering .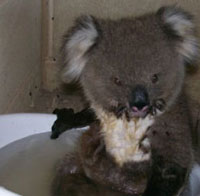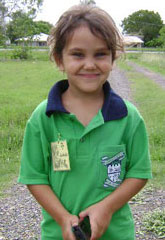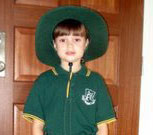 Happy birthday
Happy birthday, belated, to my granddaughter, Tahlia, who is 2, and to Mandy, who is a little bit older.


January 24 to January 26, 2009
Best wishes and congratulations to Mikaila and Ben, pictured below, on the occasion of their engagement. The couple will marry on the beach at Wonga Beach on September 11.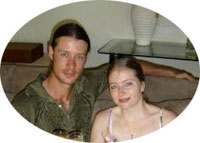 January 19 to January 23, 2009
This week Mackay Division of General Practice has been filled with flowers and pavlova as two staff members, Liz Cheong, and Anette Goodchild, celebrate birthdays.
Mandy Lavarack is also featured below holding a range of booklets written and released by the Research Unit of the University of South Australia. They were compiled by Drs Debbie Kralik and Anne van Loon, and Kerry Telford. The 11 titles cover subjects including pain, fatigue, constant change, grief, loss and fear, shifts in self and identity, relationships, sexuality, interacting with others, our inner world, self care and understanding transition.
Each booklet includes first person stories from people who have faced problems in the above areas.
And to roundup this gallery is a photograph of Liz with two of her dolls, one of which is very old.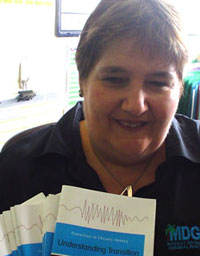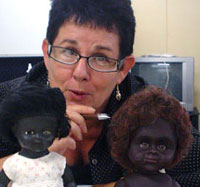 January 16 to January 18, 2009
My yellow car is now back on the road thanks to excellent work from Pat, Mick and Dave at Pat's Panels.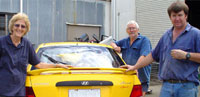 Pat, Dave and Mick and my yellow car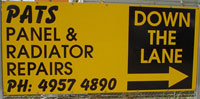 Pat's sign would colour co-ordinate beautifully with my kitchen. Karalyn, who is shown wearing her free dress Friday t-shirt has been a valued member of many Mackay Division of General Practice projects and programs.
The final photograph has me baffled. I bought these thumbtacks thinking they were, as it said on the box, square and thought that was an excellent idea. The thumbtacks are like every other one I have ever seen, they are round. I wonder if Square is the name of the company.
January 5 to 15, 2009
I notice I have taken my eye off the date for a brief period and suddenly we are half-way through January. Before I know it, the year will have disintegrated, December will be here, and I will transform, once more, into a Grinch.
I enjoyed a holiday break which included a lot of time with family members, the enjoyment of coding a site for university studies, and meeting up, over the telephone, with Aileen, whom I hadn't seen for many years, and via e-mail with Isabel, a friend from high school days.

A joyful collection of members of the MDGP Palliative Care working group with, from left to right, Eleanor, Maggie, Heather, Glenis and Ros
It is all systems go at Mackay Division of General Practice with program and project officers organising events and running meetings. The Division has a heavy involvement with many sections of the community. Members of the Palliative Care working group represent Queensland Health, nursing homes (Resthaven, Homefield and Northview), domiciliary care (OzCare and BlueCare), and the Mater Hospital.
And here is a winning combination of photographs, a baby and a dog. The baby is Carter, first child for Lee and Dale, and grandchild of Val and Ken. The puppy has appeared before, is called Major, and belongs to one of my Melburnian nephews.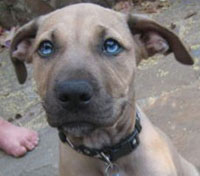 January 3 and 4, 2009
Many years ago I wrote a book called Volunteering which had the dual purpose of motivating people who wished to volunteer and also assisting organisations to plan a viable volunteer program. I was therefore very interested to read the latest statistic, that there are 5.4 million volunteers in Australia and that their work is worth $42 billion every year.
If you removed volunteers then many sporting groups would disintegrate and schools, which have come to depend so heavily upon their P and C's, would lose a great deal of funding.
Siobhain Ryan, writing in The Australian, discussed the suggestion of skills passports, a portable record which could provide savings whereby police checks and training of various types would only have to be undertaken once.
The 2020 Summit raised the idea that students could use volunteer work to reduce their HECS debt.
---
Lots of rain in Mackay
During the past few weeks Mackay has received a great deal of rain which makes us an area where the grass is definitely greener.
Just before the rain began both the schools near me top dressed their ovals with great quantities of sand. That sand has now disappeared and the grass is almost as high as an elephant's eye. One of my street frontages had also become wildly overgrown with bougainvillea reaching out to trap the unwary pedestrian but since the photograph below was taken I have taken out my pruning shears and the area is now safe.
Second day of 2009
We live in an amazing age, and one in which communication is paramount. The statistic that stuns me is quoted by writer Beverley Head in the recent edition of Information Age and says that two million e-mails are sent EVERY second. And since YouTube began in 2005, people have watched more than 100,000 years of video. If that statistic doesn't exhaust you then read on because every minute of every day, 13 hours of video is being uploaded to YouTube.
Welcome to January 1, 2009
It is just 35 minutes past midnight on day one of the year 2009. Last year skipped from February to November and in spite of trying to keep track, the year zoomed by. This year, 2009, I am tracking closely. So far I have enjoyed 36 minutes of it. My dog Willow didn't and now my cat Snoopy has suddenly become terrified of fireworks too. We had two lots here in Mackay, one at 9 pm which I didn't expect, and the second lot, at midnight had the loudest booms I have ever heard. My pets have now settled down.
And to everyone who reads this, my heartfelt wish for you all is that this year is a safe and healthy one for you and for your family members.
And now I will sign off at 12.38 am. That's 38 minutes gone but I am keeping track.
December 31, 2008
During the year I interviewed Gladys Brown from Good Shepherd Lodge, Hazel Kay from Francis of Assisi, and Mimi Lean from Homefield. All three women were a delight to interview and I wish them well for the coming year.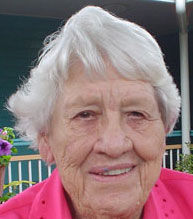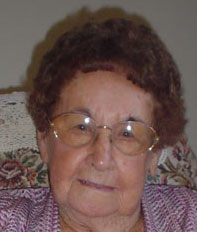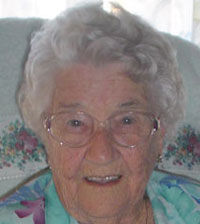 December 30, 2008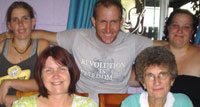 Visitors today included four generations with Nancy, her daughter Danielle, Danielle's daugher Megan, and Meaghan's two children, Kiara (pictured below), and Christopher. Amanda and Walter are also in the photograph above. And keeping Kiara company below are Gizmo, Queenie (the cat formerly known as Angel), Stampy and Willow who has been beside himself (and very closely beside me too) because of all the thunder lately. Snoopy lazes alone.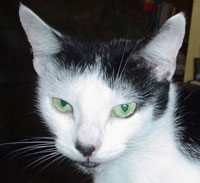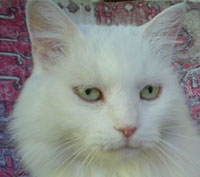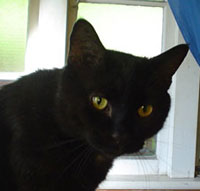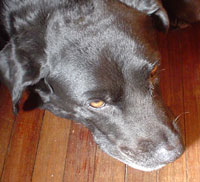 December 26 to December 29, 2008
Being a frail aged anti social geriatric I didn't go to Joh's place today. I did have a good excuse this time though as there were storms and as my car boot is no longer waterproof, and as my lights are covered with red cellophane which is definitely not waterproof, I couldn't accept her kind invitation to visit. BUT (says Diana singing in tune) Happy 25th birthday to you dear Joh. Enjoy your holidays.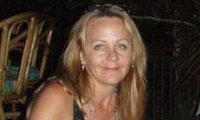 Nola met her great uncle, Fonny (Alphonso), recently which enabled her to learn even more about the family Basan history. Although this branch came to Australia from England, it is believed they originally came from Spain.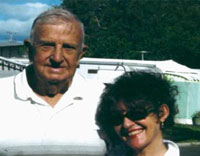 December 25, 2008
As this very fast year whirls to a close it is a good time to look at our lives and to count our blessings. All my children have left Mackay at some point but they have all returned and I am very lucky that I see them all quite often. Today I saw everyone at various times. Looking at my five grandchildren I am amazed anew at how fast they grow, it seems to be a faster process than when my own children were growing up.
The following gallery includes a mix of family members, pets, a cousin, friends and a scary orange jessamine tree. I wake sometimes to a houseful of glorious perfume and when I look out over the deck there is the tree, almost hidden by masses of white blooms and I remember stories about how the flowers presage rain. Below my new cousin, Gloria with her dog, Ash, and Carmel from work pretending to be a reindeer. My nephew has a new dog, Major, who is also featured here.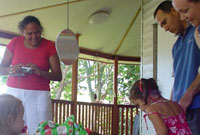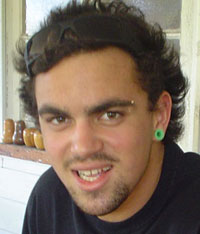 December 23, 2008
For the past seven or eight years I have enjoyed researching my family and during that time I have met many new cousins scattered around the world.
One of the newest cousins, Gloria, who was recently in contact, has sent me a lovely photograph of our Graham relations who lived in the Wunghnu area. Wunghnu is roughly half way between Shepparton and Numurkah in Victoria. Close by Wunghnu is Tallygaroopna where my mother and her family grew up.
The photograph from Gloria, which dates back to 1914, shows the family of Susan (nee Dudley) and Edward Graham. The backrow, from left to right, shows William, Ted and George. The front row has Leslie, Edward, Percy, Susan and Alice.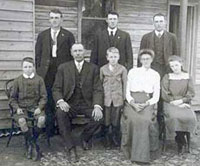 Water Water Everywhere, Nor Yet a Drop to Drink
Last week I put up a number of photographs of members of my family enjoying themselves in Mackay's new Lagoon. This week I have two more photographs, thanks to my daughter Suzanne, which are not as washed out as the other ones were. This is what happens when you take photographs near a lagoon, the immense amount of water just swamps the film.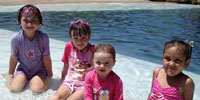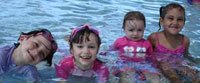 December 19 to December 23, 2008
As a xmas gift, for the environmentally conscious, who could go past a bamboo laptop? The 12 inch laptop, launched by Asus in Taipei, has a shell made of bamboo and is part of an initiative to use renewable materials.
And this next idea is way overdue, a flat lightglobe. The flat shape means globes can be easily stacked and, as they do not roll, breakages are at a minimum. This flat bulb is from Korean designer Joonhuyn Kim. The words globe and flat are not interchangeable, will Australians need to call them lightflats? Both the bamboo laptop and the flat lightglobe are via the fascinating website designboom.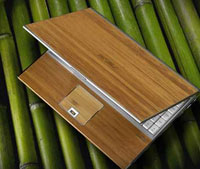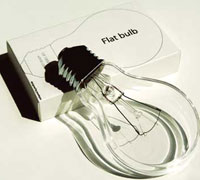 GetUp
The organisation formed a few years ago, GetUp! Action for Australia, has been incredibly pro active and has shown people power can indeed make a difference. The organisation targets a variety of issues, you support only those in which you believe. And if you believe in dangliing participles I am sure you could begin a campaign for them too.
Okay I'll Write the C-Word
I've managed to avoid it so far but Christmas wouldn't be Christmas (grumbled Jo, lying on the rug) without a photo of grandchildren, in this case Tahlia and Isabella, with Santa Claus.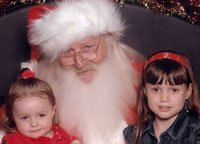 Tahlia and Isabella with that chap
The following photographs, of Sam Grant, were taken of him in his younger days when he was a member of Mackay North Lions Club. I am presently working on coding a website for the club as part of a university subject and found the photographs lurking.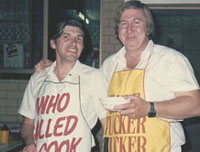 December 8 to December 18, 2008
I am on leave at the moment and although a slight car accident was not an auspicious beginning, it has otherwise been going at a hectic pace. I am doing two university subjects during this summer term and as one is time intensive it is a good thing I am on holiday otherwise I would be a nervous wreck.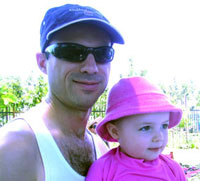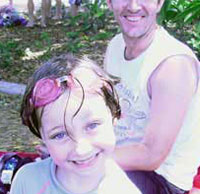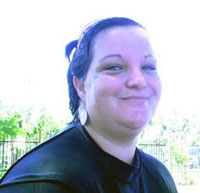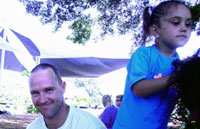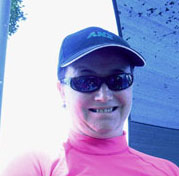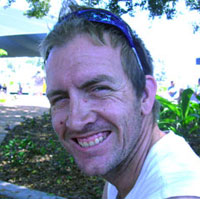 For many years Mackay people have been calling for a lagoon area and a month or so ago the Bluewater Lagoon was opened near the heart of town. Obviously it is a great success as during November a total of 79593 people visited. On numerous occasions all my family found their way there from Bakers Creek, Blacks Beach and Mackay. It is apparently a great place for a family get-together. They live in the tropics and they are very fond of swimming. They have all been well indoctrinated though, not one of them puts their head under water. If their hair appears wet it is because it has either rained recently or they have had showers. I believe that implicitly. This is the reason I do not go with my family to either the beach, pools or the lagoon. What I do not see does not happen.
Home Again
In February this year some 5000 houses were damaged during the Mackay floods. As we approach the end of 2008 the Daily Mercury reported the good news that 4988 of those homes are now habitable. Only 12 families do not have livable homes. A small number out of 5000, but for those 12 families this festive season will not be as happy as they would have hoped.
Having been frightened of wind since December 25 1974, when I was an unwilling participant in Cyclone Tracey in Darwin, I have now added heavy rain to my fears. Unfortunately I have a huge orange jessamine tree and every now and then I wake to find it has changed overnight from a green tree to one totally laden with blossoms. And this often means heavy rain within the next day or two. The glorious perfume fills the garden and the house, but those blooms prey on my mind for the following few days.
November 27 to December 7, 2008
I've never really thought about the fact that ants must have very dirty feet until the summer influx began. As I am a pacifist it isn't possible to kill ants that come into the house and although I provide all sized ants, green ants, big black, medium black, and tiny black with sugar water on the deck, some still make the trek inside.
And what a trek it is as the above photograph shows. They have made a tiny dirty path (which you willl notice is a double lane highway), across my window sill, apparently none deviate from this. If I clean the path away will the poor little things become lost, or will they begin a new one? A larger photograph will appear if you move your mouse across it.
Beautiful
Mackay is looking beautiful at the moment with a wide variety of brightly coloured flowering trees.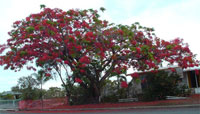 I have had a busy few weeks with work plus university assignments. I haven't written about my studies on this site but I am undertaking a Bachelor of Multimedia Studies and once this semester finishes, I will have four subjects left. Many of the subjects have been very useful, particularly those dealing with website coding. Coding is addictive.
A photographic round-up below includes friends Donna and Ed who now live in the Brisbane area. There are also photographs of Lesley and Leigh Newman. Leigh is descended from Richard Sydes, a convict, who was the third husband of another convict, Ann White, who came to Australia on the Second Fleet. Ann and her second husband, Kennedy Murray, were the parents of Elizabeth who married James Lucas, the son of two convicts from the First Fleet, Olivia Gascoigne and Nathaniel Lucas. And all of that lot are my ancestors. Best wishes to Leigh and Lesley for a great trip to the UK where they will visit children and grandchildren.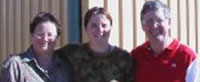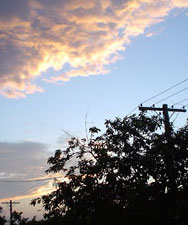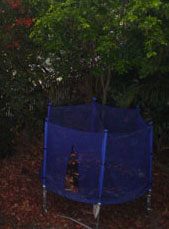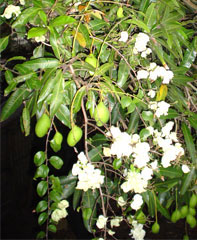 The final three photographs were taken at my place. The first was taken from my front door looking at the pretty sky, the second, the appearance of a red tree in my yard, and thirdly the overloaded mango tree with attached bougainvillea blossoms.
November 25 to November 26, 2008
He finally did it!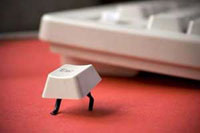 Because.....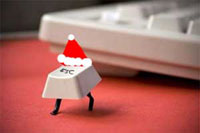 He had an escape claus!
November 21 to November 24, 2008
Pleasant surprise
I took my camera out to the deck a couple of days ago, ready to photograph a storm, instead of which I found a rainbow.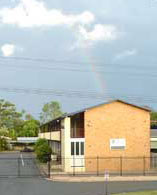 Lord of the Flies
For all those people who love chocolate, you should learn to love flies, without them you wouldn't get your daily quota! This morning Margaret Throsby interviewed Dr David Yeates on ABC FM Classical and Dr Yeates said the cacao tree, whose seeds eventually become chocolate, absolutely required the help of tiny flies or midges to become pollinated.
I never realised the subject of flies could be the basis of such a fascinating interview and apparently many others felt the same way as they besieged Margaret Throsby with questions to put to Dr Yeates during the program.
As the senior principal research scientist with the CSIRO, Dr Yeates and his group study the taxonomy and relationships of flies which in scientific circles are known as diptera. Last month he won the 2008 Mackerras Medal, which was awarded by the Australian Entomological Society, for his work with flies.
Dr Yeates, who has spent half his life specialising in research on flies, says they play crucial roles as nutrient recyclers, flower pollinators and are natural pest controllers
Pets for a Monday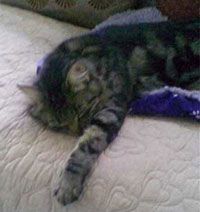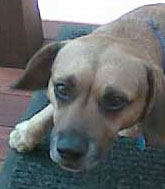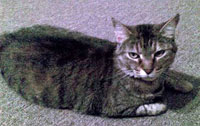 The pets above all belong to the parents of Carmel Broxham (nee Kennedy).
November 15 to November 20, 2008
Bianca Toby, who has featured in numerous photo galleries on my site, attended her sister, Juanita Fewquandie when she married Neil Seden on the cliff top above the beach at Slade Point recently.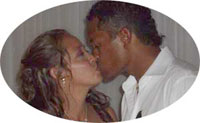 Juanita and Neil
Family Far Away
Being so far away from my brother, Dale Mann, and his wife, Heather, and their children, it is always a delight to see photographs of them. The first one, below, is from many years ago while the next two are recent. I also added some photographs of my garden and one of Angel who belongs to my daughter, Amanda.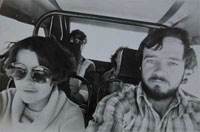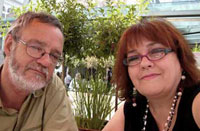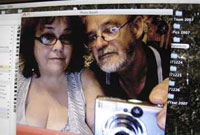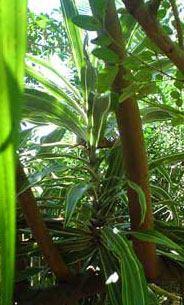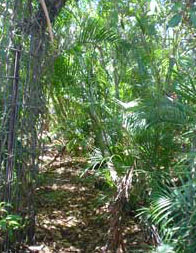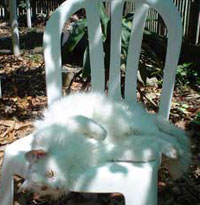 Spoofed
My private e-mail address has been spoofed. I often send myself e-mails as reminders and for a short time, I worried about my mental state as I had no recollection of sending some. Then I discovered they were not from me at all. My provider, Optus, responded immediately although they were unable to take action.
Andrew from Optus was very helpful and explained the person sending the mail had changed the settings within their own mail account to make it appear the email was being sent from me.
He advised I should contact the ISP for the person who was spamming me as ISPs take a dim view of all spam and virus sending activity.
I wasn't the only one who was affected, a poor USA firm,Colorgraphic had its name and address attached to the spam e-mails and as a result Rob, from Colorgraphic, said their telephone had rung off the hook and they had received hundreds of e-mails from all over the world from people who had also been spoofed.
Colorgraphic sells signs, banners, trade show graphics, and vehicle graphics. The company, through Rob, responded very quickly to my e-mail and said both the police and their ISP were unable to take any action, so the company has contacted the FBI.
If you are spoofed simply hit the delete button. Do not click on anything within the body of the e-mail as this just tells the spoofing person you are 'live' and they will inundate you.
If you are spoofed you can contact the Australian Government website for more information.
November 8 to November 14, 2008
Running late again. I almost forgot Melbourne Cup Day which is celebrated at work every year with a lunch. It is a time when all the women (and one man) look fascinating.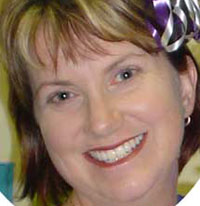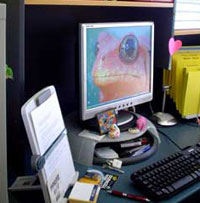 November 3 to November 7, 2008
I don't normally mention politics on this site but after the many tragic Bush years there is now hope.
Thoughts of Darwin
Darwin was an interesting place to live, particularly before Cyclone Tracey and it was a strange coincidence that during the past week, Mackay Division of General Practice staff visited Darwin for a forum, and at the same time I noticed a letter in the one and only Daily Mercury from a former Darwin workmate, Robin Flannery.
For the past five years Robin has helped organise a Queensland NT reunion. The 34th NT Reunion will be held from 10 am on Sunday, December 7 at the Waterfront Hotel in Maroochydore.
E-mail leaves all other communication for dead. It is lovely to catch up with Robin and Karon after many decades. I worked with Robin at the Darwin Community College, which later became the Charles Darwin University. Karon also worked there after I had left the NT.
I haven't been back to Darwin for many years and was stunned when I was shown the following photograph of the Darwin skyline, taken by Liz and David Cheong.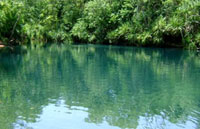 A favourite spot during the hot Darwin days was Berry Springs, above, which has not changed. Move your mouse over the photograph to enlarge it. Thanks again to Liz and David.
Mackay Division people enjoyed their time at the Darwin forum. The photograph, of the pirates, below, shows them in good form complete with black teeth and tattoos. Joh and Karin gave a presentation, during the forum, of their Well Workers project which included a poster which showed a variety of health care workers.
Information on the Mackay Division of General Practice website shows that the Mackay Well Workers Project and the accompanying promotional campaign was developed to address the low influenza vaccination rates among health care workers and the risk that 'the Flu' posed to their health and the health of their families, as well as to the health of the patients in their care.
I was lucky to arrive in Darwin when it was still almost a frontier town. I joined the Darwin Community College as its first journalist some months before the building was completed. We worked in office space in the heart of Darwin and later, when we moved on to the campus, we were amazed at all the space. The library was huge and it was here, after Cyclone Tracey, that I lived for a time surrounded by thousands of books.
Icing on the cake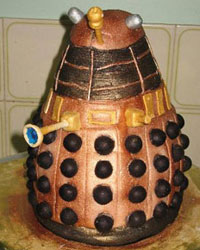 My friend Bronwyn has been busy, the following cakes were all iced by her. My favourite is the Dalek cake which Bronwyn made for her daughter, Joelene. Being a great fan of Dr Who, I have a soft spot for the Daleks and I know 64 year old females should be above such things but I enjoy doing imitations of Daleks, usually when I am alone.
A short list
Bored? Here are some more things to do with WD-40. The basic ingredient is fish oil.
Removes tomato stains from clothing
Keeps glass shower doors free of water spots
Camouflages scratches in ceramic and marble floors
Keeps scissors working smoothly
Lubricates noisy door hinges on vehicles and doors in homes
Use on squeaky rocking chairs and swings to stop the noise
Lubricates tracks in sticking home windows and makes them easier to open
Restores and cleans padded leather dashboards in vehicles
Lubricates fan belts on washers and dryers and keeps them running smoothly
Keeps rust from forming on saws and saw blades, and other tools
Removes splattered grease on stove
Keeps bathroom mirror from fogging
Photo Roundup
Below is a photographic roundup from the past week or so. The first photograph will make it clear why toddlers and spaghetti bolognaise do indeed mix.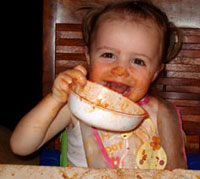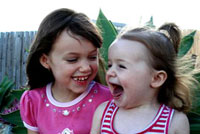 November 2, 2008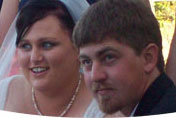 After some delay, here is a photograph of the recent wedding of Carmel Kennedy and Steve Broxham.
October 30, 2008
After a week during which I had to skip countless stories in the local paper, the Daily Mercury, it was a pleasure to come across a story which warmed the cockles of my heart, not that I have ever quite known what that saying means.
Ergon Energy is in the process of erecting a pole, quite near an existing one, to provide a home for a crow, and not only that, but it is also adding disused high voltage equipment to the top so the crow can feel at home.
The reason for this is because the crow previously built a nest on top of a pole which included active high voltage equipment and which resulted in numerous power disruptions.
In order to keep both the customers and the crow happy, Ergon is taking the step of providing the crow with a new home. Let's hope the crow is happy in its new environment.
And as I wandered lonely as a cloud through the dim reaches of Google I discovered firstly that a cockle is a bivalve mollusc and secondly discovered the link to an abstract visualisation of warm the cockles of my heart. Bron has been taking photographs for five years.
October 29, 2008
Here are two little family day care friends, my grand daughter, Lakeda, and Amy Rose.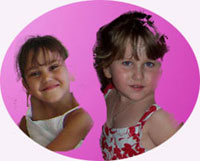 October 25, 2008
Caitlin Lavarack, a student at North Mackay State High School, has returned from a commemorative tour to Gallipoli, Northern France and Belgium. The school has run five tours since the first one in 1999 and the latest one, with 32 students, was the largest group to date.
During the three week tour the students commemorated 115 soldiers in 47 cemeteries and at 8 memorials. The tour included spending dawn and dusk at Anzac Cove, battlefield walks at Pozieres, Fromelles and Broodseinde Ridge, and meeting the last British WW1 veteran, Harry Patch, who is 110 years old.
The tour was led by Families and Friends of the First AIF, Mike Goodwin. Mr Goodwin said the students conducted three commemorative services, at the Menin Gate, Lone Pine Memorial, and at the Australian National Memorial.
Photographs of the graves and memorial names will be presented to relatives at a special presentation evening at the school on November 1.
October 20 to 24, 2008
Here I am in catch-up mode again. On October 9 my cousin Lesley Palmer (Young nee Canet) died in Melbourne aged 91. Lesley, the daughter of Albert Canet and Linda Miechel, had two sisters and four brothers, one of whom, David, was killed in action during World War Two at the age of 23. Lesley is often mentioned in the diaries of her cousin, Lester Dudley, and during the later years of his life, she provided him with a great deal of assistance including grocery shopping, washing, and often arrived for a visit bringing a meal with her.
And all that sounds terribly formal, I remember Lesley as a cheerful extroverted woman who loved dancing and who played the piano. When I was seven I stayed with her, her husband Ron and their daughters, Judy and Carol, and while the girls were at school Lesley introduced me to the piano. I remember only one thing, "Here we go, up a row, to a birthday party". Lesley was my cousin but because of the age difference I called her aunty until fifteen or so years ago when she visited me in Mackay most years and asked me to call her Lesley. During those visits Lesley also went to Yeppoon to visit another relation, Amanda Dickson.
Foot in mouth was at work when I was about 11 and was visiting Lesley for the last time. We were dancing together in her loungeroom and she told me I was light as a feather and without thinking I replied, yes, attached to a chook. I meant I was the chook, but I have never forgotten the embarassment of the moment.
Before I went to school I occasionally visited my maternal grandparents at Tallygaroopna and wandered freely everywhere - don't know what my parents were thinking because there were unfenced dams and also a river nearby. I used to go across the lane to the Canet household but have no recollection whom I visited there but I do remember going with Lesley and my cousins to visit her father, Albert, in Windsor.
Further down is a photograph taken by my brother, Dale Mann, of my cousins, Peter, Carol and Judy at Lesley's funeral and the following photographs show her in her flat in Melbourne and as a young, elegant woman.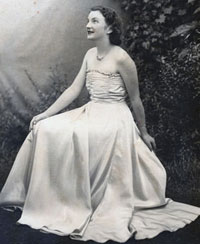 I had a delightful surprise when I opened my latest copy of the australian writer, the official newsletter of the Fellowship of Australian Writers (Vic) Inc. Inside was a member profile of Stella Mary Macdonald, better known to me as Mrs Macdonald, the mother of my Brighton High School friend Isabel.
When I was about sixteen I went home with Isabel and her mother, discovering I loved writing, talked to me about the work she had done for The School Paper and mentioned FAW and suggested I should join. I joined FAW immediately and although I have not lived in Victoria since the early '70's, I have remained a member even when I lived in New Zealand, Hong Kong, Darwin and Tiaro, and remain a member today having lived in Mackay for 27 years.
Mrs Macdonald, as she must remain to me, was known as both Stella and Mary in her writing life. She was born 90 years ago in Calcutta where her (Australian) parents worked as Baptist missionaries. She spent ten years there before returning to Australia. In 1939 she received her arts degree from Melbourne University and later raised six children. She taught fulltime until 1979 and throughout her life, from the age of 3, she always wrote. Just move your mouse over the photograph for the enlargement.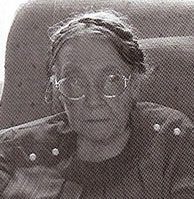 October 17 to 19, 2008
Time is fleeting, says a character in one of my favourite films, Rocky Horror Show, and indeed finding enough time this year has been a constant challenge. There is never enough of it. It goes too fast. So here is a photographic round-up beginning with a photograph of three of my grand daughters, Isabella, Tahlia and Lakeda. This photograph was taken by my daughter-in-law Denese.

I live several thousand miles away from my relations and rarely travel down to Melbourne. I was therefore delighted my brother, Dale Mann, took the following photograph of my cousins, Peter, Carolyn, Judy and Brian.

I love lists - here is one I have seen on various occasions, for uses for WD40. I have only included the first ten here.
Protects silver from tarnishing
Removes road tar and grime from cars
Cleans and lubricates guitar strings
Gives floors that 'just-waxed' sheen without making it slippery
Keeps flies off cows
Restores and cleans chalkboards
Removes lipstick stains
Loosens stubborn zippers
Untangles jewelry chains
Removes stains from stainless steel sinks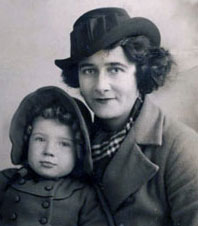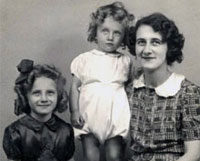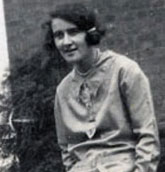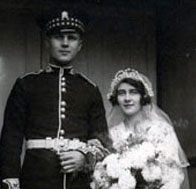 Above are photos of English cousins. Kate Oldmeadow married Francis Armstrong and they had two children, a daughter, June, and a son, Trevor. Trevor married Pat and I am related, separately, to both Trevor and Pat through my mother's side of the family. The family names include Grace and Green amongst others.
Kate Oldmeadow was born in 1911 at Maids Moreton in Buckinghamshire. Her great great grandfather was John Grace who was born in 1756 who is also a direct ancestor of mine.
Many thanks to both Pat and Trevor for providing so much information and for filling in more of my family tree. I have enjoyed genealogy for many years and through this hobby have met cousins from all over the world.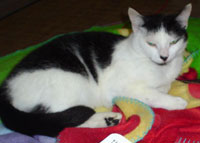 Next to Gizmo, above, is Noah Green who greets me and my camera with a serious expression. One day I will get him to smile. Oddly enough my Dudley relations in England were intertwined with Greens but I don't think Noah is a relation. He is the son of friends, Shannon and Daniel Green.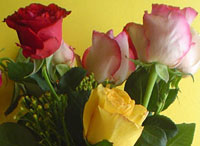 October 4, 2008
Thought it was time I had a father/daughter photograph on this page. Ellen is in Mackay, from the depths of Camden, to visit her father, Sam.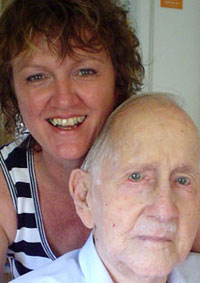 October 3, 2008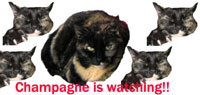 Champagne is closely related to Thor (below) that well-known cat-in-a-basket, and Champagne is in need of some attention as Thor has been overwhelmed by compliments. So let's raise our glasses to Champagne!
I've missed out some days but will include them, in the proper chronological order, later.
September 26 to October 2, 2008
Catching up time. Here is a small photo gallery.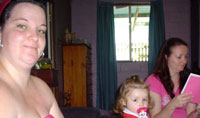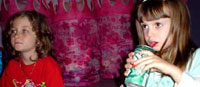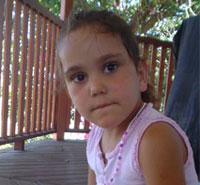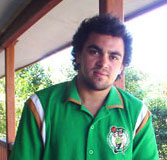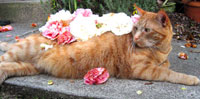 And here is another one.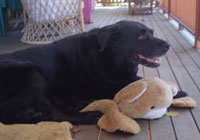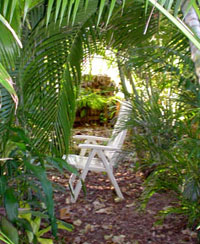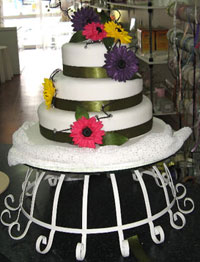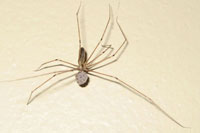 Above are all my grandchildren, Tahlia, Alishia, Isabella, Lakeda and Kial plus two daughters, Amanda and Suzanne. My secret garden continues to flourish and not only have the palms grown amazingly since the flood, but the one chair has now become three.
The wedding cake is the latest in a very interesting line decorated by Bronwyn. And I have my sister-in-law Heather, to thank for the lovely photo of the daddy long legs. Which reminded me "Daddy Long Legs" was a book I loved when a teenager. I think it was by Gene Stratton Porter who also wrote "Girl of the Limberlost".
I've had an interesting time at work moving from palliative care to PIK (diabetes) and with an evening event at the Grand Mercure Suites which covered the physical health needs of people with severe mental illness.
September 22, 2008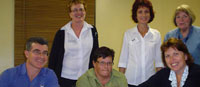 We know how to pick them, or in this case, how to PIK them. The group above is the working group of the PIK project which met tonight at the Mackay Division of General Practice. PIK, which stands for Podiatry Insulin Initiation and Kidneys, will make life easier for people with type two diabetes.
September 20, 2008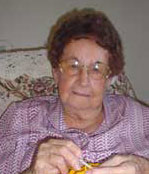 I am interviewing residents from nursing homes in Mackay, and what a wonderful lot of stories they have to tell. Above left is Hazel Kay from Francis of Assisi and (right) is Mimi Lean from Homefield. If you scroll down there is a photo of Gladys Brown and Phyl Horvath from Good Shepherd Lodge.
September 18, 2008
Far better, and prettier, than chicken in a basket, is cat in a basket. The cat below is owned by my photographer brother, Dale Mann, and his wife, Heather. Heather tells me the cat's name is Thor. Aaah, I thored I saw a puddycat.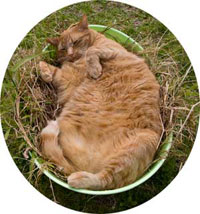 September 9, 2008
Smoke gets in their eyes - MDGP out in force
Saturday night and the MDGP women were out in force in the Mackay nightclubs taking part in Carmel's hens night. Being anti-social I didn't attend but from the stories and the photos it sounds as if the night was very enjoyable (and long) and Sunday was a day of rest.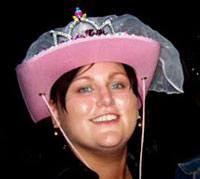 The bride-to-be Carmel
September 5, 2008
I enjoyed a visit a few days ago to Good Shepherd Lodge where I interviewed Gladys Brown and later talked with her friend, Phyl Horvath, who is a keen gardener and who spends many hours in the garden courtyard.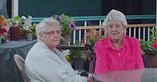 Phyl Horvath and Gladys Brown enjoy the garden courtyard at Good Shepherd Lodge
Below is a mini photo gallery which includes a photograph of my mother-in-law, Peggy, with Moonglow; my grand-daughter, Isabella with her fifth birthday cake and a photograph of one of Sharon and Nathan's puppies. There is also a photograph of Caitlin Lavarack, taken when she was performing with the North Mackay State High School in Beijing at the latest Olympics. There are also photographs of my two grand-daughters, Alishia and Tahlia, displaying their painted faces, and of course there are some photos of cats.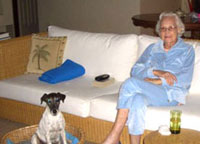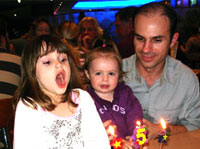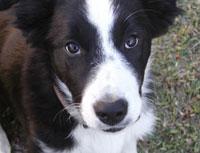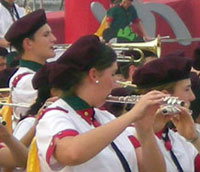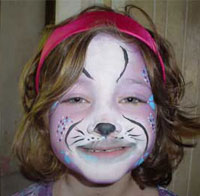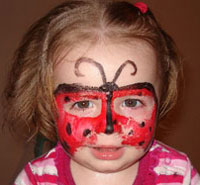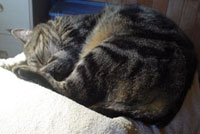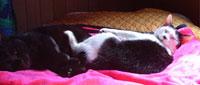 More September 5, 2008
Work at Mackay Division of General Practice has been very busy with numerous projects underway. One of the new ones is the palliative care project headed by Ros Laspa. Some of the members of the working party are below.

(L to R - I think), Ros, Christine, Marj, Julia, Mary Anne and Heather
August 14, 2008
My blog has been off-line for some weeks, but now we are back!
3rd archive
1st archive
Feedback - I look forward to receiving feedback about my site.
Please contact me here.
This page was updated by Diana Kupke (Diana Mann) on 8 January 2022