First Archive
Items from 20 February, 2008 to 4 July, 2008
July 4, 2008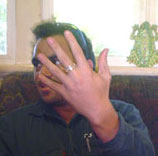 My grandson Kial turned 16 today and finally received the ring I bought for him three or four years ago. I began a family tradition with my daughters, Suzanne and Amanda, when they turned 16 and I bought them dearest rings.
I decided to extend the idea to my grandchildren. It will be another nine years before Alishia receives hers and then will come Isabella, Lakeda and Tahlia.
My son Nick, being the eldest in the family, missed out as I began the idea when he was 18. Perhaps I can give him a sweet sixtieth birthday ring, although that will mean I will need to keep going until I am 89.
July 3, 2008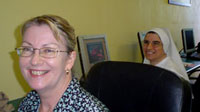 These photographs were taken on July 3 at Matilda Internet where the final Mackay Division of General Practice aged care workshop was held.
Karen Lewis from Landau Technologies provided both a morning and an afternoon session on Medical Director, a program used extensively in Mackay by residential aged care facilities and by doctors.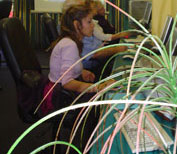 Staff from Francis of Assisi, Good Shepherd Lodge and Sarina Aged Care Residential Home found the sessions invaluable. Staff from surgeries, and three doctors, who also attended, had many of their questions answered.
July 2, 2008
A small collection of photographs showing Donna's new grandchild Kayden, Snoopy and Gizmo, and some visitors whose photographs should have gone up a while ago.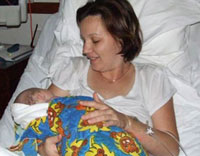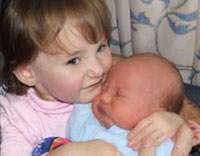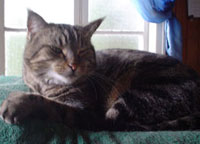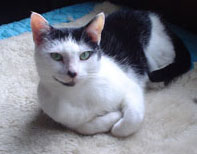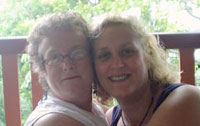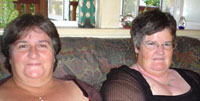 July 1, 2008
I've kept a list of my favourite music for many years, the top two don't change being the aria Care Nome and Toscelli's Serenata. Tonight I added a new item, one I have enjoyed for years but have never caught the name before, and that is Saint-Saens Piano Concerto No. 5. I already had one piece by him, an organ concerto, which is most unusual as I dislike organ music. Part of this music was used in the film, Babe, where the farmer dances with the pig.
Some light-weight items include Stephen Dodson's Ambling, Shostakovitch' very danceable Turkey Trot and everything by Gottschalk.
I have loved opera since I was 12 and first heard Joan Sutherland singing Care Nome from Rigoletto. Other arias on my list include In the Depths of the Temple, the Jewel Song, La Donna e Mobile from my favourite opera Rigoletto, and a duet from the Marriage of Figaro - but I haven't found the right name for that.
Boccherini's guitar quintets leave me breathless, very dangerous to listen to them when driving. Another recent addition to my list is also a piece for the guitar by Giuliani, the Concerto No 1. Almost everything by Haydn and Brahms appeals to me, a favourite being the Haydn Cello Concerto in D.
June 25, 2008
Here is a beautiful puppy, called Molly, owned by Sharon and Nathan.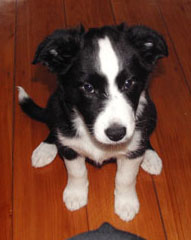 June 25, 2008
Last night I read the biography of Australian poet, Shelton Lea, "Delinquent Angel" which was written by Diana Georgeff. Shelton, who died in 2005 from lung cancer in his mid-fifties, led a harrowing life but what surprised me was that he had a passionate affair with journalist Mary Craig. Mary was at The Age at the same time as I was and at the time was engaged to another journalist. They were a pair of clean cut young people and Mary was later fashion editor of The Age. Apparently the engagement failed when Mary fell head over heels for Shelton who had spent time in jail and when out in society was an alcoholic and drug-taker. I was saddened toward the end of the book to discover Mary, who had worked overseas as a journalist for many decades, had returned to Australia to die.
June 21, 2008
I now have a new navigation bar.
June 19, 2008
Happy 91st birthday to my dear mother-in-law, Peggy!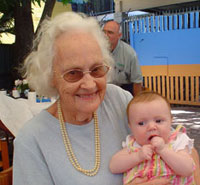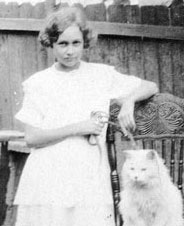 Entry put in at a later date
Because I code for Firefox, I don't always remember to check what Internet Explorer is doing with my website. Having belatedly checked it out on June 25, I discovered that the photographs of Peggy (above) are being mixed up with the following batch of pictures.
It is therefore necessary to put some text in here. But about what?
The weather is always a good subject. We have been freezing in Mackay (I have anyway) and it has become necessary to wear many layers of clothing to work including my thermal underwear. I suspect I am the only person living in this part of the tropics who even owns thermal underwear, let alone wears it! And I am now very lucky because friend Bronwyn has sent me a jumper which is covered with frogs and which says "croak croak croak".
Which leads me to the next subject - the latest budget knocked the aged care gp panels on the head which means after thoroughly enjoying being the Aged Care Officer for Mackay Division of General Practice I am now moving on to the palliative care project. Do I discern a certain downward slope here? Aged care to palliative care. A good thing there is no project for death.
June 16, 2008
Below are photographs of a variety of animals around the house. Some are rather cross. My grand-daughter, Alishia is also there. My dog, Willow, hates having his photograph taken however Alishia will pose at the drop of a hat.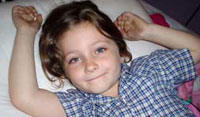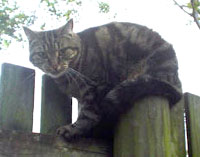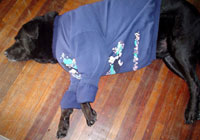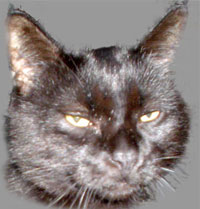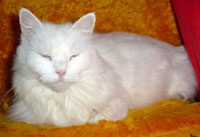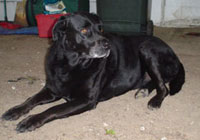 Archived items between February 20 and May 8 2008
May 8, 2008 - Professor Jenny Abbey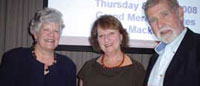 Staff from Mackay and Mirani residential aged care facilities, community nurses, and doctors, thoroughly enjoyed our evening - Palliative Care for People with Dementia - which was held at the Grand Mercure Suites in Mackay. Queensland's first professor of aged care, Jenny Abbey, presented two modules and a workshop.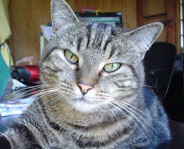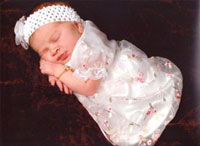 This paragraph has absolutely nothing to do with the photographs above of my cat Snoopy and my friends, Jodie and Paul's new baby, Brooklyn - in fact I'm briefly mentioning Jakob Nielsen's Alertbox.
His latest study says that on an average Web page, users have time to read at most 28% of the words during an average visit. He continues it is even more likely the figure is closer to 20%. I look at my pages on this site and I think it is a jolly good thing I read them, because, going on those figures, the average visitor to my pages probably won't.
I do get a lot of feedback on the pages on Lester, and also on the many galleries. A variety of people have also contacted me regarding the genealogy section, and an especial favourite is my Cranky page.
Catching up on May 6, 2008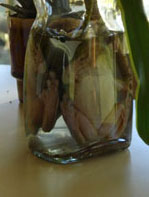 I love frogs and my house is filled with a variety of frog things plus my garden has green frogs. When I first moved here there were cane toads but I gradually caught them and gently reallocated them far away. The following photos show outdoor frogs which are tempted by a jar, filled with water, in which the owner, Claire, is growing a plant. The frogs come in to the house every night and although the owner of the house puts them out every morning, they return again each night. The plant is thriving.
Grandchildren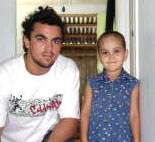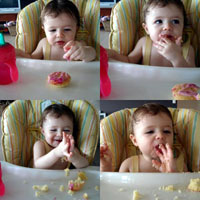 More photos of grandchildren above. The centre photograph, taken of all the grandchildren, followed a two hour photography session I did for a university assignment Belles of the Ball.
The first photograph, of Kial and Lakeda, and the last quadruple one, of Tahlia, are recent. The cake is also recent(ly departed).
An Evening of Pain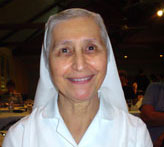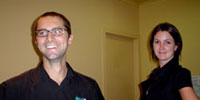 Jonathan and I organised an education session for the Mackay Division of General Practice on titration and pain relief which was attended by a large gathering of pharmacists, doctors, community nurses and staff from Mackay and district residential aged care facilities.
Our four guest speakers included pharmacist Greg Kyle who spoke on opioids and HMR; Dr Sharon Roche who explained pain management in herpes zoster; Dr Tony Jenkins, whose subject was NSAIDS, pain management in the elderly, and Dr Nicolae Cruceru who discussed pain physiology.
We were fortunate to have Dr Kathryn Jacoby as our GP facilitator and Jonathan and I were ably assisted by Angela.
April 18, 2008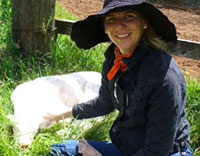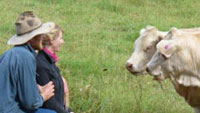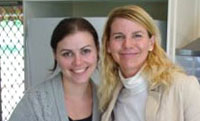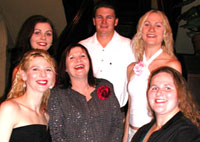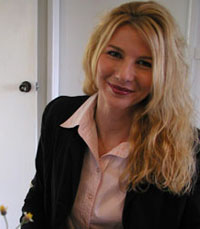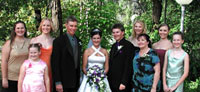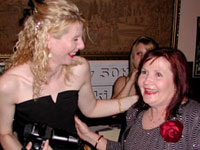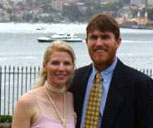 Ayesha, who spent her early years in Rockhampton, now lives in northern New South Wales with her husband, Brodie. On their property, Glen Alvin, they run breeders and are growing their Charolais stud.
The Charolais Society of Australia describes the Charolais as one of the oldest of the French breeds. Australia's first Charolais calf was born in 1970 and there are now approximately 19,000 breeding females in this country.
April 6, 2008
From my friend Barbara at the Mackay City Library comes the following, written by Eugene Bertin:

April 5, 2008
With a family history full of people who had alzheimers, I thought I was heading in the same direction when I came home to find my son, Nick, had cleared all the debris along the fence line. I had no recollection of asking him to do this, but the simple answer was that he read my blog, saw my need, and acted upon it. Thank you Nick.
Found the following, from Jakob Nielsen's Alertbox very interesting and also frightening: He says that between the ages of 25 and 60, people's ability to use websites declines by 0.8% per year - mostly because they spend more time per page, but also because of navigation difficulties. However he also says "a fast 50-year-old will beat a slow 30-year-old every day, by several hundred percent".
And the scary part - "The human aging process starts around age 25 and causes erosion of cognitive resources, loss of visual acuity, degraded reaction times, and reduced dexterity. People need more time for the same mental operations; they have less memory capacity and take longer to process the same perceptual input".
I leave an outside light on for the geckoes - sometimes there are eight or nine waiting for their dinner to fly in.
March 30, 2008
Rather than begin the task of once more digging out silt and muck, which still layers much of my fence line, I wandered around with my camera. I have always been fascinated by green ants, how do such tiny things manage to stick giant leaves together? Custard apples and bananas are on their way but I am still waiting for the coffee beans to turn red.
I notice the mango is back in blossom - even if it is white bougainvillea. The three jackfruit may look quite small but they usually grow to more than a foot long although I rarely eat them as they are much favoured by ants.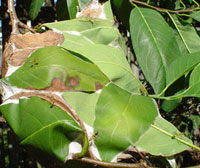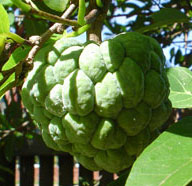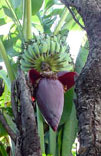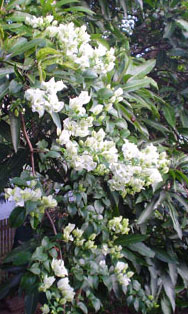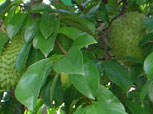 March 25, 2008
Approved at last! I feel so much better about smoking now (many thanks to Helen and Tony). Below is an early photograph of me when I was a non-smoker but I already had an eye to the future.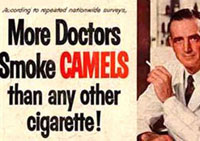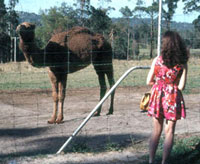 March 22, 2008
Excellent news in The Weekend Australian today with a story which says an extra 1250 aged care beds will be available in high-need areas, of which Mackay is one. The same story highlighted a bonus for nurses who re-enter the aged care sector. A cash bonus of $3000 will be available after nurses have been back working in the aged care sector for six months. They will receive a further $3000 at the end of an eighteen month period. The shortage of staff, both nursing and domestic, has been a major problem for aged care providers.
The following photograph shows my four female grandchildren at Tahlia's first birthday party, and the second photograph is of Mackay Division of General Practice staff and board members at a function held last year to mark Melbourne Cup.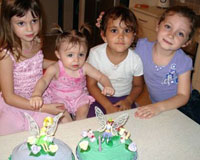 March 16, 2008
Continuing thanks to people who are providing feedback and also extra photographs. Now this website is online I can spend more time trying to get the garden to rights. There are still huge piles of silt against the inside of the back fence and I continue to find all sorts of half buried rubbish. Thanks to all the work by George who spent hours clearing all the outside of the front fence and also the back fence. All the overhanging greenery has been removed plus all the silt and rubbish. I am slowly clearing across the front yard. The photograph below, at the very end, shows a bumper crop on one of my coffee trees. They turn bright red and look very pretty however I have yet to try roasting any.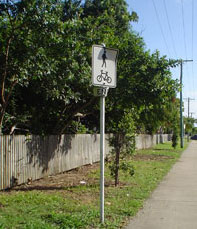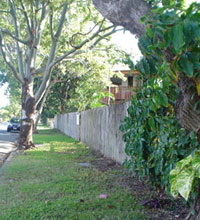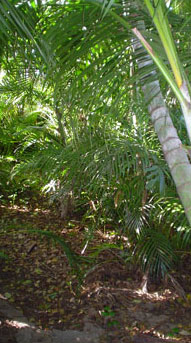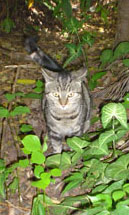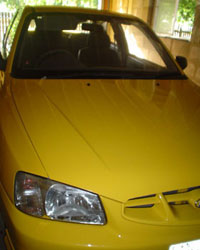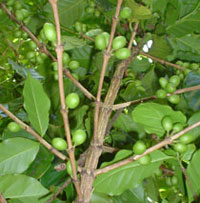 The Mackay City Council workers have done an incredible job removing piles of dead furniture from grass verges. At one point they had worked twelve days without a break. As fast as piles are removed, new ones appear. Part of the fence at Mackay State High School across the road was a casualty of the torrent which tore across my place. The second photograph shows some of the original fence which remained upright.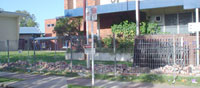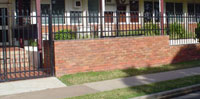 I have a replacement vehicle for my very dead silver car. It is very bright yellow (see above) so hopefully I won't lose it as often as I lost the silver one.
March 6, 2008
I had an interesting time last night at a workshop presented by Dr Robert Penhall at the Grand Mercure Suites. Dr Penhall, who spoke on various aspects of palliative care to an audience of doctors and nurses, was introduced by the chairperson of the Mackay Division of General Practice, Dr Lynne Mullholland.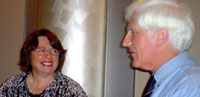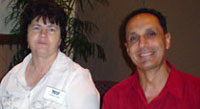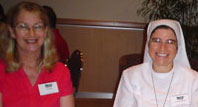 March 4, 2008
This website went up yesterday and I have already received great feedback. Some mistakes have been corrected and additional information has been put online. Many thanks.
February 20, 2008
I wrote my first entry on this blog on February 5 (below) and now, with my website still off-line, it is time to update. On February 15 Mackay had the worst flood in 100 years, a combination of 660 mm of rain in six hours, a hightide, and inadequate drainage.
Thousandsof people are now homeless, but to the average visitor the town looks untouched except for giant piles of belongings which are beginning to appear on the streets. Clean-ups cannot be undertaken until insurance assessors have made an inspection and therefore these piles will continue to appear for some time yet.
My assessors have now visited, below the thumbnails can be clicked to reveal larger photographs. As the floodwater was termed "black water" items including mattresses, lounges and couches needed to be dumped. My car is a write-off but as it has been such an excellent vehicle, it deserves a place here. At last count giant paddocks just outside Mackay were filled with 10,000 written-off vehicles. The large piles in the photographs are of furniture and other items which were flooded at my house. We have now dumped them on the grass verge where they will be picked up by council workers who are working very long days without breaks. The final thumbnail is of the far end of the pergola which attracted items from all over the house and yard.
My house site is triangle shaped and is bordered on the two long sides by different streets. These turned into fast-running rivers with my yard and house unfortunately being the cross-over point. It was interesting to look out from the deck and watch a car float rapidly by, however it is not a sight I particularly wish to repeat.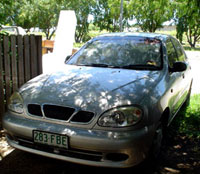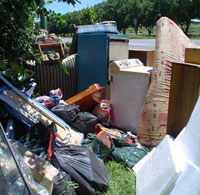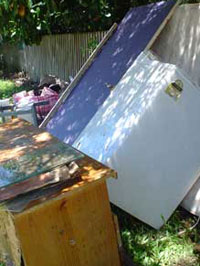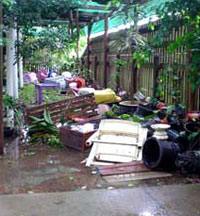 Congratulations to so many people, police, ambulance, SES, Salvation Army, medical personnel - all of whom worked so hard to help others on February 15 and in the days that followed. The SES responded to my call when my roof sprang leaks in two places and five men worked to solve the problem. Thank you.
Congratulations also to Mr Ballard of the Mackay Electrical Trades Union who organised a group of nine electricians, who gave up their weekends to test powerpoints and to replace them, free of charge. Ergon supplied vehicles (and very pretty shirts).
February 5, 2008
I've enjoyed myself immensely designing and coding this website for the past month. Problems provide a great challenge and invariably are an excellent learning experience. Web designers and coders are a remarkable bunch of people, they provide unstinting help to those who are having problems, both through e-mail digests and through online sites.
When I put my first website online two years ago, I didn't know anything about cascading style sheets, and used tables for design purposes.
I took the photograph of the wasp nest, with attendant wasps, during 2007 for a university assignment and decided it would make an interesting banner. The nest was in the garden immediately in front of the bottom of the front steps of my house. Visitors were not deterred as they didn't realise it was there.
I live in Mackay, in Queensland and therefore there is an emphasis on the area in this site. I have included general information which would be helpful to newcomers and to tourists including the grey nomads, and have covered the aged care situation. Residential aged care facilities are always seeking workers, both domestic staff and nurses.
Genealogy has been an interest for some years and I have included information on the main names which are Dudley, Canet, Sandilands and Turnbull and Mann, Hovey and Lucas I have met many cousins through this interest and have learned a great deal about my family. Unfortunately I have yet to find three first cousins, Joy, Glennis and Ian Mann.
For those who are interested in Melbourne during the war years there are excerpts from the diaries of Lester Dudley. I have written about my own early years as the start of my autobiography. This is for my children and grandchildren however it may also be of interest to others.
To complete the site there are photo galleries of my family, friends and pets, and of my garden. I have also briefly described some of the books which I have written.
latest archive
Feedback - I look forward to receiving feedback about my site.
Please contact me here.
This page was updated by Diana Kupke (Diana Mann) on 31 May 2020