Sixth Archive
Items from 14 December 2009 to 26 March 2010
24 March to 26 March 2010


Many thanks to everyone at Vision Eye Institute Mackay and Mackay Day Surgery for enabling me to have cataract surgery on my right eye before Cyclone Ului and on the left eye after Cyclone Ului. I can see wonderfully without glasses for the first time in many decades.
I had thought of cataract surgery as being something very new, and of course the methods and technology are up-to-the-minute, however a form of cataract surgery was first undertaken in the sixth century BC in India where a needle was used to push the lens of the eye out of the central field of vision and then warm butter was lathered onto the eyeball. I'm very pleased I wasn't around then. In 29 AD Aulus Cornelius Celsus described the early operation in De Medicinae.
Last century intraocular lens were introduced which were implanted in the eye and fifty years ago a new technique, where ultrasonic waves were used to emulsify the cataract, became widespread which enabled the operation to be undertaken through a small incision.
Many thanks indeed to all the tireless Ergon people
who worked night and day to restore power
to Mackay



18 to 23 March 2010
Had a cataract operation on Thursday, which gave me great sight just in time for the advent of Cyclone Ului on Saturday night and Sunday morning. All of us are safe and our homes are still standing but it was a terrifying time, brought back far too many memories of Cyclone Tracey. My power went out at 6 pm on Saturday night and I was woken at 4 am today, Tuesday, to the light going on in the study. 58 hours without power but at least we had water. Enormous amounts of food thrown out so supermarket shopping is now high on the list.
Two years ago I upgraded my website just in time for the Mackay flood. This time I made another major upgrade and we got Cyclone Ului. So in future I will just add pages.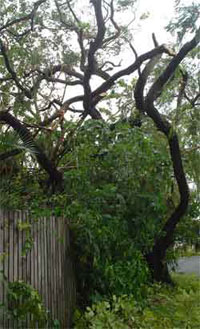 Poor broken tree over my secret garden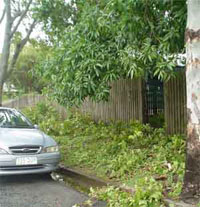 We had branches stacked up to three feet high right along our back fence. Mackay City Council workers cleaned it all up on Monday as we are opposite a school and many students are dropped off there.
17 March 2010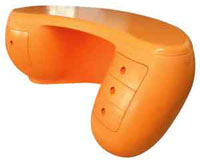 Desk makes a comeback
Half a century ago the desk above was released to a fascinated public. Orange is my most disliked colour however the shape of the desk, made in moulded fibreglass, appeals greatly. It was designed by Maurice Calka and has now been re-released by his son, Serge.
A white version of the desk was owned by former French president Georges Pompidou. It has more appeal than the orange but is nowhere near as dramatic. French designer Calka gave the desk a purely Australian name when he called it the Boomerang.
Make it a soft drink - not!
The Singapore Chinese Health Study, which was based on 60,000 people, suggests that more than two soft drinks a week will send up the risk of pancreatic cancer by 87 percent! The University of Minnesota, which collaborated in the study, suggested the high sugar content was to blame as neither diet soft drinks, nor fruit juices carried the same risk.
16 March 2010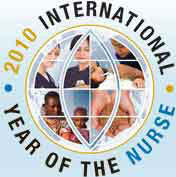 Nurse Florence Nightingale died one hundred years ago and this year has been proclaimed the International Year of the Nurse. There are estimated to be more than 15 million nurses in the world but that is not enough, in particular our nursing homes are desperate for staff.
Florence Nightingale was not only a nurse, she was also a statistician and a writer. In 1860 she set up the Nightingale Training School at St. Thomas' Hospital which is now called the Florence Nightingale School of Nursing and Midwifery and is part of King's College London.
More things to do with pencils - do not rotate!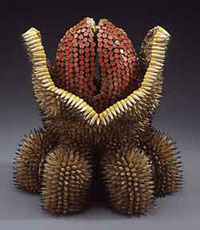 14 March to 15 March 2010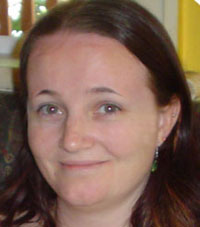 Happy birthday to Suzanne
Hope you have a wonderful year ahead. Suzanne and Michael have just returned from a trip to Melbourne where they caught up with my brother, Dale, and my sister-in-law Heather. Back from the warmth to the cold because Mackay's temperatures have not been good for a few days and I am wearing a tracksuit.
Interesting Information About "The Pill"
It appears that those of us who took the contraceptive pill in the 60's may not only have been avoiding pregnancy but also reducing our risk of dying from bowel cancer by 38 percent, and from dying from any other disease by 12 percent.
The University of Aberdeen undertook a study of 46,000 women for forty years from 1968. It appears that women who took the contraceptive pill from the late 1960's are living longer than those who never took the pill.
13 March 2010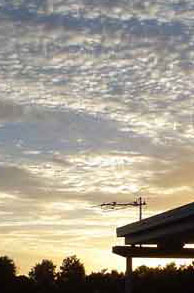 Night skies over North Mackay
I took this photograph when I attended a night meeting at the Mackay Division of General Practice this week. We are reaching the end of our Rural Palliative Care Project which is sad as the enthusiasm, motivation and compassion amongst those involved is very high.
Watch Your Soft Drink Intake
A study which followed 60,000 women and men over a fourteen year period, showed that drinking two or more soft drinks a week doubles the risk of developing pancreatic cancer.
A combination of scientists from the National University of Singapore and the University of Minnesota undertook the study. By the end 140 people involved had died of pancreatic cancer.
Dr Mark Pereira, from the University of Minnesota, said his research took into account other factors such as smoking, age, weight and intake of red meat.
"Lots of insulin is secreted when you consume these beverages in high volumes and insulin has been shown to promote the growth of cancer cells," he said.
9 March to 12 March 2010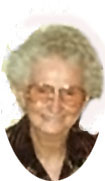 Bye Phyl
Phyl Ruthenberg, who died this morning, was our neighbour for many years. She adopted my children as her grandchildren. She was an expert needlewoman, did amazing things with cakes and icing and decorations, and helped her husband, Col, with his immense collection of orchids.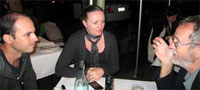 Michael and Suzanne had dinner in Melbourne last night with my brother, Dale, and with my delightful sister-in-law, Heather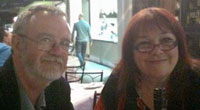 This lovely photo of Dale and Heather was stolen from Suzanne's blog My 2 Princesses
7 March to 8 March 2010
I totally forgot to check my new website in Internet Explorer. I hate that browser with a passion and had put it totally out of my mind. SO if you are looking at this site in IE I suggest you get rid of that awful browser and move over to the much safer Firefox. Then you will be able to see my new site.
In the meantime I am trying to work out the coding so the navigation will work in IE. I am grinding all my teeth down to the jawline.
2 March to 6 March 2010
This site may look just the same as my last site as I have retained the banner and the layout however once you click on the top navigation bar you will notice a difference. I have been working toward putting this renovated website online for the past two months or more. When I began the project, I had ideas to bring the number of pages up to about 70. But I kept having new ideas, and adding pages and even this afternoon, when I had decided enough was more than enough, I added yet another page. It is now about 94 pages in size.
In addition to the added pages there is a new top navigation, it was much smaller at the beginning. I have recycled some ideas I first used in a university social network site and therefore there is a forum, a poll and a guestbook.
I would appreciate hearing from anyone who discovers a problem with this site, or who has criticisms or general comments. If anything is wrong please let me know.
I put my first site online about five years or so ago. I think I have improved since then.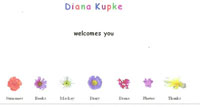 Diana's old site.
1 March 2010
Happy birthday Denese!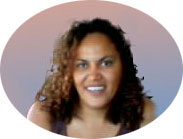 23 February to 28 February, 2010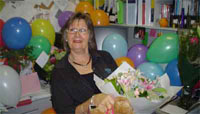 Two people who shall be nameless (definitely not Carmel and Nicole) spent an exhausting Wednesday evening in the office blowing up 100 balloons which were used to fill Ros' office to celebrate her birthday the next day. And the same night Ros kept working as it was our first Link Nurse education night for 2010.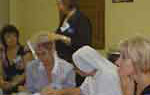 Work on my new site
I have now spent two months (outside work) working on my new website. Recoding all the photo galleries is a fascinating task and one which I will never undertake again. I also keep adding new pages which entails further research and leads me into many fascinating byways.
15 February to 22 February, 2010
Goodbye Doctor Who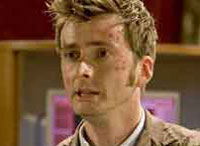 Long Live Doctor Who!
Most movies I see don't touch me emotionally, but at the end of almost every Doctor Who episode during the past couple of years, I find tears running down my face. And so last night it was goodbye to the tenth Doctor and we had a glimpse of the new one.
Garden Roundup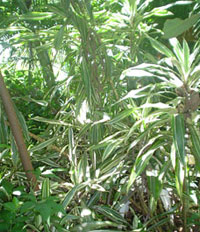 Mackay has had day after day after day of rain for what seems like forever. We humans are a bit fed up with it but Mackay looks wonderful and my garden is thriving. The photograph above was taken today in my secret garden.
Below, these lillies die right away and then, with rain, they spring back to life. I like the shadows from the stairs.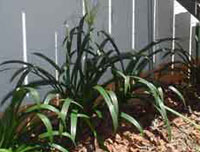 Back to my secret garden for the next few photographs.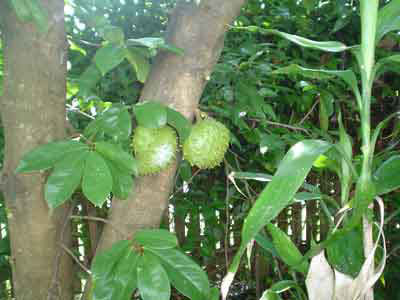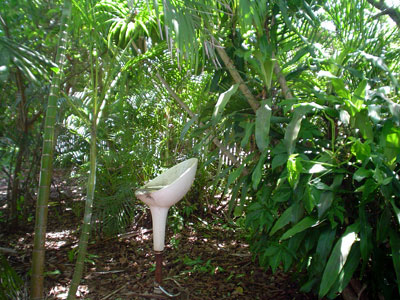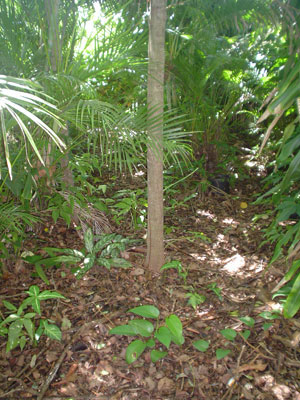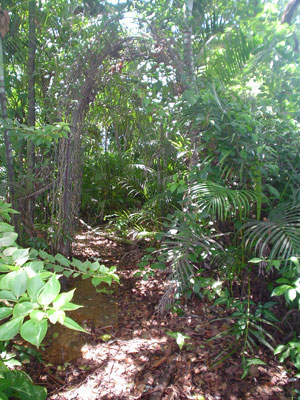 13 February to 14 February, 2010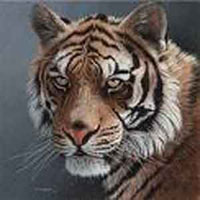 And now we begin the Year of the Tiger.
We have just completed the Year of the Ox and we are now entering the Year of the Tiger. Next year will be the Year of the Rabbit. There are twelve animal signs which follow in a particular order.
The tiger, apart from being very beautiful, is a sign of bravery and is a sign which keeps away fire, thieves and ghosts. The five elements, metal, water, wood, fire and earth are also associated with the various years and therefore we are entering into the year of the metal tiger. From what I have read 2010 may be a year in which there is not much peace, just like all the years which have gone past. Unfortunately the Tiger has a difficult relationship with the Monkey, of whom I am one. Unpleasant events are suggested for me which I will take with a very large grain of salt.
A big gold star for Fishpond dot com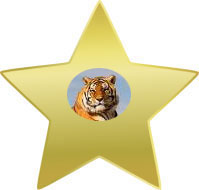 Good service is something I am lucky to have at all the places I shop in South Mackay and it is always a pleasure to find equally good service in other places, particularly on the internet.
Having been introduced to Fishpond.com I bought a book and was deeply disappointed when I received the wrong article. I sent an e-mail and before I had even repackaged the wrong book to send back I had an e-mail from Fishpond telling me my replacement was on the way. They are an online store and sell books, music, movies, toys, and games. And the replacement arrived, sent priority mail.
A big gold star for J.O.Mechanical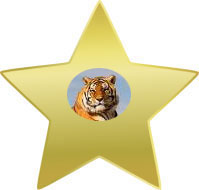 This gold star is well overdue as J.O. mobile mechanic came to my place some months ago now. I was initially stunned when the young man not only turned up on the day he said he would, but that he was early! As I spend my life being early for appointments I greeted him with joy. He was also very clear about what needed to be done and what was possibly wrong with the vehicle.
Although this particular vehicle was in a great deal of trouble and was beyond repair I was very happy with the way the whole event was handled and also with the invoice which went into great detail. J.O. mobile mechanic also does maintenance and log book services so if you live in Mackay he may be of great help to you. His mobile number is 0424 281 964.
5 February to 12 February, 2010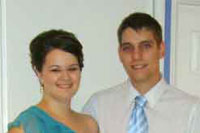 Bruce Lavarack and Danielle are pictured above on their way to the halfway celebration. The evening was for medical students who have now reached the halfway mark in their studies. Only three years to go!
New site
During the past few months I have mentioned my new site and I have been working on it ever since. I become enmired very easily in research and have frequently been led down strange pathways. But gradually the new pages are piling up and one day I will put them online. The banner will remain the same but the top navigation is quite different and there will be approximately 40 new pages.
Visitors to my office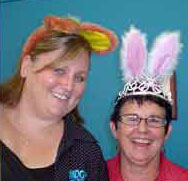 Pictured above are some of the frogs in my office and nearby are two recent visitors, Carmel and Liz, making our work days brighter. I also ended up with a tiara but as I am the one holding the camera there are no photographs to embarass me in years to come.
suz
3 February to 4 February, 2010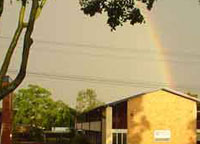 My house was suddenly perfumed last night and I realised it must be the orange jessamine bush. When I checked I discovered it was covered with buds and late this afternoon we had a sudden, although brief, storm. Afterwards the sun came out and along with it appeared a rainbow which looked as if the source was the roof of one of the blocks at Mackay State High School.
Iris at Nanyima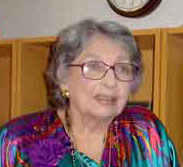 Iris, who lives at Nanyima Retirement Centre at Mirani, outside Mackay, made a delightfully vibrant photograph when I visited there with Ros yesterday.
We met the new director of nursing, Margaret Campbell and we filled her in on the work of the link nurses, the Rural Palliative Care Project, and the Aged Care Access Initiative. Ros and Margaret are pictured below.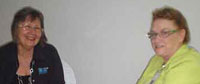 29 January to 2 February, 2010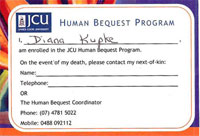 Human Beqest Card
I was quite excited when I opened my mail recently to find it contained a special card. I have had my name down as an organ donor for many years but increasingly during the past nine months or so I have considered donating my body to be used by student doctors during their training.
As I get older I realise my organs may not be in the best condition and, rather than have my body go to waste, making it a bequest seemed the way to go. James Cook University has a program and although one's body is not necessarily accepted, and in fact cannot be accepted if it has been the subject of a coronial inquest or a post mortem, there is still a good chance it can be put to good use. Above is the card I received in the mail and which I now carry in my purse.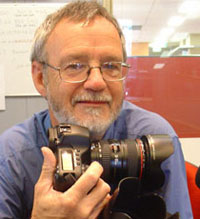 Dale Mann Photographer
It is quite amazing what you sometimes stumble across when trawling the internet. Recently I have been researching information for my new and expanded website and while I had been seeking more information about convict forebears, I somehow found the above photograph of my brother, Dale Mann, who lives in Melbourne and is a photographer. As a member of MAP (Many Australian Photographers group) he gave a talk to the ABC and I was able to listen to that as well. All very exciting as he lives 2000 miles away and I rarely hear his voice.
MAP is a non-profit group of approximately 50 "photographers who share a passion and commitment to high quality, independent documentary image making". The photographers of MAP Group have completed the first stage of a nation-wide philanthropic project documenting the drought and its impact on Australia's water resources. The project, called "Beyond Reasonable Drought", aims to record the impact of this long-running drought on Australia, "the land, the people and the psyche of the nation".
26 January to 28 January, 2010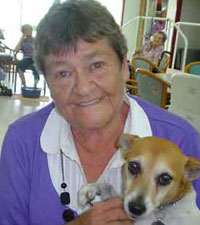 Above are Wendy with Buttons, and below is Jutta with Mr King
They are all residents at the Sarina Aged Care Residential Home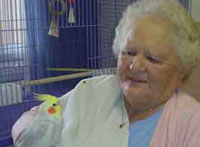 Ros and I recently had a great guided tour, thanks to Suzie, of the Sarina Aged Care Residential Home. An enormous amount of thought has gone into the decor with the different wings given names and colours and furniture to suit, such as Lavender and Acacia.
I am still in the process of enlarging this site and recoding the pages but once I finish - whenever that might be - each residential aged care home in this area will have their own page.
Visit to Port Douglas and Cairns
My daughter, Suzanne, and her family recently had a holiday travelling up the coast from Mackay to Port Douglas where they visited family members, Peggy, David and Ticky.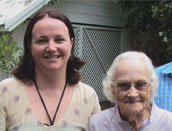 Photographed at Port Douglas was Suzanne and Peggy.
Furniture Moving
During a recent bout of furniture moving I was forced to leave a couch, upended, in my library, when my cat Snoopy took a fancy to the top.
Anyway I needed a rest.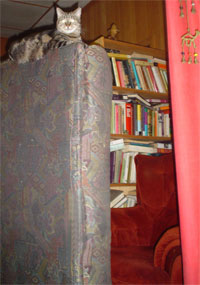 20 January to 25 January, 2010
Our original Australian's think of Australia Day as Invasion Day and I can understand that celebrations tomorrow could be most distasteful for them. As a new wave Australian, descended from four convicts who arrived in 1788, I am proud of Australia while having many reservations about the intolerance and racism that rears their ugly twisted heads, and these include e-mail 'jokes' which I immediately delete and never forward.
I wore a flower in my hair during the hippy era and continue to believe in peace and love - and of course in cakes. The photograph below is a cake made by Bronwyn.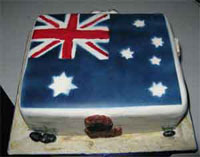 And another cake!
The third birthday cake below was made for my grand daughter, Tahlia, by an incredibly close relative to her but not her mother. He has all these hidden talents!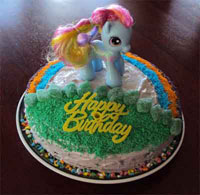 Delightful obituary
Some months ago I read an obituary in the Economist which touched me greatly. The story was written beautifully and it was about a 25 year old fish, called Benson, who was claimed to be Britain's most loved fish.
Benson lived in Peterborough and due to massive over-eating and being fed all sorts of delicacies by visitors, grew to around 29 kg. Her diet included worms and plankton which was augmented by cheese, luncheon meat, and dog biscuits. For some time she had a companion, called, appropriately, Hedges.
16 January to 19 January, 2010
Wings belonging to Ulva Dudley

I am not usually emotional but a few days ago, when I received a package from my cousin, Nell, I was quite overcome. In the package she had included the RAAF wings which had belonged to my uncle, Ulva Dudley who was reported missing in action on January 8 1945. He had been based at Milne Bay in New Guinea and during a raid in his kittyhawk he was believed to have been shot down. Ulva's body was never found, nor was the aircraft, but his siblings and parents never gave up hope.
Ulva saw me as a new born baby but although I obviously have no recollection of him it was nevertheless a tearful moment when I held the wings. I am a pacifist and felt very sad that if it hadn't been for WW2 I might have known another uncle.
Elizabeth Canet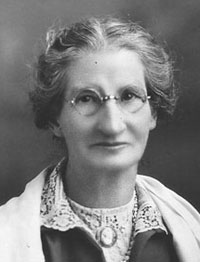 Nell also sent me the above photograph of my grandmother which I had never seen before. She was christened Elizabeth Canet but in her adult years she was widely known as Lily. She was married to William Dudley who was, of course, known as Charlie.
11 January to 15 January, 2010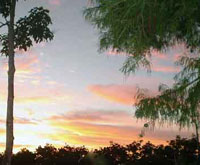 Mackay is beautiful with the recent rain having produced lush greenness everywhere and we have also been having some lovely sunsets as above.
Bottled humour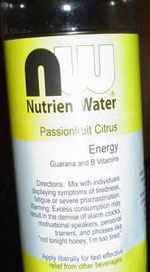 I tried a new drink today and for some reason my eye caught a few words on the label. I don't think I have ever smiled when reading a label before. It suggested the drink should be mixed with "individuals displaying symptoms of tiredness, fatigue or severe procrastination". The warning given was that excess consumption could "result in the demise of alarm clocks, motivational speakers, personal trainers, and phrases like"not tonight honey, I'm too tired".
7 January to 10 January, 2010
Here is a lovely photograph of my mother-in-law, Peggy, who lives in the far north of Queensland.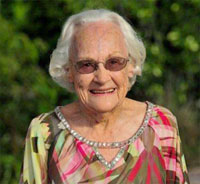 My research is continuing for my new website pages and I have been reading a great deal about a television series, Summer Heights High, which was set in my old school, Brighton High School in Victoria. I have watched some clips on my computer and the school doesn't appear to have changed much since I began there, 53 years ago. At that time the school was only a few years old.
Turning Building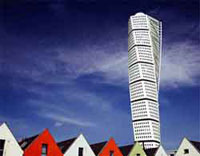 The building, above, is in Malmo, Sweden and is one of the tallest in the country. Rising to 656 feet, it has offices on the first ten floors and apartments above that. People can commute to their work via a lift. The building makes a 50 degree clockwise rotation as it rises. I don't want to think about what happens with the lift.
1 January to 6 January, 2010
I've been doing a lot of research for the new pages on my website. One of the new areas will be on convicts, I have four as direct ancestors and my son has an extra two. While trawling around some fascinating sites I found the signature of Nathaniel Lucas, my great great great grandfather through my father's line. He arrived in Australia on the First Fleet as did the woman he married, another First Fleet convict, Olivia Gascoigne.

Ann White, another convict who arrived on the Second Fleet was my great great great grandmother, also on my father's line, who married yet another convict, Kennedy Murray. Their daughter, Elizabeth, married Nathaniel and Olivia's son, James, and both children were born on Norfolk Island during the First Settlement.
Cats
I haven't had any photographs online of my cats recently so here are Snoopy and Queenie.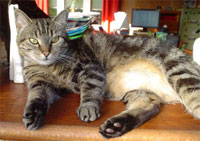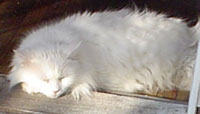 30 December to 31 December, 2009

I wish everyone a safe and healthy 2010 - my best wishes go out to you. And thanks to Google Images which provided the above image from mygreatgrandfathers website.
I have spent many hours over the past few days doing a new navigation and many new pages for this website which I hope to have ready within a week or so.
Many thanks to so many of you who have provided feedback on this website and on my university website.
27 December to 29 December, 2009
Ants at work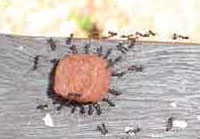 I spent a fascinating half hour yesterday watching ants at work in my study which is upstairs in my high set Queenslander. I noticed they were drawn to some dry cat food which was on top of a filing cabinet and to make their lives easier I put some of the small pieces onto the windowsill.
I went on to do other things and when I returned the cat food I had put out had vanished but the ants were still running around. I put some more pieces along their route and noticed they manipulated the pieces right to the edge of the windowsill until they plummetted outside.
I then went downstairs and noticed ants hard at work moving one piece onto a cache next to a wall. Fascinating that such tiny creatures had worked out they could drop heavy items out of a window and then collect them.
The cache downstairs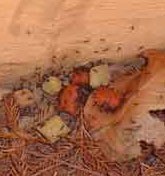 ---
Bougainvillea sky high
Some years ago I planted bougainvillea and these days the white one has climbed to the top of my mango tree where it has created a flowery sculpture.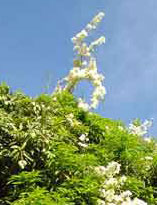 23 December to 26 December, 2009
Grandchildren 2009

Every year or so I endeavour to take a photograph of all my grandchildren. I began this almost six years ago and today, when I put the latest photograph in the frame, it was delightful to look back over the earlier ones and to see how each of the children has developed.
The photograph above was taken yesterday during a large family get-together at the home of Suzanne and Michael who were joint cooks for all of my family, and for all of Michael's family.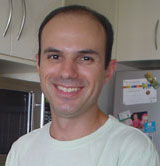 Heaps more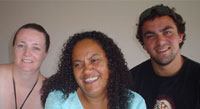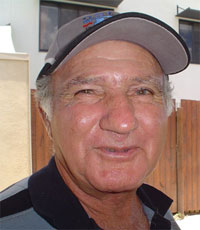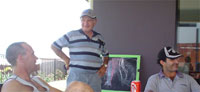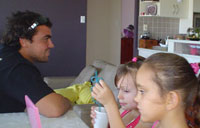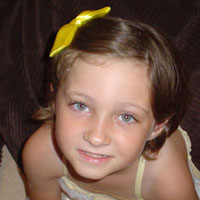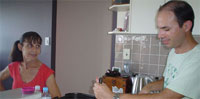 And on the way home we dropped in and took a photograph of Will and children.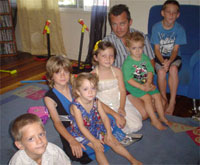 19 December to 22 December, 2009

And so 6 Angels gets my vote as the worst film on dvd. Wooden acting, questionable direction, limited production values, woeful script etc.
Honeypot
A week ago Project Honey Pot received its 1 billionth e-mail spam message. Honeypot has been operating, with the help of numerous website owners, to identify spammers. Honeypot works with law enforcement authorities who are able to prosecute spammers as harvesting e-mail addresses from websites is illegal.
The sad news is that most of the computers which send out these spam messages are owned by people who are unaware their machines have been taken over and are being used in this way. Control is gained from a virus which is sent via e-mails, e-mail attachments or via downloads.
The Gherkin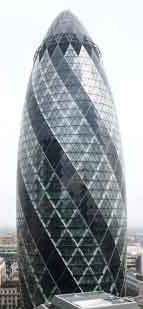 This building, known as the Gherkin, is an office tower in London. The building contains 260,000 square feet of glass, all triangles, which can even be opened to enable workers to breathe fresh air.
15 December to 18 December, 2009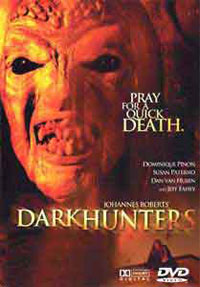 Some nights ago I watched a dvd with my daughter. We watched for about half an hour, mesmerised by the total awfulness of the acting, direction, script etc. The dvd cover had the words Pray for a Quick Death, and indeed that is just what we did until we realised we could turn it off. This was the second worst movie I have ever seen.
Called Darkhunter, the film brought forth some interesting comments from viewers who posted their thoughts on the IMDb (International Movie Database).
Comments
One viewer, torturechamberlain, said watching the movie was like "O'D'ing on pure suck"! He also said it was a pretentious mess and was poorly written, directed, shot, edited and acted. I guess he didn't like it much. andradesamuel simply said it was the worst thing he had ever seen, and even the actors seemed to be bored. Snowfirewolf said the actors were either positively wooden or way over the top, and the film quality was awful, fuzzy and grainy and bland and not in an artistic way at all. Maxbeeken said Darkhunter was "truly one of the most awful movies of all time. It's dull, ponderous, badly acted, and teeth crawlingly pretentious". He added, "This film is so dreadful, it should have a public health warning."
If you still want to see it, think about other comments, putrid script, disgusting cinematography, and dismal effects. One viewer said he had wasted one and a half hours on the movie when he could have been doing something else like having a root canal.
Memories
A friend from my schooldays, Denis, who now also lives in Mackay, sent me some photographs from our mutual past. The first is of Flinders Street Station, which I remember all too well. The incredible crowds, pushing, noise and a weird smell like hot metal. And the second is of the former Camden Theatre, just up the road from my old home at Flowers Street, South Caulfield. I often visited there with my mother at night. It became a bowling alley.
Flinders Street Station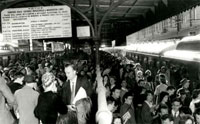 Camden Theatre, South Caulfield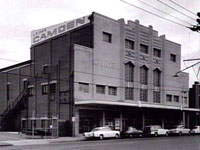 14 December, 2009
Born 99 years ago today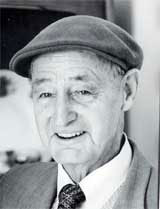 Thomas Edwin Mann was born 99 years ago. He died on July 16, 1989, aged 78. Dad, who was married to Merlyn Isobel (nee Dudley), had two children, myself, and my brother Dale.
7th archive
5th archive
Feedback - I look forward to receiving feedback about my site.
Please contact me here.
This page was updated by Diana Kupke (Diana Mann) on 8 January 2022