Mackay Parks and Beaches
At one time Mackay was bisected by railway lines, part of the route between Brisbane and Cairns. After the lines were removed, the former corridors were mostly retained as green and treey areas. Sadly large numbers of the trees have now been destroyed with the upgrade of Paradise Street. Mackay has numerous public parks and even cane fields in the suburbs. As a result Mackay does not have the mile after mile of houses which are common to many towns. There is always a refreshing green break somewhere. Until the anti-tree people come along.
Wall feature at Mackay Botanic Gardens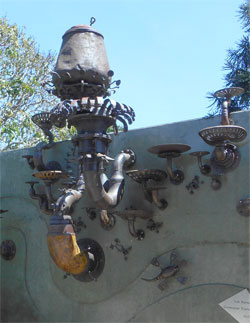 Mackay Botanic Gardens
These gardens are only eleven years old but the situation, on a hill with old trees and overlooking a valley with a lagoon, and with hills nearby, is delightful. The entrance to the gardens is on Lagoon Street, West Mackay, close to the City Gates. Unfortunately parking spaces are limited at the gardens however there is plenty of room along nearby streets.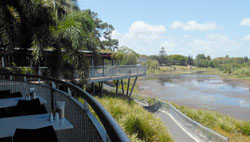 The restaurant at the Mackay Botanic Gardens has wonderful views and is a favourite meeting spot.
The lookout (below) at the Botanical Gardens provides a delightful view of the surrounding countryside. It is next to the restaurant where patrons can sit on the covered deck and gaze out. Sadly huge trees along the lagoon have been chopped down and the waterbirds which used to hang out there now stand in a disconsolate row along the bank. Numerous specialty gardens dot the Mackay Botanic Gardens which are constantly expanding.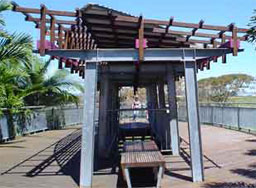 Near Illawong Beach there is a huge open green area bisected by a canal which is the home to numerous water birds and is lined on one side by towering eucalytus trees. This is a favourite spot for fishermen. At one time the left hand side was a giant tip but it is now covered with grass which unfortunately attracts people on motor bikes, and, even more unfortunately, small children on motor bikes.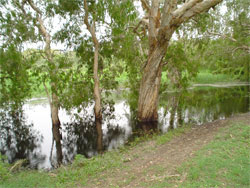 Also in this area was once a lake which appeared after rains and would remain for many weeks with ducks afloat and visiting waterbirds. The site was filled in and the lake will never appear again but the memory of the lake lingers for me with this photograph.
The Komma Toera walking trail at Slade Point is another recent addition to Mackay. The track is off Keeley's Road and there are ample parking spaces for cars. There is another large park near the City Gates behind the tourism information building.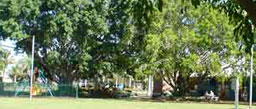 Park behind Tourism Mackay
There is an excellent children's park at Town Beach plus numerous other facilities. There are many delightful parks in Mackay. In North Mackay, near the Pioneer Swimming Pool, which is run by the council, there is the John Breen Park. Behind the Mackay City Library building is Jubilee Park which has some elderly swings, a war memorial, and wonderful old trees which are sometimes swathed in knitting. Queens Park, in Goldsmith Street, Mackay, is a popular venue for weddings and includes a huge orchid house.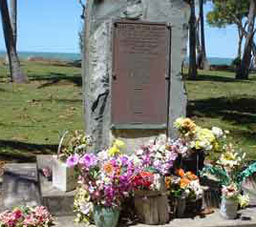 Memorial at Illawong Beach
The Mackay district has numerous national parks including the one at Eungella, which covers 50,000 hectares. The vegetation is tropical, and there are numerous creeks and walking trails, and evening sightings of platypus are common.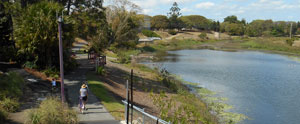 Mackay Beaches
Mackay has an embarrassment of beaches, there are 31 of them and all of them have wide stretches of sand and most include views of various islands, and the obligatory palm trees.
As with all northern tropical areas, the beaches carry warnings against swimming between October and the end of March when stingers may be prevalent. Some people who continue to swim wear wet suits for protection. Many of the beaches have frequent netting procedures to clear stingers out of the water and where this happens, flags are hoisted on the sand to show where it is safe to go in. The alternatives are the municipal swimming pools at Mackay, North Mackay and at Sarina. The latest addition to Mackay is the Blue Lagoon on the banks of the Pioneer River.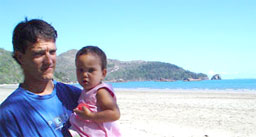 Beach at Cape Hillsborough
Mackay has numerous beaches which are within a ten minute drive from the city centre. Illawong Beach is a popular picnic area which also has a memorial to the people who lost their lives in an aircrash in 1960. Behind the beach area is an outdoor volley ball centre. Town Beach also has eating areas, a playground, and toilets.
To the north Shoal Point Beach is a mecca for families and picnickers. Unfortunately idiots in four wheel drive vehicles have a tendency to pollute the sands. To date no one has been injured or killed.
Boat Ownership
Mackay has one of the highest rates of boat ownership, per capita, in Australia. Many of these expensive playthings languish in specially built garages or next to homes where they become a garden feature which advertises the status of the owners. Occasionally the boats are taken out to sea. The Mackay Marina is at the Mackay Harbour where highrise apartment buildings and restaurants provide a Gold Coast atmosphere. Which is totally unfortunate.
Links to other pages about Mackay
Feedback - I look forward to receiving feedback about my site.
Please contact me here.
This page was updated by Diana Kupke (Diana Mann) on 8 January 2022