Fifteenth Archive
Items from 29 January 2013 to 28 November 2013
19 November to 28 November 2013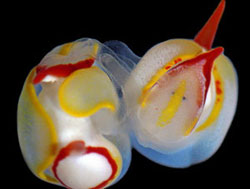 Wonderful not to be a Siphotperon sp, a sea slug found in Australian waters. This creature has both male and female organs and it uses its two pronged penis to stab its partner in the head! Apparently the recipient is not traumatised by the stab which can be anywhere. Being stabbed between the eyes is apparently done as this is a convenient area! Mating can last for forty minutes, a good thing sea slugs don't want to read.
Return to Sender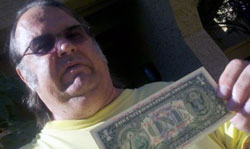 Gary, who is from Phoenix, writes a note on every dollar bill asking for the money he spends to be returned to him as he is poor. He includes his home address and, amazingly, many people send the money right back to him. Often they put more than a dollar into their envelope. He uses a red marker pen to attract attention to his request and often makes around one hundred dollars a month.
Beautiful embryo
This photograph, of the peripheral nerves in a mouse embryo, won 14th place in the recent Smithsonian Magazine competition for the best photographs taken through the lens of a microscope. The photographer was Zhong Hua, of the Johns Hopkins School of Medicine in Baltimore, Maryland.
Cabbage Patch Travels to Tokyo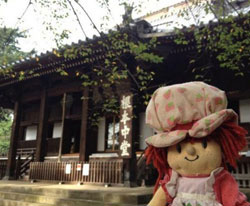 A Japanese travel agency, Unagi Travel, has found a new niche, their staff members will collect your toys and travel with them and take photographs of them at various attractions. A toy can have a complete tour of Tokyo, or even go to Europe or the United States. Every moment is documented with videos and photographs, just what your toy needs.
Plant combination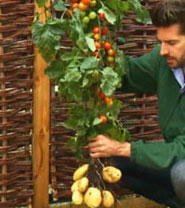 It has taken ten years to perfect but now keen gardeners can grow a Tom Tato and the one plant, will produce both tomatoes and potatoes. Horticultural centre, Thompson and Morgan in the UK, says the plant can produce up to 500 cherry tomatoes as well as potatoes. And New Zealanders can grow their own combination, called the Potato Tom.
11 November to 18 November 2013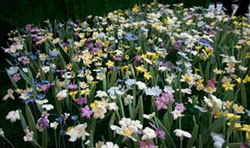 Rosalind Miller of London, who has won numerous wedding industry awards for her cakes, has made this field of flowers, all made by hand from sugarpaste, which is perhaps icing sugar, and wire. Let us hope it doesn't rain.
Hush.
Below is the Sweeties range of furniture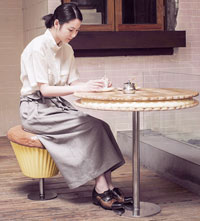 Designer Boggy Chan is the creator of this cupcake stool and table which looks like a biscuit and which is called the Sweeties range. I tried hard to find out more about this designer without any luck.
Eat sushi! Eat more!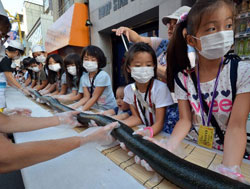 I love sushi but I think one would tire of it before getting to the end of this 393 foot long roll. It was made by volunteers, adults and children, who made the sushi for the summer festival in Tokyo.
A handy thing for a meal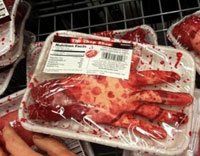 A Norwegian shop decided to stock their meat freezers with fake body parts recently, intertwined lovingly with real meat. Children ran screaming and parents were furious. The body parts were very realistic although they were made with plastic. The packs of parts came
complete with stickers containing nutritional information.
The name of the butcher? The Chop Shop.
4 November to 10 November 2013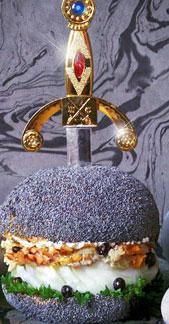 Believe it or not, but the item above is a burger. It took French graphic designers, Thomas and Quentin, to come up with a compelling reason to change my diet from tomatoes, anchovy stuffed olives and cheese.
On the left we have Excaliburger combining merlu l'enchanterelle, brousseliande, persilval, lanceloignon, moutarthtur, baies de guenievre, and excalibun with poppies. The burger on the right is called Burger Love and includes a bread bun drizzled with red caramel, caramelized red onion, pink lady apple, pork chop, chanterelles, sheep cheese, frozen black cherry, and currants. I should have included the Marie Antoinette burger a medley of headless shrimp and finely guillotined fennel.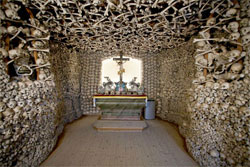 Skulls and Bones
The man who created the interior of this chapel is remembered appropriately by his skull which lies on the altar. Vaclav Tomasek, the local priest of the chapel in Kaplica Czaszek, Poland, spent 28 years collecting the skulls and leg bones of more than 3000 victims of wars and plagues. The crypt below holds a further 21,000 bones. The bones were collected by him from mass graves left by cholera outbreaks, the Silesian wars and the Thirty Years' War.
This doll is the ancestor of the computer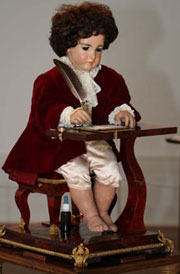 Photographs by Ariel Adams
Almost 6000 parts were used to make this doll, called the Writer, which is capable of writing words with a quill pen. Swiss watchmaker Pierre Jaquet-Droz made the machine 240 years ago which is described as a distant ancestor of the computer. As the Writer works, his head and eyes move, following the movements of his hands. The quill is frequently dipper into a bottle of ink. Today the doll is house at the Neuchatel Museum of Art and History but soon after the doll was made, it toured Europe along with two other dolls, the Lady Musician and the Draftsman.
Just what everyone needs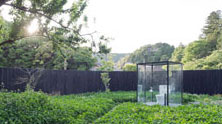 Photograph by Iwan Baan
Outdoor toilets were once very common in Australia however I doubt any of them were made of glass. This public toilet sits in a 200 square metre garden in Ichihara, Japan, close to a public railway station. Designed by Sou Fujimoto.
22 October to 3 November 2013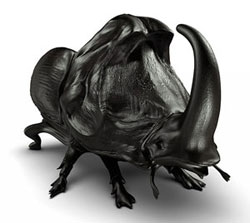 Rhinoceros beetles are quite common in Mackay although they don't usually come shaped into chairs. This was made by Maximo Riera who has made a series of chairs based on various animals and other life forms. The beetle uses the horn to dig with, and to fight with. Various items from the Riera collection are on display in Beverly Hills at Greystone Mansion which is owned by the city. It has been the setting for many films including Indecent Proposal and Austin Powers: Goldmember.
Meet the Rove Beetle and the Clown Beetle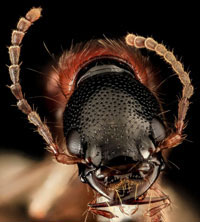 This photograph of the rove beetle (on the left perhaps) is part of a huge collection developed by the USGS Native Been Inventory and Monitoring program. Rove beetles are voracious eaters however they do not touch the living tissues of higher plants. The clown beetle (above right) was recently discovered by researchers from the Santa Barbara Museum of Natural History. Researchers do not know what the purpose of the bright colours is.
Skeletons bedecked with jewels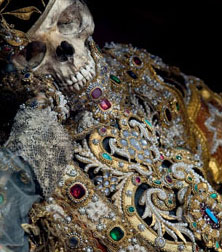 In 1578 numerous skeletons, found in Roman catacombs, were given to a variety of churches in Austria, Switzerland and Germany. It was thought the skeletons were those of Christian martyrs and the churches went to town covering the skeletons with jewels and rich clothing. As the decades rolled by the churches were embarrassed to have spent so much money on the bones and the skeletons were hidden away. Thanks to photographer Paul Koudounaris, who searched out many of the bedecked bones, the full range of beautiful dead can now be seen in his new book, Heavenly Bodies: Cult Treasures and Spectacular Saints from the Catacombs.
Let's blow up the concert hall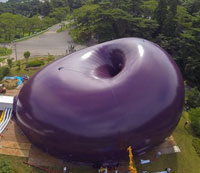 British sculptor Anish Kapoor and Japanese architect, Arata Isozaki, have designed the very pretty purple thing, which is actually an inflatable concert hall. The hall can hold 500 people on handcrafted benches and will be a temporary home, in many parts of Japan, to concerts and workshops.
Edible Flags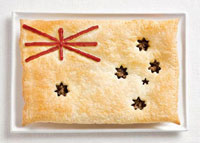 An advertising agency, which should get an award for the longest initials in a name, WHYBIN/TBWA, designed a number of flags made from food which is associated with the country. Australia has a meat pie (no sign of peas which is good) while the Greek flag was made from Kalamata olives and feta cheese.
7 October to 21 October 2013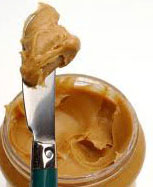 I am giving petrol a big miss but I am sniffing peanut butter regularly. No, not a sign of Alzheimers, rather a way of checking if I do have Alzheimers. University of Florida researchers, realising people who are gradually losing it also lose their sense of smell, have worked out a test. After much research it appears to be clear that people with a confirmed diagnosis of early stage Alzheimers could smell the peanut butter with their right nostril, but not with their left. You do the test by holding your left nostril closed, then do the same thing with your right nostril.
Cloudgate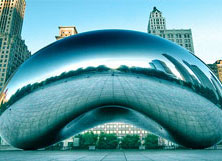 Chicago residents are the lucky ones who can visit this beautiful public sculpture called Cloud Gate which was inspired by liquid mercury. Artist Anish Kapoor mad the sculpture from 168 stainless steel plates which are welded together in such a way there are no visible seams. Underneath is a concave area which multiplies the reflections. The sculpture also reflects the surrounding skyline.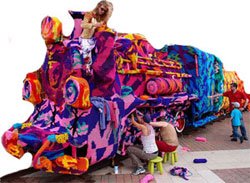 What is this?
It only took four days for crochet chick, Olek, to cover a train completely with crochet. Olek, who is Polish, returned to her home country to undertake the task. She was helped by assistants who not only took over the locomotive, but also the carriages.
And what is this?
Underneath all of that fluff is a poor little rabbit. Or so we are told. It needs a seeing eye dog. Or the owner needs a very large bottle of conditioner and a brush.
That duck again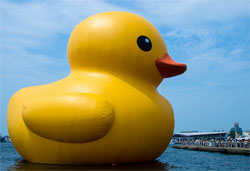 The 54 foot yellow duck, designed by Florentijn Hofman, has travelled widely, was tragically almost sunk in Hong Kong, and has now reached Taiwan. I think. Because dastardly deeds did not cease with the silent movies, it appears Chinese counterfeiters have been at work and imposters have been showing up all over China. One fraudster, frighteningly, had long eyelashes and wore a blue hair ribbon. The artist is a bit miffed and said if he was "a Chinese person, I would revolt. I would really revolt. This kills society, this kind of behaviour."
29 September to 6 October 2013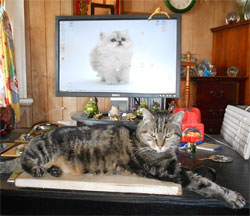 Cats make life interesting
Snoopy has decided I should cease playing Spider Solitaire and when I move to my other desk and computer, Queenie decides it is more important for me to make her dinner than to check my emails.
Frogs are easier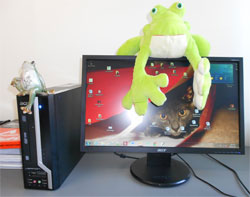 Life is easier at work where the frogs respond readily to being moved.
Sunrise and sunset at Paradise Street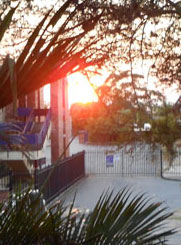 18 September to 28 September 2013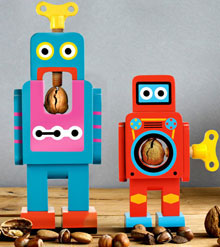 Having just seen a very weird performance of the Nutcracker Suite by a Russian ballet group it was good timing to come across these robot nutcracker man. And to make it even more interesting it is available from an English company amazingly named Suck. Obviously the meaning known to many Australians, is not used over there. The photograph is by the designer, Matthias Zschaler. The ballet sucked.
Church booked out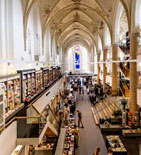 Zwolle, in Holland, is now home to a centuries old church which has been transformed into a magnificent bookshop. Three floors were added to the 15th century Dominican church which can be removed at any time. Norwegian artist, Kjell Nupen, designed modern stained glass windows to light up the new bookshop.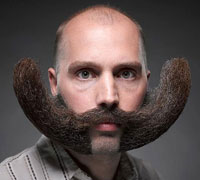 A Man, A moustache, Not a Pallindrome
The moustache is not dead. This man was one of 150 men from the USA, UK and Canada who travelled to New Orleans to take part in the fourth annual Just For Men National Beard and Moustache Championships. If I am reincarnated as a male I would like a moustache just like this one.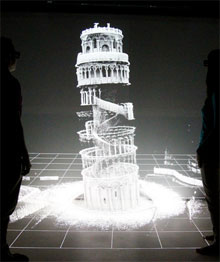 The CSIRO has invented the Zebedee, a mapping device, which has been used to map every part of the Leaning Tower of Pisa. Should the building ever be damaged by a natural (or unnatural) disaster it can be repaired thanks to the information gained from Zebedee. The 3d laser scanner, which is on a spring, rocks back and forth as the technician moves which enables the area to be continuously scanned.
8 September to 17 September 2013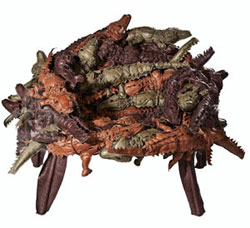 Image by Marcos Cimardi
This beautiful alligator chair was designed by brothers, Fernando and Humberto Campana from Brazil. The brothers work with underprivileged women who make the animals.
Death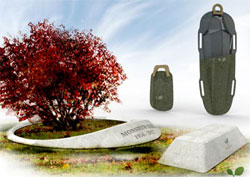 by Design
Enzo Pascual from France has won the Design for Death competition run by the online magazine designboom. His design, called Emergence, includes an underground part, a biodegradable coffin which enriches the soil which has a top made from compostable material.
The designer describes the project, "The upper part consists of two elements, a reservoir of life is in direct connection with the coffin of the deceased and a foundation for meditation. These two modules are produced with a concrete biological promotes the growth of microorganisms and absorbs some of the atmospheric CO2. The reservoir of life is to develop the continuity of life of the deceased. This extension allows plant produce electricity and thus light. This method works 24 hours 24 regardless of sun or wind, thanks to the plants. This technology is also CO2 neutral, quiet, clean and efficient.
Cute Toad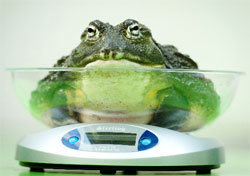 This story has no connection whatsoever with the photograph, which is another of life's mysteries, I have no idea where I found it or what it relates too. And now for the story, University of Leeds researchers have modelled a minute robot on the feet of tree frogs. The robot moves across the patient's internal abdominal wall and provides surgeons with a clear view via a video feed. The patterns on the feet of frogs enables the robots to retain a grip on the slippery abdominal wall. The robot has four feet but will need to be downsized to fit through the small incisions made in the stomach.
Crystal Cave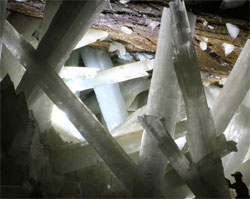 The crystals in this cave are some of the largest natural crystals ever found, one is reported to be 39 feet long and 13 feet in diameter. The cave has hardly been explored as the temperatures reach 58 degrees Celsius with around 90 percent humidity. The Giant Crystal Cave was found by miners in 2000 when they were making a new tunnel for a mining company in Naica, Mexico. The company keeps the caves clear of water through its pumping operations however the crystals deteriorate in air and there scientists in the Naica Project are visually documenting them before they deteriorate further.
Morpho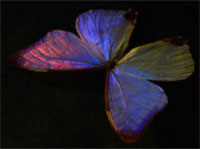 Researchers at the University of Exeter , have the wings of the Morpho butterfly have very interesting properties which could result in improvements to photonic security tags, self cleaning surfaces, protective clothing and to industrial sensors.
The researchers said understanding iridescence in butterflies and moths had revolutionised the knowledge of natural photonics and by using design ideas from nature it was possible to work towards the development of applications across a range of different technologies.
19 August to 7 September 2013
New Book about Captain Arthur Phillip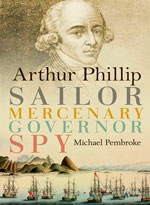 The descendants of First Fleet convicts, Olivia Gascoigne and Nathaniel Lucas, apparently form one of the largest family groups in Australia. As a great great great granddaughter of theirs, and having written about the original families on this website, I often have the pleasure of meeting people who are new cousins, to a variety of degrees. One cousin, Michael Pembroke, had his book, "Arthur Phillip, Sailor, Mercenary, Governor, Spy", launched in Australia recently and in October he will launch his book in England.
Michael, who lives in Sydney, went to Sydney University and then to Cambridge where he studied law. Since 2010 he has been a judge of the Supreme Court of New South Wales. The book on Arthur Phillip is his second. Several years ago he wrote "Trees of History and Romance", essays written from his Mount Wilson property (west of Sydney).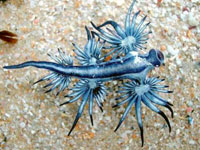 Pretty Blue Thing
I found this some time ago but cannot find my notes. It is some sort of underwater creature.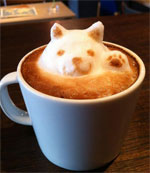 Life is not just froth and bubble...
I like plain black coffee, if I was faced with these unusual works of art I wouldn't be able to drink them. They are made by Kohei Matsuno, known as Mattsun, a Tokyo resident who has been drawing with the coffee foam for the past four years.
Last year he mounted an exhibition called Blue Sky Latte art. I wonder how he managed to make the foam retain its new shape? Once the milk foam is prepared he only has five minutes before the foam deteriorates.
This very odd structure was discovered by chemical ecologist, Troy Alexander, while he was volunteering for the Macaw project in the Amazon rainforest. Although the photographs have been sent to a wide number of professionals no one has been able to identify what it is or what made it.
11 August to 18 August 2013
What have they Done to My Street?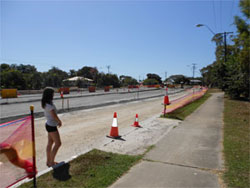 It seemed only a few months ago I was delighted to see all work on my section of Paradise Street had been completed. Sadly all the new work has been ripped up and now the roadworks once more surround the front of my house. My granddaughter, Alishia, makes an inspection.
No Room for Diana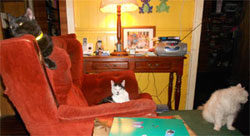 My chair is a favourite spot for Stampy (on the back), Gizmo (on the seat), and Queenie (on the footstool).
It's a good thing Mackay has had such a marvellous winter and I can use the chairs on the deck.
21 July to 10 August 2013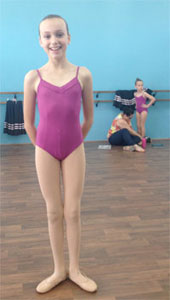 At the left is my granddaughter, Isabella, preparing for her first ballet exam (grade three) which reminded me of my early days learning ballet with Lilli Weigert, now Lilli Allgood. Below I am about to take part in a concert with a short-lived group called the Cameo Ballet.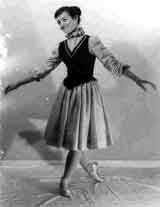 Peggy with Fanetta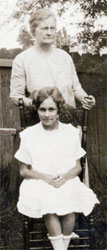 To the left is a beautiful photograph of my mother-in-law, Peggy, as a little girl.
She is with her great aunt Fanetta.
And on the right is Peggy as a teenager.
A Cat for a Change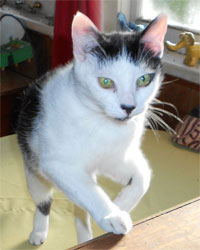 And now a grassy knoll, sorry, bus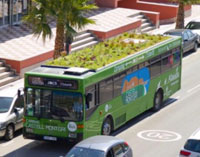 A Spanish landscape artist, Marc Granen has come up with an invention called Phyto Kinetic. The system uses lightweight hydroponic foam which can be shaped to any size and condensation from the airconditioning system is captured to irrigate the roof garden. The system is being used on a bus which carries tourists to and from a camping facility in Girona, Spain.
1 July to 20 July 2013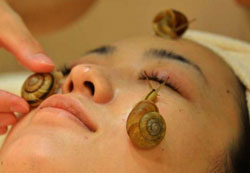 Slime is the latest way to go if you really care about beautifying your skin. In Tokyo you can have a special facial to rejuvenate the skin. For several hundred dollars not only will the slime be brushed onto your face but snails will crawl around to give that special ticklish feeling. The idea of using snail slime is several decades old and followed the discovery that people who worked with snails had wounds which healed very quickly.
Pub in a tree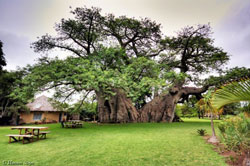 Leaving Japan make sure you head for Sunland Farm near Modjadjiskloof in South Africa where a six thousand year old baobab tree has been transformed into a pub. The pub is eighty years old and can handle fifteen patrons at a time. When baobabs are one thousand years old, hollows form in the trunk and these are where the pub now reigns supreme.
I will refrain from making the obvious puns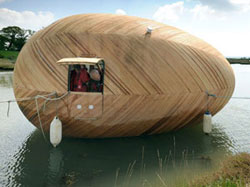 This delightful egg-shaped building is not only a houseboat but also a laboratory where people can live and study the life of the tidal river Beaulieu in the United Kingdom. The egg has living quarters as well as storage and display areas. Artist Stephen Turner is creating particular works while he is aboard which reference the local natural cycles.
Chapels in a tree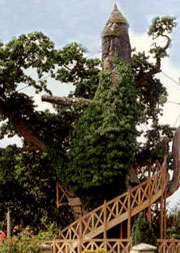 And on to France where an oak tree, believed to be at least eight hundred years old, is home to two chapels. Four hundred years ago the tree was struck by lightning but instead of dying it was transformed and local priests decided it had happened for a special purpose. Initially a shrine was built in the hollow of the tree and later a second chapel and spiral staircase were added.
17 June to 30 June 2013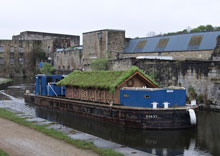 How do you mow the roof of a boat? This houseboat is a moving sculpture by Beth Derbyshire. It was designed as a typical terraced house and put on a barge which travels along the Leeds and Liverpool Canal. Inside a number of specially commissioned films, which look at the heritage of the region, are shown to various communities where the barge makes landfall.
Keep your care safe from thieves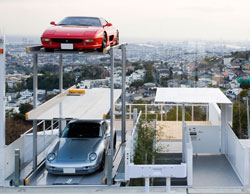 Photo: Kenji Yanagawa Architects and Associates
How do you park your car? At least the ones at the top would be safe from thieves. Architect Kenji Yanagawa designed this house especially for the hillside which has a five metre vertical drop. An old septic tank was used for the foundation of the house which boasts an elevator which houses the owner's Porsche, Ferrari and Honda.
Recycled Lamp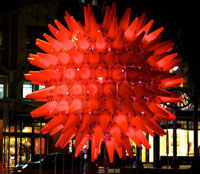 How do you make a decorative feature from traffic cones? Traffic cones are an all too familiar sight in Mackay, along with giant plastic lego-like things which form a barrier between cars and road works. Sydney firm, Woods Bagot, obtained 200 traffic cones to make a lamp which was on display at the Vivid Sydney Festival of Light, Music and Ideas at Circular Quay.
Keep your van warm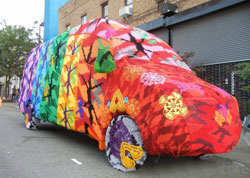 How do you keep an old van warm? The obvious way is to crochet a cover for it. In Brooklyn a complete block was turned into an interactive outdoor exhibition and the van was a fascinating feature. The street was left open to enable passers-by to see artists in action.
Not only computers are bootable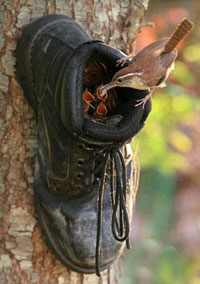 How do you keep your offspring dry if you are a bird? Find a boot which has been nailed to a tree.
9 June to 16 June 2013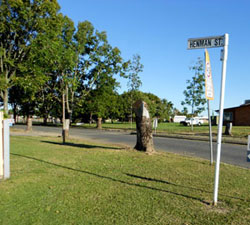 It was once such a pleasure to drive down the shady oasis that was Henman Street in South Mackay. Yesterday six mature trees that lined the end of the road to the intersection with Paradise Street, were chopped.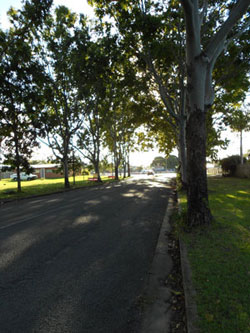 The photograph above shows beautiful Henman Street prior to the devastation.
Super Car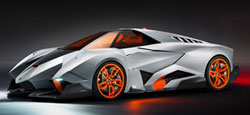 Wow! This is the Lamborghini Egoista which was designed to celebrate the fiftieth anniversary of Volkswagen. Designed by Walter da Silva, the car is powered by a 600 horsepower, 5.2 litre V10 engine. The cockpit of the single seater car is described as a survival cell. It can be ejected and the materials it is made from, carbon fibre and aluminium, protect the driver.
Metal chairful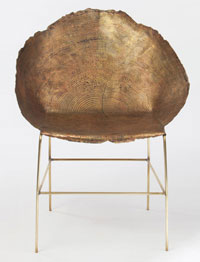 This metal chair, designed by Sharon Sides, has a tree ring formation etched into the surface. The chair is part of the Stumps Collection which also includes tables and stools.
My Secret Garden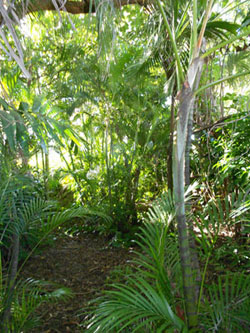 My secret garden continues to give me joy. No tree loppers in here.
31 May to 8 June 2013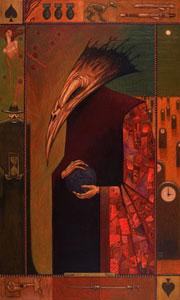 A short story, the reworking of Adam and Eve, was the inspiration for the Deathbird painted by Grant Fuhst. Writer Harlan Ellison described the situation where there is only one human left on earth who is accompanied by an alien guardian and God, who is the insane deathbird. The artist, whose work has been described as "illustrations from a disconcerting dream" describes himself as a specialist in irrational art. His multi media paintings have been exhibited in New York, Los Angeles and Salt Lake City.
Free Library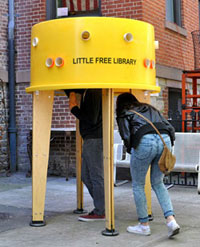 New York is now home to the Little Free Library where passers-by can pop under the bright yellow roof to browse through books which are stored inside. Books can be borrowed or exchanged. Many years ago I belonged to some group whereby people all over the world left books in public places for others to take home and to read. I have no idea what it was called but there were a few of us doing it in Mackay.
Not mushroom inside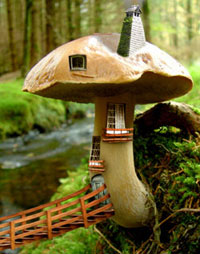 Having misplaced the photograph of the Mushroom Tiny
House, I have found this delightful illustration to use
instead (it is wallpaper). The original mushroom house which took my fancy was not so much about the way it looked, just like a little wooden shed, but about the fact that the walls are lined with mushroom roots. After growing finishes the roots dry and form a great green insulation. Unfortunately its not edible.
Eggzactly

If you have a spare 6500 egg cartons you can emulate the work done by Jack Munro and Charlotte Austen who built this full scale 12 metre long sculpture of a Mark 1 spitfire. The egg cartons cover a skeleton made from timber and steel which is broken down into twelve pieces to allow for transportation.
25 May to 30 May 2013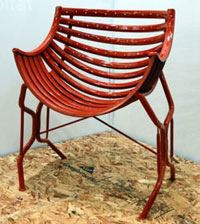 Old bikes never die, they're recycled. Gilbert Vanden Heuvel from Canada collects old bikes and makes them into furniture. This tub chair is an example of his work. This former pig farmer has combined his love of cycling with metal working skills to merge different bits of bikes to make mirrors, desks and even clocks. His business is called the reCycleR and he offers to turn anyone's rough sketches into a custom design.
Belly Hi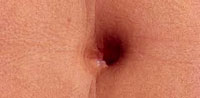 It doesn't matter who your are, what your gender is, or what sort of belly button you have, it will harbour more than 60 different types of bacteria. Research into the inner life of 60 people's belly buttons is now being extended to sample the bacterial content in 600 people's belly buttons.
Cologne for Cats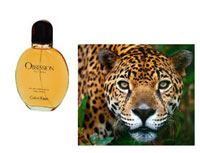 Female jaguars will no doubt be fascinated to learn their mates are attracted to Calvin Klein's Obsession for Men. Researchers are making use of this knowledge to attract jaguars to camera traps, because female jaguars are equally interested in the scent and do a lot of cheek rubbing which leaves behind hairs which can be used for analysis of DNA. I have no idea how this was discovered but can visualise scientists raiding perfumeries and spraying wildly.
22 May to 24 May 2013
I do not stick to a schedule when I update this site so I have just put a small item on the right hand column to enable readers to be notified when I do updates. Just add your email address, which remains private, and you will be told when I add anything to this blog.
Catherine's Cats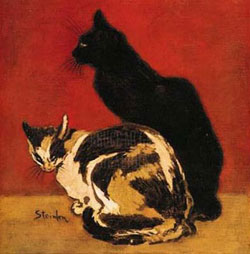 Sixty cats, who live in the Heritage Museum in St
Petersburg, have been honoured by a special exhibit
of paintings by cat lover, Alexandre Steinlen. Catherine
the Great created the museum in 1764 and for the past 247 years a selection of cats have always lived there, originally to protect paintings from rats and mice. Nowadays, although they are no longer allowed in the galleries, they can take advantage of the cat doors in the six Hermitage buildings which allow them to access the gardens and to their cat headquarters in the basement. Catherine the Great apparently gave the cats a formal rank and a stipend.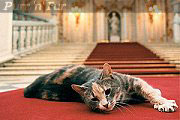 Museum staff look after the cats, three of the staff are fulltime cat carers, and they also make voluntary contributions of food and medicine and organise fundraisers to provide for the cats. Once a year the workers have a Day of the March Cat. Because the cats have done such a good job at keeping the museum mouse free, they mainly feed on fish, meat and porridge.
Most of the cats living in Hermitage are neutered, but that does not keep cat numbers down as people bring cats there when their owners die. Each cat has a passport which includes its photograph. Cats which are placed in new homes outside the museum receive a special Hermitage certificate.
Reminder for next xmas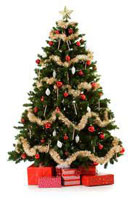 Remember this next xmas when you lug your tree inside your home, you're also bringing in around 25,000 mites, insects and spiders into your home! The good news is the insects and bugs will be unlikely to wander but will remain in the tree.
Give Hands-free a Miss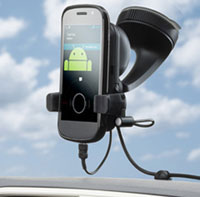 A recent experiment jointly run between universities
in Australia and Barcelona has shown using a handsfree
kit, or sending text messages while driving a car is just as dangerous as if the driver was above the legal alcohol limit.
Twelve volunteers, who were neither habitual drinkers nor teetotallers, took part in a driving simulation test which showed that when the conversation when using handsfree was simple, the effects were comparable to 0.04 g/l, just below the legal limit, but when more concentration was required the effects rose to above the legal limit and answering text messages sent the rate soaring even higher.
Great Idea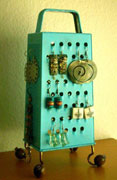 12 May to 21 May 2013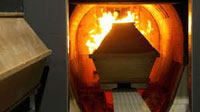 Keep your ears, but lend me your steel hips and any screws that are in your head or legs or arms, and they can be recycled into car parts, aircraft engines and road signs! Of course you need to be dead first. And British. In England all the metal parts are collected following cremations and money from the sale of the parts goes to charities.
The recyclers also collect old fillings, metal fittings from the coffins, and metal plates from false teeth.
This project began in 2004 and so far about half of the 260 crematoriums in Britain have signed up.
Ducked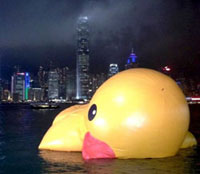 The poor thing has been ducked and now it is a very big yellow blob still afloat on Hong Kong harbour where just a few weeks ago made a triumphant entry into the fame harbour. The duck, which was designed by Florentjin Hofman, is 54 feet tall and is staying put in the harbour until 9 June. And now where is the giant bicycle pump?
How to use the computer keyboard with difficulty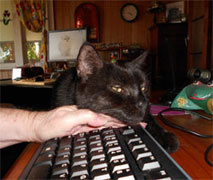 I was working in Photoshop, with Stampy very close by and could not do what I wanted to do. The commands would not work. It helped when I raised Stampy's head from where it was resting on the Esc key but typing with one hand is difficult. So is taking a photograph with one hand.
Not running shoes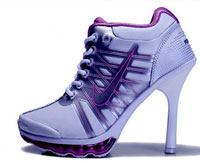 I haven't run any photographs of shoes for a long time but this one (presumably of a pair) makes the cut. Perhaps it is a multi purpose shoe to fit in with all the multipurpose items that litter our lives these days.
How to check the computer monitors, with difficulty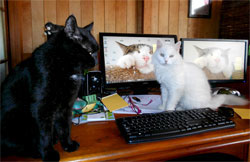 Stampy and Queenie feel strongly about being fed on time and that, Diana, means right now, so get up because you can't
see the monitors very well anyway, and hie thee
to the kitchen.
Bathchairs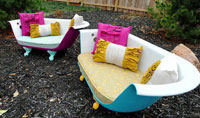 5 May to 11 May 2013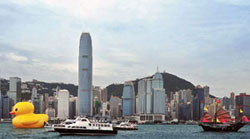 The extremely large yellow rubber duckie has reached Hong Kong after visits which included sydney, Auckland, Osaka and Sao Paulo. The duck looks just as at home in Victoria Harbour as does the junk. The Rubber Duck Project, designed by Florentijn Hofman, began in 2007. The duck is six storeys high. Now I have the Sesame Street song firmly stuck in my head, "Rubber duckie, I love you". This duck is peripatetic, a word I first read when living in Hong Kong.
Interesting Weekenders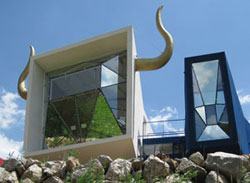 Architect Moon Hoon who was raised in Australia, designed the group of buildings for a musician. Known as Rock it Suda, the group of weekenders is based on the idea of an enlarged playground.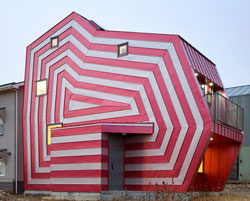 And for some obscure reason the house above is called Lollipop. It is a family dwelling in Korea which has seven storeys of rooms which skylights which illuminate the interiors.
Furniture made from compressed earth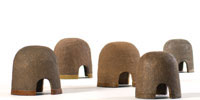 On display during the Milan design week are these stools and the lamp shade which are one hundred percent organic products, made from earth and natural fibres. Designer Adital Ela, from Tel Aviv, has produced this series of items that can be made anywhere using earth and any agricultural residue followed by compression. When the user is tired of the item it can be returned to the earth.

28 April to 4 May 2013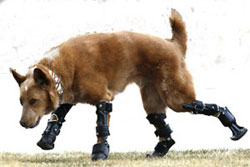 When Naki'o was a puppy he was abandoned in a cellar and lost part of his tail and all four legs through frostbite. Christie Pace, a veterinarian assistant, rescued him and raised funds for prosthetics to replace the lost back legs.
Martin Kaufmann, of Orthopets, offered to do the front limbs free of charge. Naki'o, a mixed breed dog from Nebraska, is the first dog to be fitted with four prosthetic limbs which have enabled him to run and play.
I See You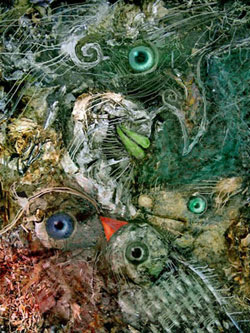 I'm fascinated by this painting, called Autoportret Sentymentalny which I think is by Leskos from the Leszek Kostuj beinArt International Surreal Art Collective.
Beautiful fish walks in the deep waters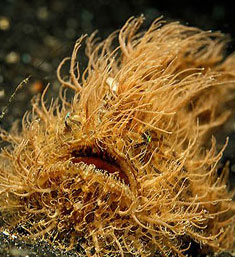 This beautiful denizen of the deep is a hairy frogfish also known as a striated frogfish. They live in sub-tropical oceans around Indonesia, the Philippines and Borneo and have a particular liking for coral reefs, or rocks. Although they keep their heads under water they don't swim but instead wander around on their pectoral fins or use a form of jet propulsion.
Hope for those with macular degeneration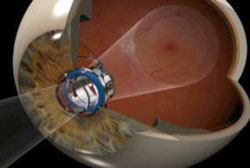 A telescope which is smaller than a pea has been successfully implanted in the eye of a patient suffering from macular degeneration.
The operation was performed by cornea specialist, William H. Benson who said there have been limited oportunities to improve vision for people with advanced macular degeneration. 'Advanced macular degeneration is a devastating disease, which cannot be treated by any available drugs or surgical procedures. The telescope implant offers a new hope for patients with limited vision,' he said.
Patients with end-stage AMD have a central blind spot which makes it difficult or impossible for them to see faces, to read, or to perform activities including watching television, preparing meals, and self-care.
The telescope implant uses micro-optical technology to magnify images that would normally be seen in central vision. The images are projected onto the healthy portion of the retina not affected by the disease, which makes it possible for patients to see the central vision object of interest.
6 April to 27 April 2013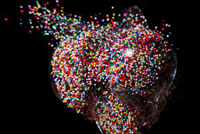 Lightbulbs, filled with different substances, explode providing fascinating photographs. Chemist and photographer Jon Smith, who is a chemist and photographer, uses a range of items including oil, sweets, hundreds and thousands, maple syrup and food colouring to fill the light bulbs which are then exploded by using a pellet gun. The results are filmed by using high speed photography.
Below
The Popup Coffee Shop
What do you do when you have a lot of plastic bottles and cardboard boxes? You make a popup coffee shop!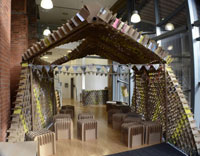 The entire cafe can be easily taken apart and flat packed in order to move it to other locations. The Trash Cafe is a recycling initiative by students at the Newcastle University in the UK. The university aims to spread environmental awareness among young designers and motivate them to use sustainable materials.
Superb window in a treehouse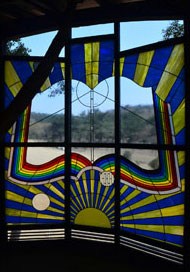 A collective called Treehouse People has spent two decades building a range of tree houses from reclaimed wood which are designed in such away they avoid stunting the growth of the tree. Designer, Takashi Kobayashi, who leads the collective, has built more than 120 houses in Japan where he aims to 'erode the boundary between man and nature'.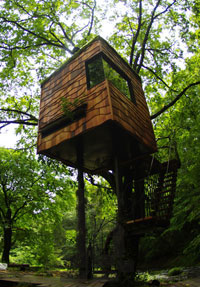 30 March to 5 April 2013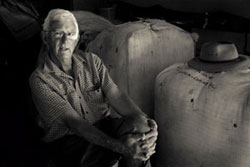 My brother, photographer Dale Mann, was chosen as photographer-in-residence to document how the communities of Nathalia and Mildura were faring following a devastating drought. His work is part of the Beyond Reasonable Drought touring exhibition, organised by the Museum of Australian Democracy in Canberra. A selection of photographs by locals, and by Dale, will appear on the Museum of Australian Democracy's website, as well as on giant screens at the G.R.A.I.N. Store and at the Mildura Arts Centre.
Dale was one of 40 photographers who originally documented the ten year drought as part of MAP (Many Australian Photographers). In 2009 the group released a book, Beyond Reasonable Drought which became an exhibition which toured Australia. Photographers donated their time and expertise and all proceeds from the book went to the CWA. The original idea to photograph the drought, came from the US, where in 1935 a photographer chronicled the 20 million hectares of the country that had turned to a dustbowl.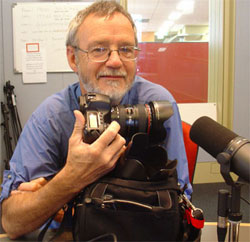 Wellbread Table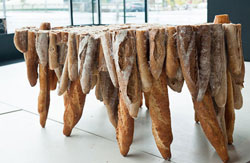 This table is part of the exhibition, The Food Project, the Shape of Taste. The table was made, from baguettes, to draw attention to food wastage, specifically in Vienna.
Beautiful cockcroach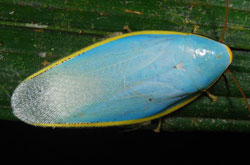 I wish the cockroaches I catch occasional glimpses of were as beautiful as this one. Bright blue, with a fringe of yellow, it is a newly discovered species from Costa Rica, from the genus Xestoblatta.
Palliative care centre in Hong Kong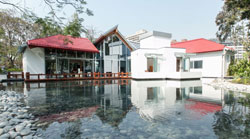 This is one of Maggie's Centers, built following the death of Maggie Jencks in 1995 from breast cancer. Renowned architects from around the world design these palliative care structures which are for newly diagnosed, recently relapsed and terminally ill cancer patients. The charity, called Maggie's Centers, dedicate the buildings to provide free support for cancer patients, not only practical and social support, but also emotional support. The building above, which is in Hong Kong, was designed by Frank Gehry, who was friends with Maggie, and whose daughter died from cancer. Maggie's daughter, Lily Jencks, a landscape architect, designed garden rooms to provide areas where patients can relax and take part in stress and symptom management.
20 March to 29 March 2013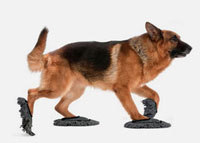 No need for electricity, this debris removal system is powered by your pet who wears state of the art dust boots.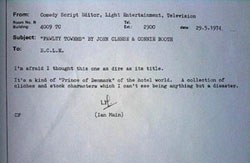 I'm sure the BBC comedy script editor, Ian Main, has lived to regret his memo which refers to the pilot script for Fawlty Towers as "a collection of cliches and stock characters which I can't see being anything but a disaster." John Cleese's series made its debut on the BBC in 1975 and remains a classic.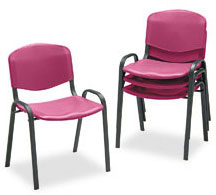 Stacking chairs have been produced for the past 50 years. An injection moulding process is used to make the polypropylene chairs which were designed by Robin Day for S. Hille and Co. Initially they were only available in brown or red but they are now available in a wide variety of colours and sizes. You see them here, you see them there, you see them absolutely everywhere. With thanks to Baroness Orczy.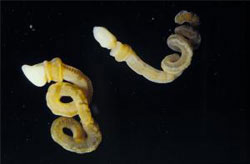 And here we have Spartobranchus tenuis, these fossils are of a creature previously unknown to science which pushes the fossil record of enteropneusts back by 200 million years says Jean-Bernard Caron, curator of invertebrate palaeontology at the Royal Ontario Museum. The creatures are members of the acorn worms group which are closely related to sea urchins.
16 March to 19 March 2013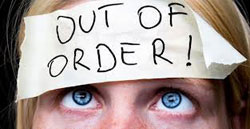 Alzheimer's Roundup
A US study has found which ran for 10 years and which included 246 participants has found Alzeimer's disease may be warded off if people have a purpose in life. None of the people involved had dementia and all had a brain autopsy following death (good timing). Patricia Boyle from the Rush University Medical Center in Chicago said taking part in meaningful and purposeful activities appeared to promote cognitive health in old age.
Avoidance Techniques
Don't forget to buy Jean Carper's book 100 Simple Things You Can Do to Prevent Alzeimer's. Jean Carper, a medical journalist with a family history of Alzeimers, tracked down a multitude of ideas with strategies which included drinking coffee and she she quotes a European study which suggests three to five cups of coffee a day in midlife cuts the risk of getting Alzeimers by 65 percent.
An American study saw new internet surfers, aged from 55 to 78, with activated key memory and learning centres in the brain after only a week of web searching for an hour a day.
You may grow new brain cells by taking a brisk 30 minute walk every day, doing strenuous brain exercise, and eating salmon.
Drink 16 ounces of apple juice per day as old mice who were given apple juice did better with memory tests than mice who received water. Also good are grape and blueberry juices.
Take Vitamin D
Meditate
Drink one cup of brewed black or green tea a week
Drink red wine, one glass a day for women and two for men.
This is a frog!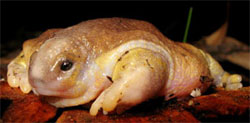 This beautiful creature is a turtle frog (Myobatrachus gouldii) which lives in near desert conditions in south-western Australia. It is tiny, only a couple of inches in size, and, although it is a frog, it doesn't produce tadpoles, instead the female lays around 50 eggs and from them spring baby frogs fully formed. I'm sure there is a literary allusion there but I can't remember what it is.
Green Garage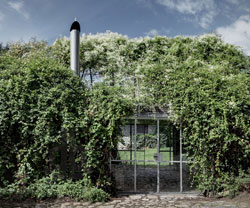 Once a forgotten garage, the frame of this building was covered by mesh and then by layers of vegetation. With living walls, the interior is cool and shady.
11 March to 15 March 2013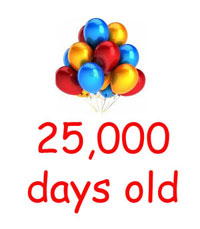 I haven't been very interested in birthdays for years but today is a special one for me as I am, as you might have guessed, 25,000 days old today. 25,000 days is 3571 weeks and 3 days old. Now I shall aim for day 25,001.
Drip!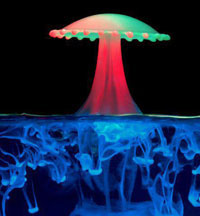 Dutch born Corrie White, who now lives in Canada, is a practitioner of water drop photography. She often uses a medicine dropper, food dyes and gels to create her photographs. For more complex photographs she uses Mumford's Time Machine and the Drip Kit.
Day of Anger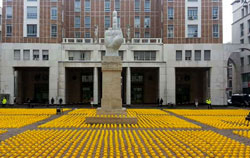 In Italy, 157,000 companies have gone under, and 893,000 employees in the construction trade have lost their jobs in the past five years. To show their anger at this situation, workers involved, including labourers, clerks, architects and real estate agents, laid out hundreds of hard hats in front of the Milan Stock Exhange to mark the Day of Anger. Not too sure about the statue but it was obviously angry too.
9 March 2013 to 10 March 2013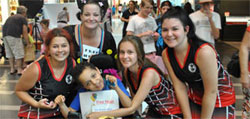 Amanda and young Chris gave out more than 100 hugs each when they visited Canelands on Saturday. Amanda is busy collecting ideas for other ways to spread happiness through her new Facebook page A Little Piece of Happiness.
The Trojan Horse Reinvented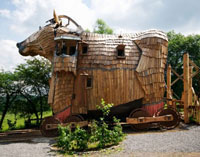 The original trojan horse was made famous in Virgil's poem Aeneid. The poem tells of a giant wooden horse which was left outside the gates of Troy and when the inhabitants pulled it inside the city walls, a number of Greek soldiers, hidden inside, crept out and opened the gates to allow their army to enter and destroy the city.
But this wooden horse, at Durbuy in Belgium, is a modern replica and instead of housing soldiers it is an hotel. La Balade des Gnomes Hotel features rooms which are made from wood, straw and mud. And the hotel isn't set in stone, it is on wheels and can be moved about at the request of guests. A wheely good idea for peripatetic guests.
Coffee car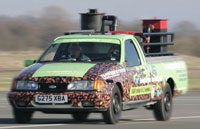 This ute bypasses petrol and uses coffee for fuel. Called the Bean Machine, it was built by Martin Bacon who is an engineer and conservationist. The ute was commissioned by The Co-operative Food on the occasion of their tenth anniversary of converting all their coffee to fair trade.
Sticky fingers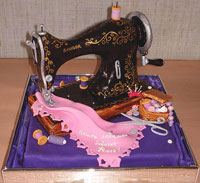 Definitely don't use this sewing machine to sew with or you will get very sticky fingers. It is completely edible. The cook is sew clever.
5 March 2013 to 8 March 2013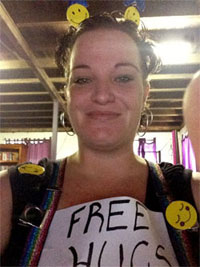 I had the most fun doing supermarket shopping ever when I followed my daughter, Amanda, as she went through Coles, wearing signs offering free hugs, asking people to smile, and wearing smile badges, red flashing sunglasses and a waving head thing. She gave her first hug in the carpark and inside hugged many people and caused many others to smile. She has also begun a Facebook page called A Little Piece of Happiness and will be at Canelands, at the Woolworths entrance at 12 noon on Saturday 9 March at the Woolworth's entrance.
3 March to 4 March 2013
March 3 and 4 have been rather wet in my part of Mackay. Paradise Street was a flooded mess and one car came to grief near my house. Motorists might not be aware there is a big ditch where roadworks are underway. My big garden frog was surrounded by water.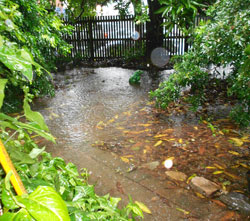 22 February to 2 March 2013
Pity the poor chook!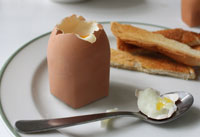 British designer Dominic Wilcox presented his genetically modified egg cup at an exhibition at the Contemporary and Modern Art Museum of Trento and Rovereto in Italy. The exhibition put the spotlight on the positive and negative possibilities of genetic modification.
Mental distraction aids pain relief
Mental distractions can reduce the level of pain, and the more difficult the distraction, the better the pain relief. Participants in a study were asked to complete either a hard or an easy memory task while they simultaneously received a painful level of heat to their arms. When the participants concentrated on the difficult task, they perceived a lower level of pain, and fMRI scans showed lower activity in the spinal cord.
The findings suggested that the high level mental distractions inhibited the response to incoming pain signals at the earliest stage of central pain processing. Christian Sprenger of the University Medical Center Hamburg-Eppendorf said the results showed the distraction worked, not only as a psychological phenomenon, but as an active neuronal mechanism which reduced the amount of pain signals ascending from the spinal cord to higher-order brain regions. The effects involve endogenous opioids, which are naturally produced by the brain and play a key role in the relief of pain.
Surrounded by cats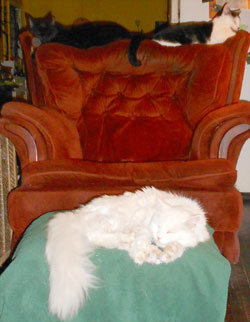 My lounge chair is a magnet for cats. The empty space in the middle, where I sit, has Stampy and Gizmo on the back of the chair, while Queenie reclines on the footstool.
Mackay pain sufferers have support
People who live in the Mackay area are very lucky to have a strong support system in the Mackay Pain Support Group. This group, which has been meeting for just over a year, has become stronger and stronger. The next meeting is on Saturday, 16 March at Good Shepherd Lodge. Occupational therapist, Jane Dunn, will discuss aids which can help with the management of chronic pain, and pharmacist, Karalyn Huxhagen, will speak on medication safety. Further details from Joyce McSwan on 041 232 7795 or contact her via email.
Eaters everywhere
Most people read books but the books above should be eaten, and, below, not only can you eat these chocolates but you can eat the container too.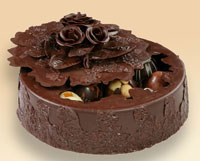 Design for Death
Design for Death is a competition being held world-wide to encourage everyone with creative talent to rethink and to reimage death care which includes the provision of services and products related to death, funerals, cremation, burials and memorials. Participants are being asked to examine cultural aspects and to foster openness within the established traditions and systems around death and dying.
The competition is being organised by designboom in collaboration with the Lien Foundation, the ACM Foundation, and supported by the National Funeral Directors Association.
15 February to 21 February 2013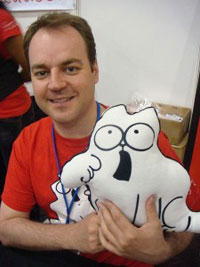 Many years ago a friend sent me a link to a brief movie featuring a cat. I had it on my desktop for some years until that computer died. I used to play it often and it never failed to cheer me up. A little while ago another friend sent me the link and once more I have regular access to something which makes me smile. Simon's Cat starring in Cat Man Do.
The animator, Simon Tofield, has four cats, Hugh (whose actions prompted the first animation) and Jess, Maisy and Teddy. Simon, who lives in England, animates frame by frame and it can take from 12 to 25 drawings to create one second of the film. Simon also does the sound including the miaows and the purring.
Biode Home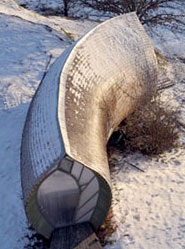 This Biode Home is free standing and can easily be moved to a new site. It has convex walls and although it only has 25 square metres of living space, it includes a kitchen, bed area, table and chairs and a hallway.
A shoe...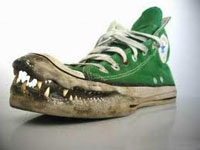 ...which eats up the miles.
10 February to 14 February 2013
Nell Sidebottom, who lives in Victoria, has put together a 96 page document of her recollections of her family members including Montgomery, Hehir, Harrison and Marcus families. This is a fascinating document, and although it was written primarily for her children, the information is fascinating for all of us who have a connection with Nell. With kind permission from Nell, I have included Nell Sidebottom's memories of the Montgomery, Hehir, Harrison and Marcus families here.
Decorated earth houses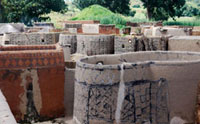 Mortar, made from clay, soil, straw and cow droppings is used to make these houses in Tiebele, in Burkina Faso, a small country near Ghana. The Kassena people cover every square inch of their homes with designs, in coloured mud and chalk, which tell the story of their culture. The doors are close to the ground which enable the temperatures inside to remain comfortable throughout the year.
Nailed that idea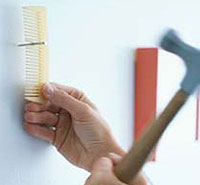 Didn't have to comb the internet to find this clever idea.
Bubble house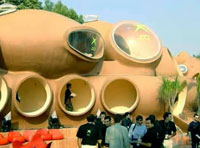 Forty years ago Pierre Cardin hired Antti Lovag to design a bubble house at Tourrettes-sur-Loup in France. With its built in furniture and oval convex windows the house has already been listed as an historic monument by the French Ministry of Culture.
Recycling in Argentina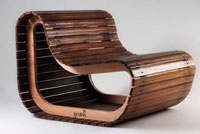 Gruba, a studio in Argentina, has designed a collection
of chairs and coffee tables using salvaged roller blinds.
Cats have taken over my music room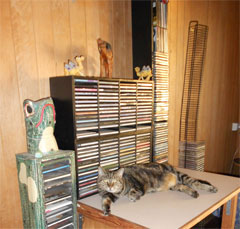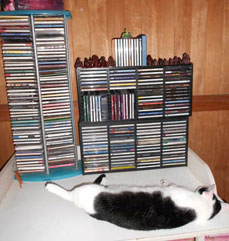 4 February to 9 February 2013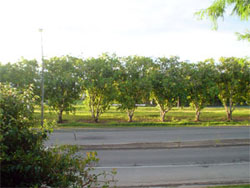 I've had sixteen wonderful years to admire the long line of trees which can be seen the length of Paradise Street in Mackay. And today has been a day of tissues and tears as one after another, the trees have been decimated.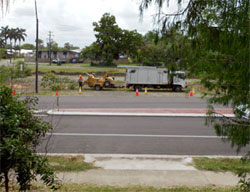 In time a mini botanic garden is to be built on the site, until then I have my memories. You are a droob Diana.
To cheer me up here are our cats again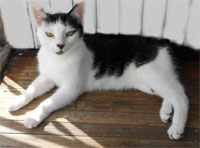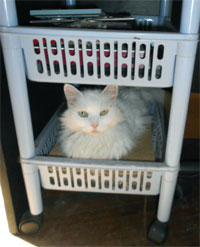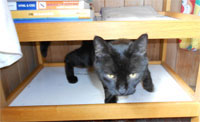 And here is Nell and her cat Pepsi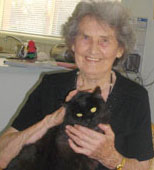 Colour in those fields

A Belgian photographer went up in a plane to get this photograph of tulip fields in the former municipality of Anna Paulowna in North Holland.
Beautiful lights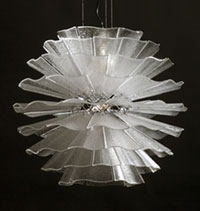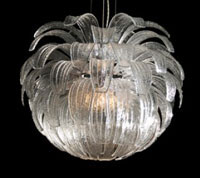 29 January to 3 February 2013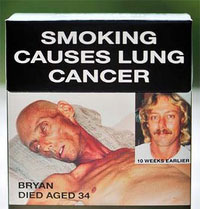 This photograph is one of the more confronting being used on cigarette packets in an endeavour to warn people about the dangers of smoking. I wait, with baited breath, for photographs of battered women and children to be used on alcohol containers.
The person in the photograph, Bryan Curtis, died in mid 1999 and was a US citizen. Why the Australian Department of Health decided to use this elderly information is unknown. Surely some thoughtful Australian, dying from smoking related diseases, would be happy to have their photograph on a cigarette packet.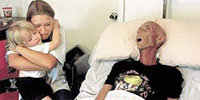 Bryan Curtis was 34 when the photograph was taken shortly before his death. By his bedside are his wife, Bobby Jo, and son, Bryan. A few months ago Bobby Jo and Bryan, now 16, were jointly charged with attempted murder of a man whom it is believed Mrs Curtis met on an online dating site. Bobby Jo and Bryan are accused of tying a 44 year old man to a chair and then attacking him with a hammer and a baseball bat in an endeavour to make him reveal the combination of his safe and the PIN to his bank account. Bobbie Jo Curtis has been arrested 14 times in the last 11 years for alleged crimes including robbery, battery, and dealing prescription drugs.
Like Russian Dolls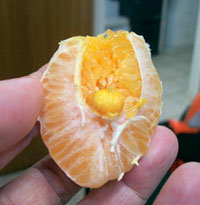 This perfect baby mandarin was found inside another mandarin by Sally. It reminded me of that fascinating human condition, fetus in fetu where a foetus (to return to the correct spelling), is enveloped by its twin while in the womb. This is often discovered many years later and the foetus is often a collection of hair and bits of flesh.
Rosie and Nell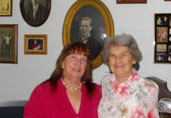 I've been communicating with cousin Nell (on the right) and with Rosie for quite a few years but it was only today, when Rosie mentioned the wall of Montgomery photographs behind them, that I realised I had left the family name, Montgomery, off my list of surnames. I have now added the Montgomery page to this website.
Perfect Packaging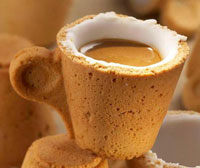 Drink the coffee. Eat the cup! An excellent packaging idea from Enrique Sardi of Venezuela who designed the edible cup for an Italian coffee company. The cup is made from pastry, covered with icing sugar, which acts as an insulator.
A great replacement for billboards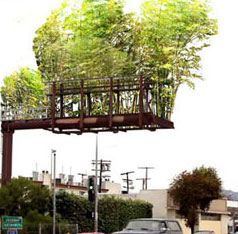 Billboards around the world have received a great deal of bad publicity, often for the themes portrayed, and also as a form of driver distraction. Stephen Glassman, of the Urban Air project, is now transforming many billboards into bamboo gardens which come supplied with water misters.
Summit Media, a Los Angeles based billboard company, has lent its support and donated prominent billboards along major LA thoroughfares. Urban Air project works with structural and environmental engineers, planners, media experts, billboard fabricators, bamboo growers, plumbers and outdoor advertising specialists. The aim is to design and produce a full scale working kit that enables any standard billboard to be easily transformed to a green, linked, urban forest.
16th archive
14th archive
Feedback - I look forward to receiving feedback about my site.
Please contact me here.
This page was updated by Diana Kupke (Diana Mann) on 8 January 2022