Thirteenth Archive
Items from 30 March to 7 September 2012
4 September to 7 September 2012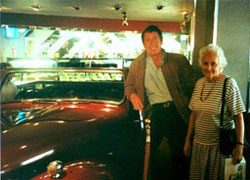 I discovered a selection of Bergerac dvds in the Mackay City Library recently and David sent me the photograph above of Peggy, taken in Jersey, with a cardboard cutout of John Nettles, (who played the detectives in both Bergerac and Midsomer Murders), and with the beautiful 1959 Triumph Roadster which Bergerac drove in the series and which is now in a museum on the island of Jersey where the series was made.
Bergerac and Inspector Morse combine two of my favourites, beautiful old cars and a detective story. Below is the marvellous Jaguar driven by Endeavour Morse. After he finally revealed his first name I never forgot it because it was the motto at Brighton High School.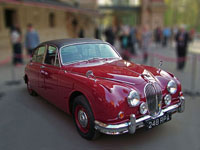 Remarkable zebra fish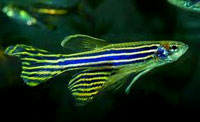 Zebra fish are remarkable, they can regenerate their spinal cords after an injury. These fish, which are very popular with people who own acquariums, are now being studied by Dr Yona Goldshmit and Peter Currie at Monash University.
They are looking at fibroblast growth factors which, writes Science Daily, have shown some evidence of improving recovery in mice and humans with spinal cord damage.
In humans cells called glia come onto the scene after injury and protect the spinal wound and thereby the brain. Unfortunately this scar tissue acts as a barrier and new nerves cannot grow through the site of the injury. In humans the glia are like stars and intertwine but in the zebra fish they are elongated which bridge injury sites and enable nerve call growth.
A Volkswagen open air beetle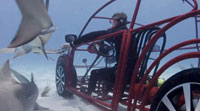 The Volkswagen vehicle fondly remembered as the beetle, has a new life, albeit without walls. This Volkswagen, the Beetle Mobile Shark Cage, can be driven under the sea so mad people (who put their heads underwater) can get up very close to sharks.
Volkswagen engineers and marine biologist Luke Tipple combined their talents to fabricate the drivable cage which has alloy wheels, Volkswagen headlights, an inbuilt air system and propellors. The driver/diver can access the air system.
31 August to 3 September 2012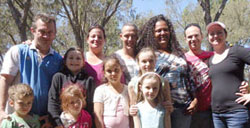 Together at the park near Ocean International are William, Amanda, Nick, Denese, Michael and Suzanne, with Dylan, Kiana, Alishia, Lakeda, Isabella and Tahlia.
Forever Amber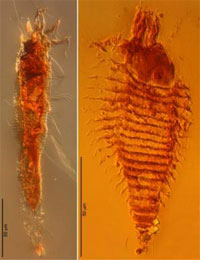 Scientists in Italy have discovered a fly and two mites, embedded in amber which they believe are 100 million years older, than any other amber arthropods ever collected. Until now the oldest record for animals in amber dated to about 130 million years, but the new find has been dated to 230 million years, the Triassic Period. Some 70,000 amber droplets, the perfect preservative, were excavated from the Dolomite Alps by Eugenio Ragazzi and Guido Roghi of the University of Padova.
It is suspected the ancient mites fed on the leaves of the tree that ultimately preserved them, a conifer, in the extinct family Cheirolepidiaceae.
26 August to 30 August 2012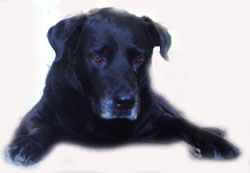 Willow, died 30 August 2012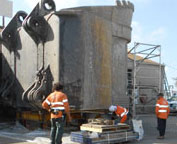 Above is a huge bucket which is being refurbished at Zemek Engineering at Mackay Harbour.
30 July to 25 August 2012
It is a very good thing I enjoy challenges. I had no idea redesigning a new website would be so labour intensive and would cause so many problems. It was particularly difficult while my old site was live. My domain name has changed to www.dianakupke.com.au which brings me into line with mainstream websites.
New Galleries
I was not happy with the way my old galleries worked and I am now using coding from Stu Nicholls' great site which is called CSS Play.

CSS play is a partnership between Stuart and his wife Fran. Stu previously worked as an electronics design draughtsman until he became a self employed web designer/adviser.
The couple became interested in computers in the 1980s when Stu began writing articles for the computer magazines of the time. He was also commissioned by McGraw-Hill to write two books on Z80 programming for the ZX Spectrum. Fran helped to produce the manuscripts for these books.
Centenary
Mackay State High School has celebrated its centenary with a week of activities which lasted from 20 August to 26 August. A centenary ball was held on Friday, 24 August at the Mackay Entertainment and Convention Centre and open day was held on Saturday, 25 August.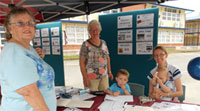 Registration at Mackay State High School's Open Day
Other events included the burial of a time capsule on Wednesday, 22 August and a meet and greet, school walk, on Friday 24 August. A sporting event between past and present students, plus a bbq and sausage sizzle will be held tomorrow, Sunday, 26 August.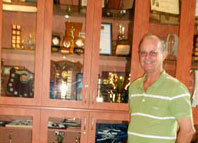 A former student admires a display of trophies at the Open Day
Pretty Cars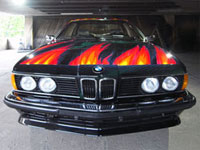 The car above is one of the BMW art cars, an idea which began 35 years ago when French racing driver Herve Poulain invited his friend Alexander Calder to "design a car that married artistic excellence with an already perfect object". The car which resulted raced in the 1975 Le Mans 24 hour race.
Recently BMW showed its collection of pretty cars which covered the period from 1975 to 2010. Since 1975 many leading international artists have transformed BMW vehicles.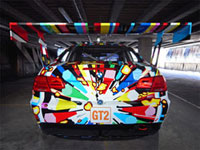 17 July to 29 July 2012
This year is out of control, in two days time it will be August, and it is almost two weeks since I put anything on my blog. I've been busy with my new website which is almost complete, and with a website for a local company.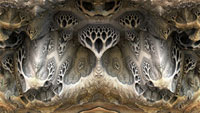 I am fascinated by the digital art item, above, which was designed by Hal Tenny and is called Cave of Trees. Hal's work has been used on covers for music cds and you can see a range of his work on his site on Deviant Art.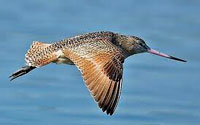 Photograph by Alan D Wilson
The longest bird flight was monitored a while back when a female wading bird, a bar-tailed godwit, flew for eight days without stopping for food, water, or for rest. The bird travelled to its winter home in New Zealand, what a nut case! Wellington in summer is like winter. But, feelings about NZ weather aside, what an incredible accomplishment. The bird's flight took it from Alaska, along an 11,570 kilometre route.
Eco Perch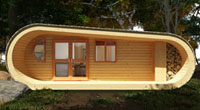 Called the Eco-perch, this unit can be installed in just five days. Made with natural materials, it is six metres by eight metres and includes a combined kitchen, dining, living and bedroom area which can fit four people. The structure can be used as an office, studio or classroom.
13 July to 16 July 2012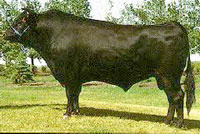 No, not drunk as a skunk, in fact do skunks even drink alcohol? Supposedly wagyu beef cattle live on beer, only beer, and as a result the meat they produce is rated very highly particularly as the cattle are massaged, by hand, to make sure the meat is well marbled and tender. The meat is very fattening however this shouldn't worry too many people as it costs an enormous amount. Another article suggests beer is used as an aid to digestion and may induce hunger during humid seasons. Massaging may have been introduced to prevent muscle cramping where cattle live on small farms and the animals did not have sufficient room to use their muscles.
Bree and Kial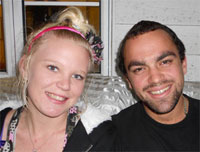 New initiative
A beyondblue initiative has found the rate of depression in older people in aged care residential facilities is one in three which is much higher than that of older people who live in their own homes, however people who need a high level of support to continue living in their own homes were also twice as likely to experience depression.
The CEO of beyondblue, Kate Carnell, said depression and anxiety were not a normal part of ageing and in an effort to reduce the rates, new training was being rolled out.
The new Professional Education to Aged Care (PEAC) program of workshops will train workers, who care for nursing home residents and older people living in their own homes, to better recognise the symptoms of depression and anxiety. Kate Carnell said it was hoped the training would result in improved outcomes and care for older people who suffer from depression.
Do stuff
A US study has found that people who engage in meaningful and purposeful activities are actively promoting cognitive health in their old age. In other words, take on many activities that mean something to you, and you may be warding off alzheimers. The study, undertaken by the Rush University Medical Center in Chicago, included 246 people who were clinically evaluated over a period of ten years. Following their deaths, brain autopsies were carried out. People in the study answered questions about their purpose in life. Brain plaques and tangles, which disrupt memory and other cognitive functions, were quantified after death.
3 July to 12 July 2012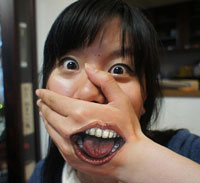 Who needs tattoos when Choo-san is around? She paints optical illusions on her body which include the delightful zipper and mouth full of teeth. She began drawing on herself while studying at university and now uses acrylic paint.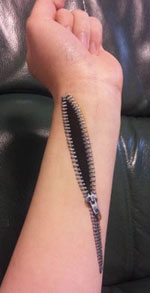 A little red cocoon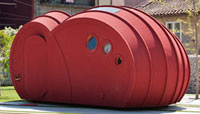 This interesting shelter is made of recycled cork and includes a double bedroom with an integrated bathroom. Energy is provided via solar panels. The module is mobile (I can imagine it standing up and running off on skinny legs wearing black stockings) and was designed by Gabriela Gomes from Portugal.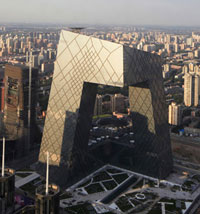 Photograph by Iwan Baan.
This strange building is the CCTV headquarters in Beijing. It is described as being a reinvention of a skyscraper, which includes a looping tower with an amazing cantilever. Two leaning towers merge with a 75 foot perpendicular extension. The building includes studios, broadcasting and production facilities and offices in the one location where formerly they were scattered around the city. Photograph by Iwan Baan.
22 June to 2 July 2012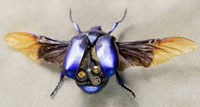 Image by Kyle Campbell
This gorgeous insect was designed by Lindsey Bessanon who combines dead insects with mechanical items to make robotic bugs. She collects the insects from a variety of sources including good old eBay, entomologists and other collectors and, after rehumidifying them and placing the bugs as she wants, she then adds cogs, gears, levers and other mechanisms. The gears are made from gold and silver.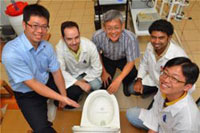 Prof Chang, Dr Giannis, Prof Wang, Dr Rajagopal, and Dr Chen with the No Mix Vacuum Toilet.
Credit: Image courtesy of Nanyang Technological University
At the Nanyang Technological University in Singapore a group of scientists have invented the No-Mix Vacuum Toilet which uses vacuum suction technology, like that used in aircraft toilets. With the new toilet, only 0.2 litres of water is used while flushing solids requires just one litre. If installed in a public restroom flushed 100 times a day, this toilet system, will save about 160,000 litres in a year.
The human waste is separated at source and is processed on-site to harvest chemicals and to produce fuel and energy. The No-Mix Vacuum Toilet will divert the liquid waste to a processing facility where components used for fertilisers such as nitrogen, phosphorus and potassium can be recovered.
The solid waste will be sent to a bioreactor where it will be digested to release bio-gas which contains methane. Methane is odourless and can be used to replace natural gas used in stoves for cooking. Methane can also be converted to electricity if used to fuel power plants or fuel cells.
Grey water can be released back into the drainage systems without further need for complex waste water treatment, while leftover food wastes can be sent either to the bioreactors or turned into compost and mixed with soil, resulting in a complete recovery of resources.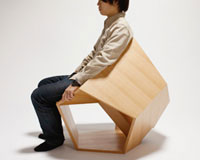 A computer with 3D CAD software was used to design this Dodecahedronic chair. It follows research by student Hiroaki Suzuki into functional applications for polyhedral geometry in product design. And apparently it is quite comfortable.
14 June to 21 June 2012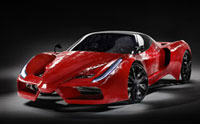 This is a slow Ferrari - probably because it is powered by a bicycle. The name of the vehicle, fahrradi farfalla FFX, (bicycle butterfly) comes from the built in butterfly mechanism which is a gear attached to the rear of the axle which moves the wing doors while driving. They appear to beat in much the same manner as a butterfly. Sometimes the FFX lifts off the ground with a side benefit of additional ventilation inside.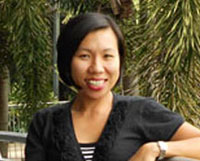 Congratulations to Joyce McSwann, local pharmacist, who has been presented with an award by the Pharmaceutical Society of Australia. Joyce, who is the facilitator of the Mackay Pain Support Group, is a strong believer in the quality use of medicines and has advised at most residential aged care facilities in Mackay and district.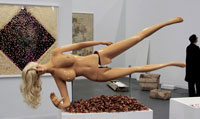 Scary stuff! Eighteen mannequins have been designed by Jennifer Rubell of New York to act as nutcrackers. Im a female or I could possibly write at some length about this installation. The left leg is pulled down to meet the right and in doing so cracks a nut placed on the inner thigh by visitors to the display. Jennifer Rubell suggests the mannequins embody two stereotypes, the sexualised female form and the nut-busting uberwoman (a woman even more powerful than Wonder Woman whose name, I think, is Diana).
Other installations designed by the artist are food oriented, 1521 doughnuts hanging on a wall, a cell-like room padded with 1800 cones of fairy floss and even ribs of meat with honey dripping on them from the ceiling.
Rubell, who received a B.A. from Harvard University in Fine Arts, later attended the Culinary Institute of America. She was a food writer for ten years prior to becoming known for her installations.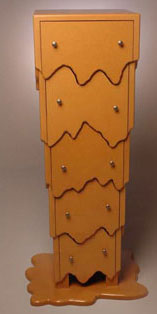 I have no idea about the background to this cupboard. The colour is awful but I love the design which reminds me of Dali's delightful clocks.
5 June to 14 June 2012
I have been spending a lot of time working on this new website. When I designed the previous green website, about four years ago, most people had fairly small monitors but over the last few years it seems the majority of people now have large monitors and my new website is taking advantage of this fact.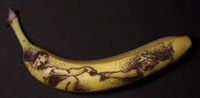 If you have run out of skin, don't despair, you can put your favourite tattoo on a banana.
After running the story about the pretty urinals, below, I found this photograph of the designer, Clark Sorensen, with a selection of his urinals.
Unusual furniture designs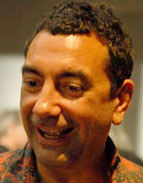 French artist Michel Haillard uses everything in his quest for unusual and luxurious furniture, including animal horns and tails, the skin of the ostrich, crocodiles and zebras, and combines these with silver, bronze and wood. If you are a hunter, (and may you see the error of your ways), you can take your own skins to be made up into furniture. Each item is unique, and each item carries a hefty price tag. Michel Haillard looks upon furniture as pieces of sculpture but at the same time they must be useful. His background is varied and includes art school, advertising, freelance cartoonist, writer and director of animated films, and furniture designer.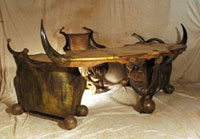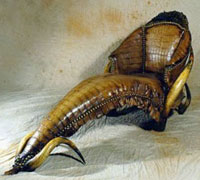 Having been uncranky for ages, I snapped after seeing too many made in America dvd's. Cranky in June 2012. You would think I would know better.
28 May to 4 June 2012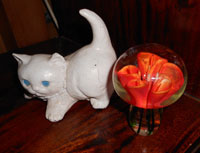 Above is one of my many paperweights and I photographed it because it reminded me or the gorgeous urinal below.
19 April to 25 April
We all know sending, receiving, and reading texts while driving a car is illegal and dangerous, however I had never considered airline pilots doing it. Apparently a Singapore Jetstar flight performed a go-around at the Whitsunday Coast Airport, instead of going straight into landing, because the pilot was trying to download a text message! Perhaps the message was work-related, but that is not an excuse.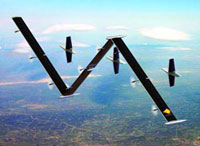 There aren't any pilots on this very weird aircraft called the Odysseus. Work is ongoing on this surveillance aircraft which should be able to fly for five years without stopping thanks to the energy from solar panels. This is a combination of three planes, each a 164 foot long wing shaped structure. The planes launch individually and join up in mid air. The shape
changes in order to trap the optimal amount of sunshine.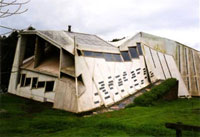 This building is not a survivor from an earthquake but is a working guesthouse in Ciudad Abierta in Chile. The Errante Guest House was an experimental building which was part of the Catholic University of Valparaiso in Chile. The strange angles of the guest house were planned to deflect wind shears and to aid in temperature control.
Loos
Decades ago I thought about doing a book about toilets as I had seen some strange ones in my travels. The book was written but by someone else and now I have found an interesting new loo which should be added to any new edition.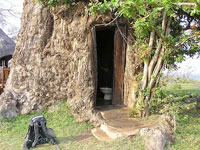 And while I am on the subject of trees....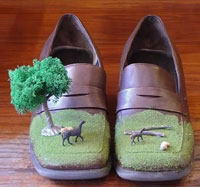 11 April to 18 April 2012
It's interesting to think back to all the food warnings we've had over the years usually followed by a reversal of thinking. For instance coffee, butter, red wine, chocolate and eggs were all frowned upon, now coffee, red wine and eggs have been shown to have benefits while a scary email about margarine, sent me racing back to butter. Chocolate seems the way to go if you are depressed.
White rice is now in the spotlight with the suggestion that eating it on a regular basis could substantially increase the risk of developing type 2 diabetes.
352,384 people from Australia, China, Japan and the United States were involved in a study which found that each serving per day of white rice, (around 158g), increased the risk of diabetes by 11 percent across the overall population. All participants were free from diabetes at the start of the studies. More than 13,000 developed the condition during the study. And as usual I have a question, did those 13,000 people not eat white rice prior to the study?
This tree again...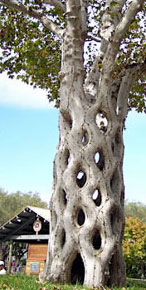 I used the photo above a few weeks ago but have just discovered it is known as the Basket Tree and was made by tree sculptor Alex Erlandson by planting six sycamore trees in a circle which were grafted together in 42 different connections to give it its basket shape.
Although the tree began its life half a century ago it was transplanted to Gilroy Gardens from the Tree Circus which Alex opened in 1947 and which featured numerous odd trees. The property was sold just before the death of Mr Erlandson in 1964.
Erlandson taught himself to train the growth of trees into shapes of his own design and he considered his methods trade secrets. When children asked how he got his trees to grow in such a weird way he told them he talked to them.
6 April to 10 April 2012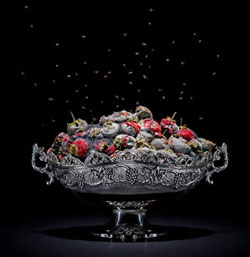 Art installations usually do not touch me emotionally, but this one, called One Third, touched me in several ways. Firstly the photographs, even though they are of rotten food, are beautiful, and, secondly, the photographic commentary brings home that one third of the world's food supply is left to rot. Klaus Pichler, from Austria, created the photographs after learning of the UN finding regarding food wastage.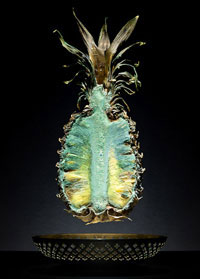 designboom describes the installation as follows. The photographer "captured the colorful and putrid images in a classical still-life composition, the simplicity of the black background and direct lighting, enhancing the detail and variation of color observed in the decomposition of each product".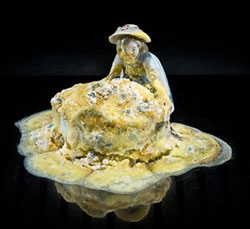 Each photograph has a full caption which includes the place of production, cultivation method, time of harvest, transporting distance, means of transportation, carbon footprint, water requirement, and price of the product. The UN report suggested that, depending upon the product, the wastage rate may sometimes be 75 percent.
The photographs are a criticism of the behaviour of consumers and are aimed at enhancing public awareness of the food waste which occurs all over the world.
Eat the recipe not just the product!
Why hasn't this been thought of before? Classic lasagne can now be made, firstly by reading the instructions which are embedded or embossed on pages made of pasta, and then the pages can be cooked and eaten. This is one book which would not be added to my library unless I planned to photograph it as it rotted and send it to the photographer above. This pasta pages idea was created by Korefe, a German design studio and the cookbook has been published in a limited edition by Gerstenberg Publishing House.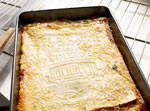 Below, prime candidate for a nursing home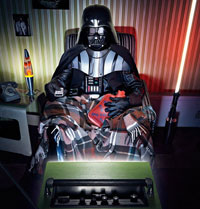 Horror vacui, Latin for the fear of empty space, is the name given to a series of photographs which depict stars from cult films of the 1970's and 1980's as ageing and alone at the end of their lives. The photographer in this instance is Italian, Federico Chiesa.
5 April 2012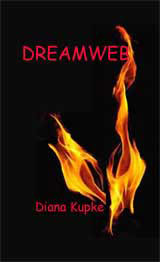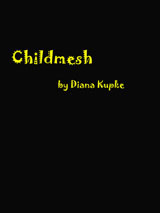 I have been having fun this past month or so turning some manuscripts into ebooks, and what a learning curve that is! The writing is the easy part. Anyway if you have a Kindle or an ebook reader, for the grand price of about 99 cents each, you can download Dreamweb and or Childmesh
30 March 2012 to 4 April 2012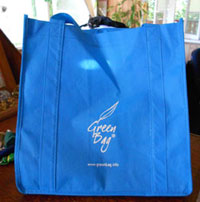 I'm clearly going colour blind. I sorted my collection of bags, mostly green, and stopped to admire what I thought was a blue bag but NO it is a green bag!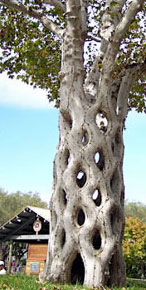 Above, this tree is just in time for Easter.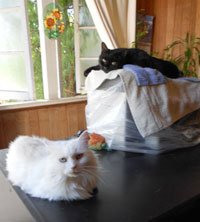 Above Queenie and Stampy relax together. My printer is a favoured position not only for Stampy, but also for Queenie and Snoopy.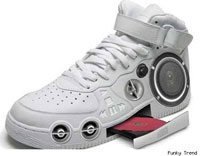 Above, music on the move.
14th archive
12th archive
Feedback - I look forward to receiving feedback about my site.
Please contact me here.
This page was updated by Diana Kupke (Diana Mann) on 8 January 2022