Ninth Archive
Items from 2 December 2010 to 6 March 2011
2 March to 6 March 2011
A 2008 study, just released by beyondblue, showed more than one-third of the 180,000 aged care residents living in Australia are estimated to be living with depression. This rate of 34.7 percent is far higher than the 10 to 15 percent incidence rate found in the general older population.
Unfortunately many cases of depression go undetected as the signs are either put as part of the ageing process or are included in with dementia.
The general manager of Navitas Health Skills Australia, Chris White, said depression was not a usual part of general ageing. He said it was widely accepted in medical, health and allied health fields that there was chronic under treatment of depression in all populations however older people were the most vulnerable.
Mr White said improved training for aged care workers was critical and would help improve detection rates, ensuring that more aged care residents' needs were properly understood and managed.
Health Burden
Anxiety and depression make up 14.3 percent of the total disability burden in
Queensland according to the third report from the Queensland chief health officer.
And during 2009 12 percent of adult Queenslanders scored high levels of
psychological distress.
Since that time there have been floods and cyclones all over the state and it would be expected the numbers who are psychologically distressed would have increased dramatically. Suicides in 2007-2008 were almost ten per week.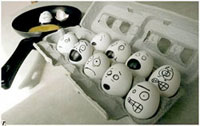 Eggs are still ORF!
During the past eighteen months I have only eaten eggs twice. And it is all because I read a book which talked about a Cleve Backster who used a polygraph on eggs. Upon cracking open the first of a dozen eggs he measured a fear reaction in it which caused the remaining eggs to "faint" so they would not feel pain!! I dread the day when I read terrible things about tomatoes, anchovy stuffed olives and cheese as I will then need to live on air.
Pet Roundup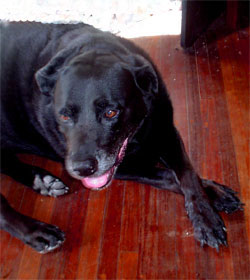 <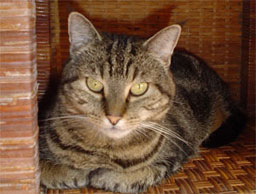 <
Above are Willow, Snoopy and Gizmo reclining.
---
Happy birthday to Denese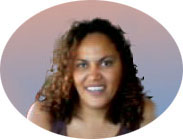 May the coming year be a wonderful one for you
---
Not a bookmark but a deathmark
I have read a book a night from the time I was eight which means I have read a great many books and as a result I have often been given beautiful bookmarks. I have four different frog bookmarks that were given to me by my two daughters, a young friend, and a work colleague. The other one I use all the time is from the Metropolitan Museum of Modern Art in New York which was also given to me by a work colleague.
In addition to these, (four of which are metal and one a hard plastic), I also have a collection of paper bookmarks which I look at quite often even if they are no longer used. But, tonight, when reading a library book, a bookmark fell out, obviously left by the last reader, the like of which I have never seen before.
Is it common practice to have a bookmark which has a photograph of someone who has died, their birth and death dates, and one of those awful things people sometimes think of as 'poems' but which are closer to doggerel?
Two new additions to the family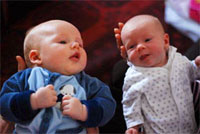 A warm welcome to Cailen, the new son for Lori and Tristan Young, and his cousin, Iris, the new daughter for Imogen and Nick.
Laela relaxes while on holiday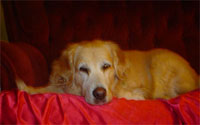 13 February to 20 February 2011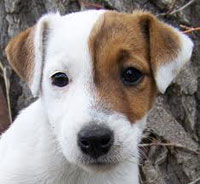 A woman in Britain did the noble thing and went to a dog rescue centre where she inspected a Jack Russell puppy several times, and then took him home. Perfect, should be more like her.
Then she had to go and ruin it. She returned the dog because his colouring absolutely clashed with the loungeroom curtains. Pitiful.
Seniors benefit from computer use
Research has shown that using that internet has numerous benefits for seniors including less depression, less loneliness, and it even provides a boost to memory. Another benefit is more independence where products can bought online and delivered to the door.
National Seniors Australia chief executive Michael O'Neill has urged seniors to become computer literate as it has been shown computer use can decrease depression by 20%.
International studies research shows computer use increases brain activity in the areas of the brain that control language, memory, and visual ability.
"This helps seniors stay mentally fit because it enhances neural stimulation leading to better reasoning and decision making according to the research," Mr O'Neill said.
Current health trends have highlighted that seniors tended to be relatively more passive in relation to their healthcare and were uninformed about their illness, medicines and treatments however those who used the internet could learn about their illness, were more likely to ask questions, and to be more active in their treatment which resulted in a healthier life. Mr O'Neill said it was ironic that the information was mainly available on the internet and was not reaching the people who were most in need of convincing.
Sunshower in Mackay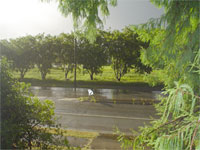 9 February to 12 February 2011
Fifty years ago I was incensed (I was cranky even as a 16 year old) when I had to do a mothercraft class at high school instead of maths. The males did woodwork, lucky ducks. Anyway as part of that long gone ratty class, we had to design a house. The teacher told me my house design was utterly ridiculous, it had a study, a library, and a deck (plus other rooms). These days I can sit out on my deck and enjoy the trees, meander through my dedicated 1000 book library, and compute away in the study which runs almost the full-length of the house. If only I could remember that woman's name. I think the saying I need is 'yah boo sucks' but I could have that wrong.
Dreadlocks Dog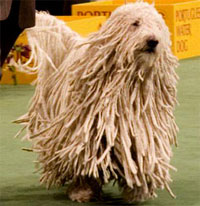 This fascinating dog is a Komondor, an Hungarian sheepdog. Although puppies have normal coats, by the time they are two years old there are long cord-like curls all over the body. This coat not only enables the dog to blend in with sheep, but helps protect them from any prey which they may need to fight in order to protect the flock. What came first? The coat or the career?
Streets ahead
I have added some more to the cranky page. We are only about six weeks into this year but it has been a very nervewracking one and I have been cranky a great deal.
7 February to 8 February 2011
Chairfully oakay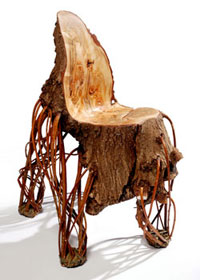 This beautiful chair, the creation of Floris Wubben and Bauke Fokkema is made from an inverted willow tree with the follicles and branches twisted and splinted to form the legs. My mind, which is not performing all that well lately, was convinced the chair was made from oak and I then wrote the awful pun for a heading. Once I read the information I realised I had the wrong type of tree but by that stage I had become very fond of the heading and absolutely refuse to change it.
O House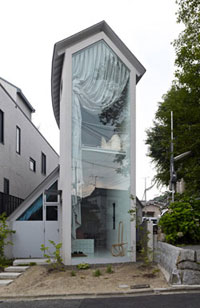 The facade of this house in Kyoto is made of glass which reveals all activities in the front of the house during the day, while at night the curtain, which hangs the full length of the structure, glows and is translucent. Designed by Hideyuki Nakayama Architecture for journalist Eizo Okada, the house is called the "O House" because the kitchen, diningroom and bathroom areas encircle the main dwelling. The house called for many comments from readers of Designboom News including one from Ali who liked it and said "the coldness of the architecture is made warm by the life inside the home. The only thing that is really unsettling to me is the incredibly exhibitionistic window into the street. The window, the defining feature of this beautiful home, doesn't open to a view of a garden or nature, but to the neighborhood street". Writer Andrew described the O House as "prison cell chic". He suggested the "smooth clean lines and cold stack interiors seem to be more about architectural ascetics than homely functioning spaces".
Readthe phrase which has sent my mind blank.
4 February to 6 February 2011
Which word?
Find out on my Cranky Page with thanks to Mark for being cranky which meant I had a wonderful hour flitting about on the internet looking for stories about "iconic".
Creepy.
Having written the above I went to my files for a photo story to break down these paragraphs and found not one, but two jpg's both called "Iconic"!!! They are the ceratonotus steiningeri and the yeti crab both of which were discovered during the First Census of Marine Life which was undertaken during a ten year period by 2700 scientists from 80 countries. I have probably used them before but would have changed the photograph names. For some reason I didn't remove the photographs.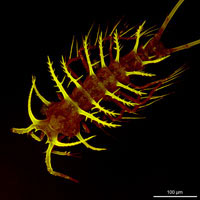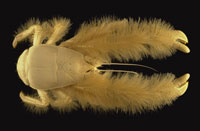 30 January to 3 February 2011
Having survived Cyclone Tracey more than three decades ago, my heart goes out to all those who went through Cyclone Yasi last night. Unfortunately the memories not only linger on they come back in full force when there are threats from new cyclones. Perhaps Queenslanders need to be give some respite now. Those of us in Mackay have been very lucky indeed.
Year of the Rabbit
The record, of 19 billion texts sent in a 24 hour period, will probably be broken today, as indeed it is every Chinese New Year. We have said goodbye to the Year of the Tiger which is sad as I have enjoyed having a photograph of a tiger at the top of my skinny column, and now we have a rabbit. The sight of the huge dragon rampaging down city streets along with the noise of fire crackers happens every year to herald in the new year for the Chinese. Perhaps crackers aren't used any more.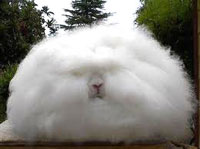 No, it is not a ball of fluff retrieved from under the bed, it is an angora rabbit. There are four types, English, French, Giant and Satin. English angora rabbits are of course incredibly well known for their "facial furnishings". Which reminds me my son has some of those.
The angora, one of the oldest types of domestic rabbit, originated in Ankara, Turkey as did the angora cat and angora goat. If you plan to breed angora rabbits beware of the dreaded wool-bound genitalia which can occur in the male. I ceased all research on angora rabbits when I read that, I can only take in a limited number of horrendous images and the aftermath of Yasi has filled my brain right up.
20 January to 29 January 2011
Here comes Anthony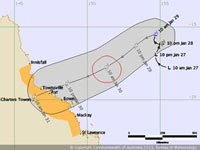 Australia has had a horrible year and now, following constant floods, and a major fire, it is time, unfortunately for cyclones. Bom bom bom is not only the sound of my rapidly beating heart, it is also the name of one of my favourites, on Firefox, which is constantly on view. I just knew Cyclone Anthony would do a total turn-around.
Here is John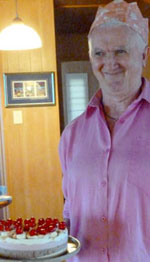 John made the cassata when he visited friends for xmas. The icecream is obviously very light as it appears to levitate. Recently we had a lovely lunch at the Mackay Botanic Gardens, not many restaurants can boast such a beautiful view. And the food was excellent too.
Eny seacucumber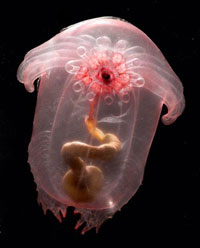 Photograph courtesy Census of Marine Life
The beautiful creature above is the Enypniastes Sea Cucumber which was found during an expedition to the northern Gulf of Mexico. It is unlikely the average person would ever see one as they are found at depths of 2.7 kilometers. The seacucumber moves along the ocean bed on its tentacles and sweeps sediment into its mouth. The sediment is home to small edible creatures. After clearing out one feeding ground, the sea cucumber blooms out into a bell shape and swims away.
The page on the Dudley family has been updated
Thanks to my cousin, Gloria, there are five new photographs on my Dudley page. They are of my great great aunts Priscilla, Eliza and Ellen, and great uncle Ted with various family members.
The page on the Mann family has been updated
And thanks to a wonderful site, >Headstone Photographs I have also added a number of gravestones to my Mann page.
16 January to 19 January 2011
Happy birthday to Amanda

Hope your year is serene
Amanda's favourite colour is purple, I don't know any special stories about that but mauve, a close relation as far as I am concerned, has a fascinating story with a medical background. The colour began in 1856 when an eighteen year old, William Perkin, was attempting to make artificial quinine to treat malaria. At this time quinine was used which came from the bark of cinchona trees but they were in limited supply. When Perkins experimented he was attracted by a residue which became the first aniline dye, and today we all recognise mauve.
Prior to this, all dyes were made from roots or leaves or even poor insects and, where purple was concerned, from mollusks. Poor mollusks. Those colours were prone to fading whereas the mauve was a uniform shade and following its discovery, other synthetic colours were invented.
And as the year of the tiger comes to a close
here is Bronwyn stroking a friend
11 January to 15 January 2011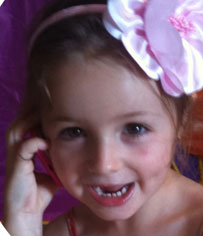 Happy fourth birthday to Tahlia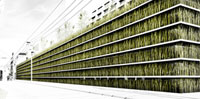 Above is an artist's impression of a carpark which includes a rooftop garden with rainwater harvesting systems, and has walls of grass, which is planned for Tokyo. The structure, called Shinjuku Gardens, will provide access to all members of the public to enjoy this rare green space. In addition the structural columns and slabs inside the building will be used as galleries where artists may create items knowing the numbers of passing clientele will be quite large. Balustrades which encircle the car park provide the basis for the grass growing which will act as a way to absorb exhaust fumes. Parking spaces will be maximised by using car lifts in place of the more usual car ramps.
The photograph below will make some Mac users sad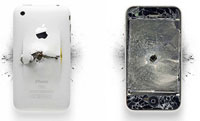 Mac lovers will no doubt be saddened by a recent photography exhibition which featured bashed up Apple products. Michael Tompert and Paul Fairchild, of San Francisco, wanted to make people more aware of their relationship with a variety of Apple products.
The photographers, who clearly were not short of money, (I won't discuss brains at this point), bought a number of brand new products and then destroyed them using a variety of items including a handgun and in one case placed items on train tracks so they would be run over.
However in case they were thought of as destructive, the men emphasised the project was about "our relationship with the new". And of course one demonstrates one's relationship with new items by smashing them.
6 January to 10 January 2011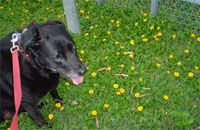 Willow ignores daisies during our walk
I have had two weeks holiday and during that time I have enjoyed myself mucking around in the garden with the help of Willow, adding bits to this website, and researching and writing. I have added a new page to the genealogy section which is a slightly edited version of a document about the Dudley and Green families. This was written by my aunt, Valerie (Dudley) Carnegie in 1969 after five years hard work researching the family. She made copies of the document and sent it to her sisters, Merlyn Mann (my mother), Daisy Roughsedge, and to her brother, Lester Dudley.
A great deal of new information has become available during the past forty years but Val's document stands alone and tells the real story, not just the dates.
William Dudley, known as Charles, Val's father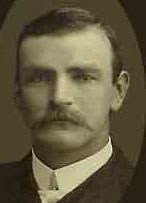 AKA a six foot walker
I enjoyed her paragraph about my grandfather: "Charlie seems to have stayed around the Tally-Wunghnu districts, although at one time, probably during a drought when work was scarce, he and five others (Fred or Ted, Bob Montgomery, Jim Sandilands, McKenzie??) walked to Gippsland to try and get work, and while they were down there, someone from Tally sent a letter to Charlie addressed simply to Mr Charlie Dudley, c/o The Six-six-footers, Walking in Gippsland. The letter reached him."
Mingy wasp at work
As is probably clear from my banner, above, I like wasps. I was delighted to see one at work today and photographed the beautiful half built nest thing next to four old, but neat, ones.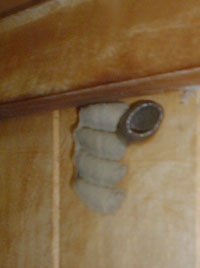 And I was saddened to see when the wasp completed the work, he then proceeded to completely wreck the other ones. How mingy.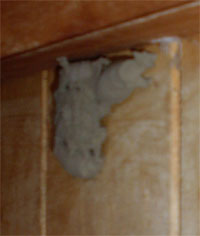 3 January to 5 January 2011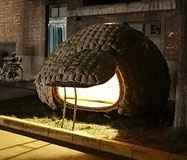 This movable egg, made from woven bamboo splints which are covered with a quilt of sacks containing grass seeds which sprout to provide insulation, was designed in response to high rental costs in Beijing.
It was designed by a recent architectural school graduate, Dai Haifei, who has lived in the six foot high home for several months. It contains a bed and storage but bathing facilities must be sought elsewhere. The egg is lit by natural daylight through an opening in the ceiling and at night a lamp, which fills the structure with a warm glow, is powered by a solar panel. The entrance can be propped open for easy ventilation.
The page on convict Olivia Gascoigne has been updated
2 January 2011
..on with the cranky bits
It is only the second day of the new year and already I am cranky.
More butter doesn't make it better
Read why right here on my Cranky Page .
---
31 December 2010 to 1 January 2011
Best wishes for a safe and healthy 2011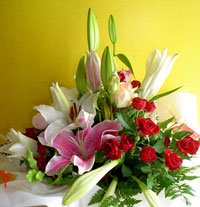 30 December 2010
For some years now I have switched on Inspector Rex especially for my dog, Willow. Unfortunately his mind wanders and often I am the only one watching. The series was originally set in Vienna but now Rex is magically living and working in Italy and his new master is one of the stubble breed. I like beards and moustaches but the stubble look leaves me defeated and so I decided, to take my mind off the latest mini flood, to research stubble. Good grief. I know some women take fashion and make-up very seriously, but some men are apparently quite demented where stubble is concerned.
How to get stubble, and then how to keep it, is, unbelievably, the subject of numerous forums. One writer suggests 'designer stubble' can make a person look rugged, or even refined, depending upon 'the way in which it is worn'. How does one wear stubble? You either have it or you don't. And what is designer stubble? Perhaps this piece should have gone on my cranky page!
For those who really want some clues, then one way is to shave at night before you go to bed and the other is to use the lower settings on an adjustable beard trimmer. But if you aren't careful you may end up with an 'uneven, blotchy look'. Heaven forbid. Stubble is apparently 'romantic, sophisticated, and cool'.
Rex and friend with stubble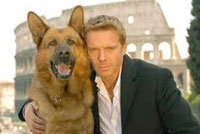 Back to Rex
Willow has not been watching Inspector Rex for some years now so he has no idea the animal star has been played by three dogs, the first being Santo vom Haus Zieglmayer, who was also known as Reginald Von Ravenhorst or 'Beejay'. He appeared in episodes 1 to 63 when his role was taken over by Rhett Butler (episodes 64 to 122).
The present Rex is played by Henry. All the dogs were given intensive training and apparently the most difficult training was ensuring the dogs stayed put when food was around. Willow would relate to that.
28 December to 29 December 2010
For one brief moment...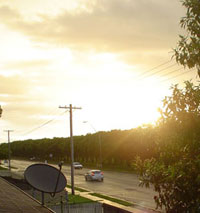 no, it wasn't Camelot, it was a few minutes of sunshine
in Mackay at 6.25 p.m. on December 28
And how can I be so petty when half of Queensland is flooded. Mackay had its share of heavy rain and a mini tornado on xmas day, and we had a little flood downstairs and through the yard, but our problems are nothing compared to all the centres where mass evacuations have taken place.
The Beaked Toad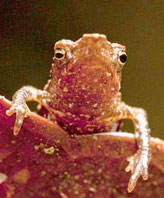 Photograph courtesy Robin Moore, ILCP
The beaked toad, above, is a new amphibian species which was discovered recently in western Colombia. The toad doesn't progress from tadpoles, instead the females lay eggs on the floor of the rainforest which hatch into fully formed, but tiny, toads.
In addition to discovering the toad, the group, led by Conservation International and the International Union for Conservation of Nature's Amphibian Specialist Group, also rediscovered several species which have not been seen for decades including a Mexican salamander, a frog from Cote d'Ivoire and a frog from the Democratic Republic of the Congo.
25 December to 27 December 2010
Music hath charms to soothe the savage breast,
To soften rocks, or bend a knotted oak.
....said William Congreve in The Mourning Bride, but unfortunately if the breast belongs to a patient with Alzheimers, and if the music is baroque, then the couplet does not work.
The idea that demented patients can be calmed through the playing of baroque music has been stomped upon by Professor Kichu Nair and colleagues at the Hunter New England Health Service who discovered the music of Vivaldi and Handel caused an immediate increase in behavioural disturbances amongst residents of an aged care home.
The music was specifically chosen because it has a rhythm of 40 to 68 beats per minute which was thought to be soothing as it was similar to the beating of the heart.
Professor Nair considers the music may have caused agitation as it had to be played loudly to enable residents with hearing problems to hear it. He now suggests music is similar to medication, that it needs to be targeted to individuals.
Right on brother! If I am ever in a nursing home and anyone plays jazz loudly the carers will see an immediate increase in behavioural disturbances. Or even if it is played softly.
My system is falling down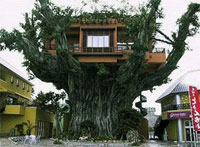 This wonderful treehouse is a mystery to me. The image was in my files but I cannot find the corresponding Word document which will give me the information about it. I'm running it anyway.
Yet another alien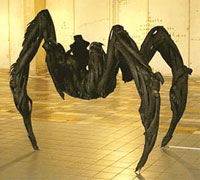 When is a rubber tyre not a rubber tyre? When it is transformed into an alien spider.
New surname page
I have added a new page to my list of surnames. This time it is for Basan which is not directly associated with me, but is a direct line for my son, and I have become fascinated in the line which is also connected to the two convicts Brooks and Pollard.
21 December to 24 December 2010
Another low key xmas tree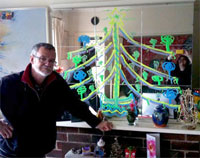 enhanced by Dale with Heather in the background
Extremely difficult to do anything on this computer. Queenie has taken over one computer chair and Snoopy the other. Amanda's cats, Stampy and Gizmo have also been close by, one on a printer and the other on another computer. Bit of a cat-astraphe.
I feel a bit sheepish running this photograph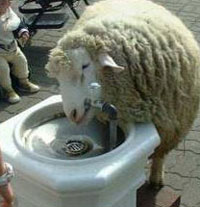 But it is timely as xmas is a time when many people are fleeced.
20 December 2010
A lovely low key xmas tree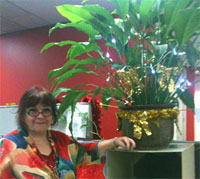 enhanced by Heather
And below Best wishes to Lori and Tristan for the birth of their son. 13 December to 19 December 2010 Snowman Murdered
Stories from the United States are often extremely strange, this one is rather sad.
Students from the University of Illinois put their education to work and produced a snowman, called Frosty, which indeed shows their creative thinking.
Frosty was on a road when the driver of a passenger bus, which was initially on the far side of the road, made a subtle driving change and sent his vehicle careering straight through the poor snowman.
And his creators laughed!
After bus company officials saw a video of the incident the bus driver resigned.The story should have finished there however various Facebook groups have made it clear they support the driver for killing the "evil snowman" and are asking for his reinstatement.
They'll be lynching snowmen next.
All about the bladders of frogs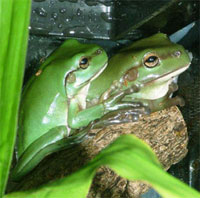 In order to study heat regulation, Charles Darwin University zoologists implanted radio transmitters in frogs and therefore discovered that they, the frogs, were able to grow their bladders around the transmitters which were then flushed from their bodies.
The transmitters were originally implanted in the peritoneal cavity but within a few weeks the transmitters were found in the bladders, or out on the ground instead. This migration occurred without any frog deaths.
The next step was to implant beads in five green tree frogs and also in five cane toads and within 23 days all the tree frogs had expelled their beads. One cane toad acted in the same way and the remaining cane toads had moved the beads to their bladders.
The zoologists continued with their research however I won't go into what happened next, indeed I have firmly removed the thought from my mind and it is presently en route to my bladder.
The photograph above, is of frogs raised by Marie and Di.
9 December to 12 December 2010
The publisher, Hodder, is republishing books written by Enid Blyton. Numerous changes have been made, one of which sees the characters, Fanny and Dick, who feature in the Far Away Tree stories, renamed to Frannie and Rick.
Now why would they do that?
Golly, life is a mystery.
The last link nurses xmas dinner
But we made them do some work before we fed them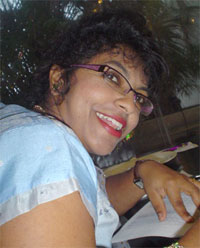 Updated Cranky Bits
For those of you who enjoy the segment on Cranky Bits I have been cranky quite a bit lately. It could have something to do with the constant rain and lack of sunshine, or it could simply be that a lot of things make me cranky.
2 December 2010 to 8 December 2010
Sailors and soldiers have a lot to answer for, particularly where the various names for syphilis are concerned. Because it was believed to be spread by visiting males through their contacts with prostitutes,every country called the disease by a different name, passing the buck, not to mention the disease, very effectively.
The Russians called it the Polish disease
The Polish called it the French disease
The Japanese called it the Chinese disease
The Italians called it the French disease
The French called it the Italian disease
The Dutch called it the Spanish disease
The Turks called it the Christian disease
The Tahitians called it the British disease
And the man who started it all off, back in 1530, was Girolamo Fracastoro, a doctor, who wrote a poem called "Syphilis or the French Disease".
To take your mind off syphilis...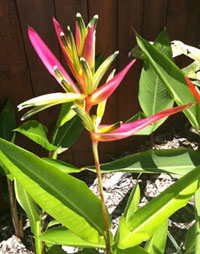 A heliconia grown by Michael and Suzanne
Heliconia's are more than just a beautiful flower, they also provide food for hummingbirds while the leaves are made into tents by the Honduran White Bat. They are also called lobster claws and the false-bird-of-paradise, as opposed to the Strelitzia, the ruly-truly bird-of-paradise flower.
Roz' Cactus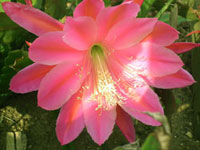 People of yesteryear were cactus if they caught syphilis.
10th archive
8th archive
Feedback - I look forward to receiving feedback about my site.
Please contact me here.
This page was updated by Diana Kupke (Diana Mann) on 8 January 2022